An Afghan Dilemma for China and India
As most western troops withdraw from Afghanistan, the new nation's President Ashraf Ghani is promising reform, development and an end to poverty. But he needs help and has also quickly reached out to Pakistan, China and India – expecting Afghanistan's neighbors to work for lasting stability, explains Harsh V. Pant, author and professor of international relations. The two major powers, China and India, have yet to cooperate substantively on Afghanistan. "While Ghani's outreach to Pakistan is timely, it's unlikely to succeed in the absence of China and India's involvement in Afghanistan," Pant writes. "Given their roles as emerging powers, the international community expects the two regional giants to play a major role as western forces withdraw from Afghanistan." With the US no longer providing its security umbrella, the region has an opportunity to cooperate and demonstrate leadership, strategic and diplomatic skills to ensure a smooth transition. – YaleGlobal
An Afghan Dilemma for China and India
For regional prosperity, Afghan President Ghani expects China, India, Pakistan to help smooth transition
Thursday, December 4, 2014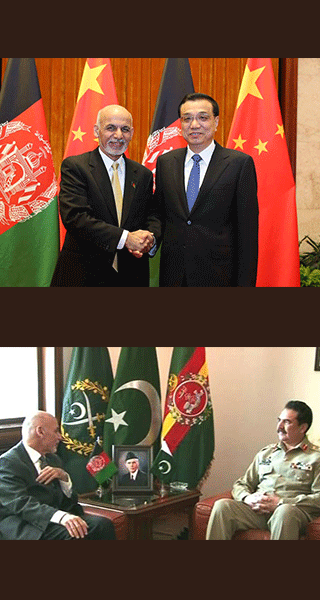 LONDON: As the West exits Afghanistan, neighbors are recalibrating their responses. Two regional powers, China and India, have yet to cooperate substantively on Afghanistan.
After months of tortuous negotiations, Afghan presidential candidates Abdullah Abdullah and Ashraf Ghani signed a power-sharing pact brokered by the United States in September. With this, Afghanistan got a former World Bank economist as its new president, one who promises reform, development, and an end to poverty and corruption.
The Obama administration hailed the pact as an "opportunity" for unity and increased stability. A day after Ghani's assuming power, the Bilateral Security Agreement allowing for 9,800 US soldiers to stay in Afghanistan past 2014 to help train, equip and advise Afghan military and police forces was signed. A separate, status-of-forces agreement was also signed, permitting a small NATO force to remain in Afghanistan after 2014. 
With  impending departure of the majority of western forces from Afghanistan, there is pressure on the regional players to step up to the plate. The Ghani government in Kabul is also reaching out to neighboring powers to work towards lasting stability. Ghani has visited Pakistan to stabilize the turbulent Afghan-Pakistan relations. During his visit, Pakistani Prime Minister Nawaz Sharif pledged to help Kabul to bring the Taliban into the peace talks, reaffirming that "a peaceful, stable, united and prosperous Afghanistan is in Pakistan's interest" and that the peace process must be "fully Afghan led and Afghan owned.
The Ghani government is also making an attempt to embed bilateral ties with Pakistan in a wider economic matrix. During Ghani's visit, a business conference involving investors from both sides was held on improving economic ties. The two countries have decided to relax transit trade and investment in the countries, permitting vehicles carrying Afghan goods to freely move into Pakistan and increasing annual trade volume from the current $2.5 billion to $5 billion over the next five years. With the weakening of Sharif and the Pakistani military gaining ground, it's not readily evident if Islamabad can bring about change in Afghan policy which remains firmly India-centric. As former Pakistan President Pervez Musharraf has underlined "the danger for Pakistan is…the Indian influence in Afghanistan…Indian involvement [in Afghanistan] has an anti-Pakistan connotation. They [India] want to create an anti-Pakistan Afghanistan."
While Ghani's outreach to Pakistan is timely, it's unlikely to succeed in the absence of China and India's involvement in Afghanistan. Given their roles as emerging powers, the international community expects the two regional giants to play a major role as western forces withdraw from Afghanistan.
Recognizing this, Ghani has lost no time in reaching out to China, attending the fourth Annual Ministerial Conference of the Istanbul Process for Afghanistan hosted by China in October. This conference was attended by all Central and South Asian states as well as Russia China and Iran primarily to take the discussions on peace and reconstruction in Afghanistan forward. Ghani called on the Taliban to join the dialogue, and China echoed Ghani's call, urging groups to "lay aside former enmity and join the political reconciliation process." Most surprising was China's proactive stance in floating a proposal to set up a peace and reconciliation committee in Afghanistan to help the new government in bringing the Taliban to the negotiating table. For a country that has consistently refused to be drawn into the internal affairs of other states, this initiative was a clear indication that Beijing is starting to take its responsibility as a regional power seriously. Though Russia shot down China's suggestion, it has received wide support throughout the region and China could follow up with some regional grouping bypassing Russia in the near future.
At the bilateral level, China has reached out to the new Afghan government in unprecedented ways with Chinese President Xi Jinping hailing Ghani as an old friend of the Chinese people with whom China prepared to work towards "a new era of cooperation," and "to take development to a new depth." During Ghani's visit, Afghanistan and China signed four agreements on trade and commerce relations, bilateral economic ties, humanitarian aid, and travel permits for public servants even as China agreed to give Afghanistan $327 million in aid over the next three years.
In consonance with its rising regional and global profile, China seems ready to play a larger role in Afghanistan than before. It also worries about the dangers of rising extremism in the region, especially in the context of Uighur separatists in Xinjiang. Moreover, it would like to preserve its economic equities in Afghanistan, in particular the $3 billion Aynak copper mine project in Logar province where progress has been tardy because of security concerns. For its part, the Ghani government hopes that Beijing can exert greater leverage over Islamabad than Washington in forcing changed policies towards Afghanistan.
The other regional giant, India, too, is recalibrating its response under the new Modi government. India's External Affairs Minister Sushma Swaraj visited Afghanistan in early September to underscore India's commitment to continue extending its all possible help to Afghanistan to meet various challenges and conveyed that it will remain engaged in the country's reconstruction activities. Describing India as Afghanistan's first strategic partner, Swaraj suggested that New Delhi would share the Afghan people's vision of a "strong" and "prosperous" Afghanistan. For this, she even received rare praise from her political opponents. Congress Party's Shashi Tharoor lauded Swaraj for underlining "India's priority by meeting up top leaders in Afghanistan" and showing that "India is not going to give up." 
India's powerful National Security Advisor Ajit Doval has also been to Kabul to take stock of the country after the election of its new president. New Delhi is conveying in strong terms that India is there to stay in Afghanistan even after the western troops have left. The Modi government is keen to expand its security profile in Afghanistan and is working to provide Kabul with military jeeps, choppers and automated weapons in a bid to strengthen the army as a first step in that direction. It has also finally, after years of dillydallying under the previous government, taken a decision to invest $85.21 million in developing the strategic Chabahar port in Iran, allowing India to circumvent Pakistan and open up a route to landlocked Afghanistan.
New Delhi is also resetting the terms of engagement with Pakistan with the Modi government more willing than its predecessors to take the battle to Pakistan in so far as border skirmishes are concerned. This is being done not only to send Pakistan a message, but also to enhance India's credibility in the eyes of its Afghan allies who have long complained of India not having the stomach for a hard fight. During his September visit to the US, Modi tried to get assurance from Washington that Indian interests would not be compromised when it came to US demands that the Taliban break ties to international terrorist networks and participate in a normal political process. There is recognition at the highest echelons of the Modi government that India cannot rely primarily on the United States to protect its interests in Afghanistan. India must be ready to fight its own battles.
Even as India and China are reassessing their options vis-à-vis Afghanistan, recognizing the fact that they can no longer operate under the US security umbrella, the two have not yet found ways to cooperate with each other. For New Delhi, Pakistan is the real culprit in creating instability in Afghanistan, but China refuses to discuss Pakistan with India for fear of offending an "all- weather" friend. As a consequence, the challenge for China and India remains formidable in managing transition in Afghanistan.
Harsh V. Pant is professor of international relations at King's College London and the author of India's Afghan Muddle (HarperCollins).
Copyright © 2014 The Whitney and Betty MacMillan Center for International and Area Studies at Yale