Alaska Airport Is a Big Link for the Global Supply Chain
Alaska is sparsely populated with about 750,000 people. Still, the state's largest city has emerged as a vital link along the global supply chain, and the Ted Stevens Anchorage International Airport takes full advantage of being within 10 hours by air to 90 percent of the industrialized world. The subarctic airport ranks fourth in the world for cargo and is a "natural place for refueling," explains Alaskan journalist Will Swagel. "Some of the largest cargo planes have the range to fly non-stop from China to the US heartland without stopping. But more fuel means less cargo in their holds." Air transport is on the rise – essential for the most sensitive, expensive or perishable goods – and represents about 1 percent of world trade by volume, 35 percent by value. Challenges for the airport include security, shifts in manufacturing centers and protectionist leanings that could put the brakes on cross-border trade. – YaleGlobal
Alaska Airport Is a Big Link for the Global Supply Chain
The subarctic airport in Anchorage airport is a natural place for refueling and ranks fourth in world for air cargo
Thursday, January 5, 2017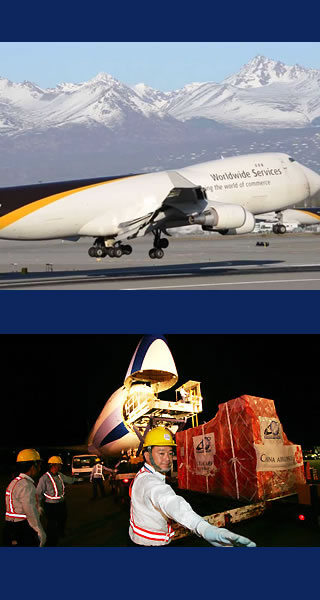 SITKA, ALASKA: Millions of consumers around the world who enjoy smartphones and other electronic devices may not have heard of the subarctic city of Anchorage or its sprawling airfield. Every day, wide-body cargo jets with international shipments land to top off fuel tanks. The international airport is not exactly halfway between Beijing and New York, but close enough to be a natural place for refueling. Some of the largest cargo planes have the range to fly non-stop from China to the US heartland without stopping. But more fuel means less cargo in their holds. With more cargo comes higher revenues and the need to refuel.
Anchorage pencils out the best, and the airport's administrators boast that they are less than 10 hours from 90 percent of the industrialized world. Ironically, the increasingly protectionist Republican Party dominates state politics, though Alaska's leaders tend to be aware of how global commerce benefits the state – a third of Alaska's goods exports in 2015 headed to nations that signed the Trans-Pacific Partnership.
The fact is, increasing quantities of goods are moved by air. In 2014, airlines transported more than 40 million metric tons of goods, representing more than 35 percent of global trade by value – US$6.8 trillion – but less than 1 percent of world trade by volume, reports the International Air Transport Association. "Growth rates for air freight are more than double those for shipping in recent years," notes World Ocean Review.
The supply chain is cagey about logistics, and companies like Apple may not detail how products like iPhones are transported. Corporate logistics staff constantly analyze rates, fuel prices and schedules – typically 30 days by sea or three by air. Speed and reliability matter for the most expensive, perishable and trendiest goods – and these require air.
In terms of that kind of cargo throughput, Ted Stevens Anchorage International Airport ranks fourth globally, after airports in Hong Kong, Memphis and Shanghai. About 2.6 million metric tons of air cargo pass through Anchorage in a year. The airport ranks just ahead of Inchon, South Korea, number five. All are so-called "technical stops." Planes take on fuel, change out flight crews and receive light maintenance. About 70 cargo planes land at the Anchorage airport every day, report administrators. For the most part, the cargo remains on the plane. The airport has 60 slots for wide-bodied planes rather than a cargo terminal. "Ground handlers try to turn a cargo plane around in one or two hours," said Trudy Wassel, division operations manager. "We call it `Gas and Go.'"
About 36 million gallons of aviation fuel are stored on site, and service employees pump about a million gallons per day.
Anchorage stands out on the list of largest cargo airports for its rural location. Alaska is sparsely settled, with fewer than 750,000 inhabitants spread over an area twice the size of France. More than half of Alaskans reside in or near Anchorage – and the Southcentral region has the infrastructure and trained workforce required to run one of the busiest air transshipment facilities in the world. The airport is named after Alaska's former US senator, the late Ted Stevens, the longest-serving Republican senator in US history. Stevens died in a small plane crash in 2010. During his 40-year tenure, he contributed to the state's development by funneling federal money northward – and during his last year in office, Alaska received more federal funding per capita than any other state, almost twice the national average at $20,351 per resident.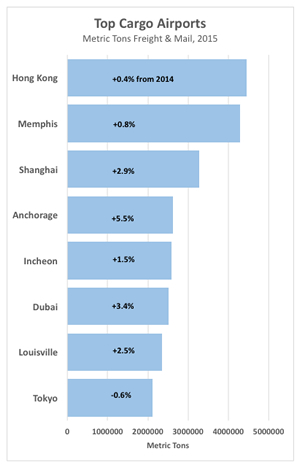 Federal funds paid for runway upgrades, and the Anchorage area economy gets a major boost from the investment, even beyond the 400 or so state jobs and more than 8,000 private industry airport jobs. A 2014 airport economic impact study stated that one in ten of all jobs in the Anchorage area – 15,000 in all – were directly or indirectly connected to the airport.
The airport is state-owned and managed, along with the smaller Fairbanks International Airport, located about 200 miles to the north. In poor weather, planes can be rerouted to Fairbanks. Both comprise the Alaska International Airport System with a $120 million annual budget and a full range of US Customs services.
Alaska has long been proud of its place along the Pacific Rim, seeking connections and supplying services to travelers. In the 18th century, the former Russian colony was a provisioning stop for ships sailing from North America to China. Soon after the United States purchased the territory from Russia in 1867, the discovery of gold attracted prospectors from around the world. Cold War tensions in the 1950s restricted flying in Soviet or Chinese Communist air space. Scandinavian Airlines, for instance, used Anchorage as a refueling stop between Copenhagen and Tokyo. By the 1980s, Anchorage had become a common stop for airlines flying passengers to the Far East, and US presidents often visit Alaska while traveling to or from global meetings in Asia.
 "A long time ago, planes stopped in Anchorage because they had to," admits Anchorage airport Manager John Parrot. "Now, if you stop here in your 747 (for refueling), you can put somewhere between 100,000 and 125,000 pounds of additional cargo on your airplane." He describes the airport as a "vital nexus" for trade between Asia and North America.
City officials once worried that the advent of larger cargo jets could rob Anchorage of business. Memphis was the largest cargo airport until 2010 when Hong Kong took top rank. "You can go directly from Shanghai to Chicago, but you have to take that much cargo off to save fuel," Parrot explains, adding that airlines stop in Anchorage because that "contributes to their bottom line."
He suggests the world has economic centers in the various regions, each about 4,000 miles apart, and they must rely on the "technical" stops, like Anchorage, to fill gaps. "Boeing doesn't need to develop a plane that goes 8,000 miles with a cargo penalty when they can build planes that can fly 4,000 to 5,000 miles and hit every economic center," Parrott said.
Parrot monitors growth in manufacturing and shifts that could threaten Anchorage's status as a major cargo hub. "If manufacturing moved from China to India, it would be closer to ship to the East Coast of the US through Ireland," he noted. Instead, he hopes for stable growth in the global economy so that while the airport might lose East Coast traffic, traffic with the West Coast and northern Asia would continue to grow.
Parrot is quick to point out a common misconception that planes travel to the United States full of cargo and return empty. Instead, cargo planes fly from China about 80 percent full, drop off their goods and then load up with about 70 percent capacity to return to Asia. In some cases, fresh and frozen seafood is placed onboard in Alaska, but the majority of US exports come from states other than Alaska. "China's middle class is developing, and they want to buy stuff made in the USA," he said.
The International Air Transport Association released a study in December that a 1 percent increase in a country's air-cargo connectivity is associated with a 6.3 percent increase in total trade.
The air-cargo industry depends on shipping high-value goods. Ongoing challenges include an emphasis on safety, security, efficiency and sustainability – as well as worries about new protectionist leanings in this predominantly Republican state.
Will Swagel writes in Sitka, Alaska, where he has lived for more than 30 years.
Copyright © 2017 YaleGlobal and the MacMillan Center