All Eyes on Africa
Disturbing news out of Africa, whether about extremist Boko Haram or the outbreak of Ebola, are aberrations for a young continent eager to grow and innovate. Like China and Europe, the United States is ready to court Africa as signaled by the first US-Africa Leaders Summit, explains J. Peter Pham, director of the Africa Center at the Atlantic Council. "The summit itself underscores the broad consensus in the US foreign-policy establishment that geopolitical and increasingly economic interests require engagement with Africa, yet the perception of the continent as a 'heart of darkness' mired in conflict, poverty, and disease stubbornly persists, even among the most well-meaning," he writes. Sub-Saharan Africa posts steady growth, 4.7 percent in 2013. China is Africa's largest bilateral trade partner; the US, France and the UK lead in foreign direct investment. Africa's share of such US investment stands at less than 1 percent, so opportunities abound for growth and new ties. US President Barack Obama urged viewing Africa as "a fundamental part of our interconnected world." In assessing its many offerings, a confident Africa prepares to stride forward to a new horizon. – YaleGlobal
The US is among many nations courting a confident Africa on aid, trade and natural resources
Thursday, August 14, 2014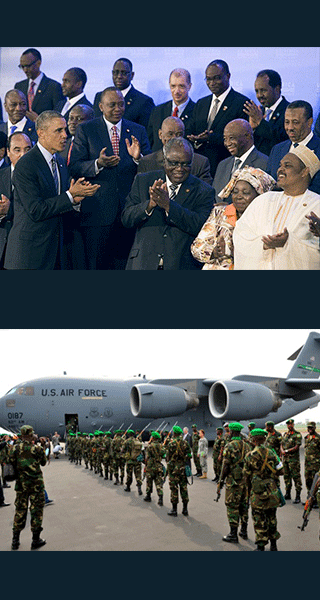 WASHINGTON: A new, confident Africa was on display at the first US-Africa Leaders Summit, the largest gathering of African heads of state and government convened ever by an American president. President Barack Obama, embattled on a plethora of foreign-policy fronts from Ukraine to Gaza to Iraq, can justifiably take pride in the positive outcomes, and he described the summit as "extraordinary" and a "success." The new Africa was on display not only in formal diplomatic functions, but at nearly a hundred business, think tank, civil society, and cultural events held in conjunction with the historic rendezvous. Whether the newfound awareness of the fast-growing continent, of course, translates into lasting impact depends on concrete policy measures.
US policymakers have shifted considerably from the time less than two decades ago when Pentagon planners published "United States Security Strategy for Sub-Saharan Africa" in which they declared that they could "see very little traditional strategic interest in Africa" and pronounced that "America's security interests in Africa are very limited." In contrast, President George W. Bush created the U.S. Africa Command, AFRICOM, in 2007 with the goal of strengthening America's security cooperation with nations on the African continent. The Obama administration's 2012 U.S. Strategy Toward Sub-Saharan Africa was prefaced with the affirmation that "Africa is more important than ever to the security and prosperity of the international community, and to the United States in particular."
The summit itself underscores the broad consensus in the US foreign-policy establishment that geopolitical and increasingly economic interests require engagement with Africa, yet the perception of the continent as a "heart of darkness" mired in conflict, poverty, and disease stubbornly persists, even among the most well-meaning. Former US Ambassador to Ethiopia and to Guinea, Tibor Nagy, has succinctly observed, "Africa is no more about Ebola and Boko Haram terrorists than the U.S. is about drive-by shootings in Chicago or the crises on the Mexican border." Notwithstanding the real security, humanitarian and developmental challenges which remain to be confronted, the story of Africa is increasingly one of economic dynamism – driven not only by demand for natural resources but also demographic trends and the adoption of innovative technologies as well as political reform and improvements in governance.
Any discussion of natural resources  inevitably brings up China's role in Africa and much is made of the "China threat" driving US solicitude for Africa. China has indeed overtaken the United States as the continent's largest bilateral trading partner since 2009 and has held regular summits with African states for more than a decade. Part of reason that Sino-African trade has boomed is that China is heavily dependent on imports of oil and other commodities. Meanwhile, US-African trade has stagnated in part because of the US shale revolution and reduced energy imports from Africa. For example, Nigeria dropped from America's fifth largest foreign supplier of petroleum to eighth, its share of the US imports trimmed by more than half to about 4 percent last year. And while China's foreign direct investment flows to Africa have risen dramatically over the course of the last decade, the continent's largest sources of FDI remain the United States and France, followed by the United Kingdom. As a recent Brookings Institution study noted, "even though the U.S. is one of the top contributors of FDI stock to sub-Saharan Africa, less than 1 percent (0.7 percent) of the U.S.'s global FDI stock abroad is destined for the region," leaving plenty of room for improvement.
China and the United States are not alone in the game of summit diplomacy: The European Union has been hosting summit meetings with African leaders for nearly 10 years, while France and Japan have been at it for even longer; India joined the fray about five years ago. While it would be naïve to conclude that the burgeoning of Chinese engagements across Africa have not influenced the US response, in previewing the summit, US Assistant Secretary of State for African Affairs Linda Thomas-Greenfield emphasized that it was "a reaffirmation of the United States' ongoing commitment," still visible in the largest network of diplomatic missions on the continent.
Obama announced a series of commitments during the summit:
an additional $300 million per year in public funding for the year-old, private-sector-led Power Africa initiative aimed at doubling access to electricity across sub-Saharan Africa;

$7 billion new financing to promote US exports to and investments in Africa as part of the Doing Business in Africa Campaign;

$110 million a year for a new African Peacekeeping Rapid Response Partnership to build the capacity of African militaries to respond to emerging conflicts;

$65 million in the initial year for a new Security Governance Initiative to help an initial six countries – Ghana, Kenya, Mali, Niger, Nigeria, and Tunisia – develop comprehensive security sector governance and accountability mechanisms;

$2 billion from the Millennium Challenge Corporation to facilitate economic growth and poverty reduction in countries that have demonstrated good performance on a series of indicators, and in fact, during the summit, a $489 million compact was signed with Ghana to improve electricity and stimulate private investment;

First Lady Michelle Obama and former First Lady Laura Bush unveiled $200 million in support for programs fostering improved education, health and economic opportunity.
A number of technical agreements were also inked during the course of the summit, including the Trade and Investment Framework Agreement with the Economic Community of West African States, ECOWAS, to provide a coordinated mechanism for engaging on trade and investment issues.
Obama also called on US Congress to renew the African Growth and Opportunity Act, or AGOA legislation first passed under President Bill Clinton and extended by Bush, which substantially lowered commercial barriers with the United States and allowed sub-Saharan African countries to qualify for preferential trade benefits – and also update it, shifting weight away from the energy sector to extend help to "more Africans, including women and small- and medium-sized businesses, getting their goods to market."
Unfortunately, more concrete proposals were not unveiled. A Heritage Foundation paper recently suggested a path for how the preferential trade scheme could be transformed into a sustainable program that encourages African integration, laying the basis for a future free-trade agreement between the United States and Africa as a whole. Currently the only African country with a US free-trade agreement is Morocco, which is increasingly emerging as a gateway for business for the continent.
After a bumpy start and organizational choices which caused concern among a number of Africanists, including this author, and despite controversy over human rights records of some invitees as well as carping by activists not invited to take part in the summit meetings of the national leaders, the Obama administration deserves credit for managing to secure impressive results from the first US-African Leaders Summit. The president expressed hope that the gathering would become a recurring event. Whether that happens or not depends on the Obama administration's stewardship of the initiatives showcased during the summit, including ability to work with Congress to authorize and fund projects, and also on whether the momentum of the gathering is sufficient to shift the Africa narrative in the minds of American decision makers and the general public who will influence policy and business decisions in the years ahead.

 
Copyright © 2014 The Whitney and Betty MacMillan Center for International and Area Studies at Yale