Asians Concerned by Extreme Comments of US Presidential Campaign
US presidential candidates are promising new directions on trade relations with Asia. Varying levels of concern have emerged in China, Japan, South Korea and Taiwan, suggests "America's 2016 Election Debate on Asia Policy and Asian Reactions," a report prepared by Robert Sutter and Satu Limaye for the East-West Center. The center promotes good relations and understanding between the United States and Asian nations. Sutter is a professor of international affairs at George Washington University, and Limaye is director of the East-West Center. The report identifies common themes in reactions from Asian observers as well as a reason for hope: Many express doubt whether the most extreme anti-trade and anti-alliance proposals could gain traction with a divided US Congress and Republican party. Still, extreme comments during the debates shake confidence in US leadership in the region. Limaye and Sutter conclude with a warning: The next US president will have much work to do in improving relations and restoring confidence about US intentions for the region. – YaleGlobal
Asians Concerned by Extreme Comments of US Presidential Campaign
East-West Center report identifies five trends in Asian reactions on anti-trade stances of US presidential candidates
Satu Limaye and Robert Sutter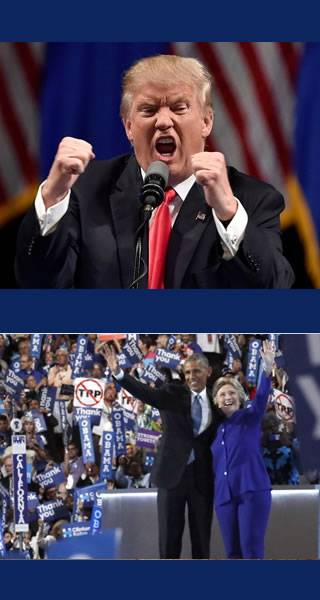 WASHINGTON: Just a month before the US election, the US presidential campaign and debates have already left enormous and largely negative impacts on US-Asia relations. Asians hold acute and largely negative concerns, and the election's outcome is likely to have an outsized impact on America's relations with the region.
The campaigns that began more than a year ago promised little new on Asia policy. An establishment field of Republican candidates plus a New York businessman who has never held elective office confronted a small Democratic field led by a former Secretary of State in the Obama administration, Hillary Clinton, who authored its Asia "pivot," and a socialist senator from Vermont.  Few analysts expected anything different than mainstream prescriptions on Asia policy, and initially that's what the country mostly received – calls for US leadership, broad questions on the efficacy and sustainability of the "Asia rebalance," commitments to strength in Asia-Pacific alliances, harsh criticisms of Chinese trade policies and behavior, and a sanctions-first policy towards North Korea's nuclear and missile development.
As the campaigns unrolled, however, the "outlier" candidates, Senator Bernie Sanders and Donald Trump, drove more extreme stances. Sanders was outspoken with his critiques of trade agreements, specifically the Trans-Pacific Partnership which brings together 12 Asia-Pacific countries, including the United States, and he was subsequently joined by Clinton. Trump's shared and heated antipathy towards TPP aroused the electorate. Also, his sui generis proposals on alliance cost-sharing, nuclear proliferation and openness to dialogue dealing with North Korea's leader have challenged the center-line of US Asia policy, shaking this more than it has been since the end of the Cold War. Sure, debates have focused on Asia policies before – including the Vietnam War, the presence of troops in South Korea, and competition from Japan and China. The current campaign is another major milestone in the often difficult path of charting effective policy in this dynamic region. It notably challenges US-Asia policy "fundamentals" such as free trade, alliances, handling rising powers and addressing threats.
Two major impacts resulted from this unprecedented Asia policy debate.
First, initial discussions among the candidates and policy professionals about the Asia rebalance and China's rise and assertive actions gave way to a focus on anti-trade and anti-TPP sentiment. Trump's radical proposals calling for allies to pay more for US alliance protection, openness to allies procuring nuclear weapons to ensure their own security, and willingness to meet North Korean leader Kim Jong Un to discuss his nuclear weapons program shook expectations for Asian allies. The candidates treated China consistently, disapproving of many Chinese policies, but ranking China lower than in the recent past as an economic threat and viewing China's military as less threatening to US interests than terrorism, nuclear weapons development in North Korea and Iran, various conflicts in the Middle East, climate change, refugee flows and infectious diseases.
Debate on policy fundamentals is good and useful. But the anti-trade and anti-alliance postures adopted during this presidential campaign are skewing what the United States has traditionally considered to be its key challenges: how to extend considerable US advantages in Asia and address the challenge of an assertive China. In addition, the intense personalization, politicization and crude theatrics of this year's electoral debate are overshadowing consideration of the serious issues at stake.
A second major impact is the demonstrated resistance to Trump's controversial proposals and disagreement among Republicans and Asia specialists in the US Congress, think tanks, and bureaucratic elite such as diplomats and military officers.
Asia's reactions are mixed and wide-ranging, according to consultations with nearly 100 Asians in Japan, China, Taiwan and South Korea as well as in workshops in Washington, DC, as conducted by the authors for the report America's 2016 Election Debate on Asia Policy and Asian Reactions. Across Asia, responses to specific issues, whether TPP or the maintenance of alliances, reflect domestic politics and traditional divides. Some common themes emerged:


First, consensus exists that the election discussion politicizes US foreign policy and weakens the American leadership position in Asia – resulting from both the substance and style of a campaign that features personal attacks, gross language and salacious accusations. The low level of debate has degraded America's image and provides fodder for Chinese and others who point to the weaknesses of the US and its democracy.
Second, many in Asia fear that election debates have made it more difficult for the future president to define and implement coherent American policy in the context of recently growing tensions in US-Chinese relations and varying responses by regional governments to China's assertiveness.
Third, Asians see a muddled picture of American leadership sustainability and worry about not just US policy in Asia, but future US foreign policy in general.
Fourth, many Asians express astonishment that Sanders and Trump managed to make the anti-trade, anti-TPP position so central to the campaign, ensnaring even Secretary Clinton into the shared stance.
Finally, on a positive note, Asian observers balance anxieties with both hopes and evidence that strong engagement with Asia in the US rebalance policy will likely continue. This is mainly because Trump's views appear to be singular – backed by neither key Republicans in Congress nor the foreign policy and defense establishment – and therefore not easily implementable. Most Asians agree that America's preeminent role in Asia's increasingly challenged peace and prosperity depends on policy choice and not material ability.
Among Asian countries, Chinese commentators saw opportunities for Chinese gains in competition with the United States for leadership in Asia. This is a result of the election's negative impact on the credibility of American commitments to Asian allies and friends. For example, China welcomes a level of doubt and dissonance among the United States and its allies brought to the fore by the current debate, but does not welcome sudden crises or nuclearized US allies which would seriously destabilize the region. China sees US alliance and partner problems regarding the candidates' positions on TPP but expresses concern, even as a non-signatory of the trade pact, that failure reflects a protectionist stance that threatens Chinese growth. Overall, while China welcomes facets of the current campaign that create uncertainty and doubt about the United States in the region, it appears clear-eyed about the short-terms costs.
Japan reacted most clearly and worriedly, given its ongoing experience of Chinese coercion, and Tokyo seeks US support, stronger Washington actions against Beijing, and expanded links across Asia. Australia watches China's assertiveness carefully, but public and elite opinion about the United States and China remains divided, not least due to the resource and real estate booms fueled by China's growth. South Korea rides the fine rail of "alliance primacy" versus "alliance equilibrium" backed by the mainstream and conservatives on the one hand and progressives on the other. Taiwan, most directly threatened by China, seeks a middle-of-the-road "Goldilocks balance" between strong US support, but not too much US-China friction. India seeks constructive relations with China on global issues, but Delhi is building strategic relations across the Indo-Asia Pacific, with the US, to balance China. And Southeast Asia continues to calibrate among the great powers, resisting firm choices.
Asia's fluidity in an era of increasing contestation about the balance of power, relations and order is matched by the fluidity of the US Asia policy debate in the 2016 presidential election. The next president will have much work to do.
Satu Limaye is director of the East-West Center and senior advisor for the Center for Naval Analyses. The views are entirely personal.
Robert Sutter is Professor of Practice of International Affairs at the Elliott School of International Affairs (ESIA) with George Washington University.
Read America's 2016 Election Debate on Asia Policy and Asian Reactions.
Copyright © 2016 YaleGlobal and the MacMillan Center