Ban for Omar-Tlaib and Democracy: Times of Israel
Polarization and fear of criticism erode democracy. Israeli Prime Minister Benjamin Netanyahu banned two American Democratic congresswomen from visiting the Israeli-occupied West Bank soon after US President Donald Trump suggested as much. The ban on the two representatives reveals the extent of Israel's control over Palestinian territories. Ilhan Omar, once a Somali refugee who was elected to congress from a Minnesota district, noted, "The irony of the 'only democracy' in the Middle East making such a decision is that it is both an insult to democratic values and a chilling response to a visit by government officials from an allied nation." Rashida Tlaib of Michigan, who has relatives in the West Bank, said "the truth of what is happening to Palestinians is frightening." The ban calls attention to a boycott over Israel's treatment of the Palestinians. A range of senators and congressional representatives, including staunch supporters of Israel, as well as the bipartisan lobbying organization American Israel Public Affairs Committee, criticized the ban, suggesting that they may oppose the stances held by the two congresswomen, but support the right to free speech and fact-finding travel. Update: Israel, in a reversal, announced it would grant a visa with conditions for Tlaib to visit her family. She states she will not visit with the conditions.– YaleGlobal
Ban for Omar-Tlaib and Democracy: Times of Israel
Israeli ban on two US congresswomen criticized: Omar compares to Trump's Muslim ban; Tlaib says "the truth of what is happening to Palestinians is frightening"
Read the article from the Times of Israel about an Israeli ban for entry by two US congresswomen. The following day, Israel announced it would grant a visa to Representative Rashida Tlaib. She responded she would not travel under the stipulated conditions.
Also read an essay, "Barring Tlaib and Omar, Israel  Inexcusably Abandons the Diplomatic Battlefield," from the Times of Israel: "Perhaps what is most troubling about our closing of our own doors to these pernicious critics, however, is that the move smacks of a loss of will by our leadership, a loss of self-confidence," writes David Horovitz. "It suggests that Israel, or those who currently helm it, do not think they have the ammunition to fight back, and cannot muster effective arguments to counter the skewed narrative the duo would have sought to present on the ground here and will now instead present back home, un-countered, in the US."
Read about American Israel Public Affairs Committee.
Read about the Boycott, Divestment and Sanctions Movement.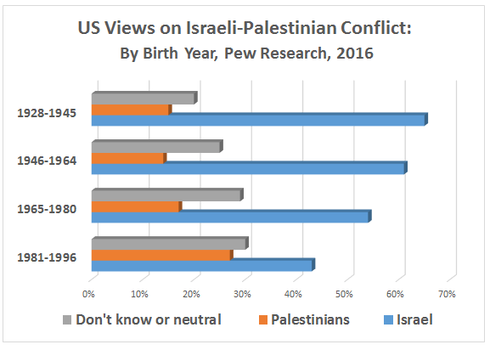 © 2019 The Times of Israel, all rights reserved