Big Win by Turkey's AKP Signals Vote for Stability
Turkey's Justice and Development Party, also known as AKP, won 317 seats in the General National Assembly with Sunday's election– more than expected and more than the 276 needed for a majority, but not enough to change the constitution directly. The results confounded pollsters since AKP failed to win a majority in June elections or form a coalition government. "Confronting renewed conflict with Kurdish militant groups and the devastating consequences of four years of war in Syria, Turks voted to continue current policies to manage the country's long-running conflicts," writes Chris Miller, associate director of Yale University's Grand Strategy Program. Western partners are impatient with the Turkish president's intolerance of opposition. The decisive win, combined with increased support for AKP from ethnic Kurds, could add pressure for a peace deal with Kurdish PKK militants, Miller explains. Turkey's ruling party and the Kurds have reason to cooperate in battling Islamic State extremists that control large sections of neighboring Syria and threaten the entire region. – YaleGlobal
Big Win by Turkey's AKP Signals Vote for Stability
Decisive win for AKP in Turkey could add pressure for peace deal with Kurdish PKK militants
Tuesday, November 3, 2015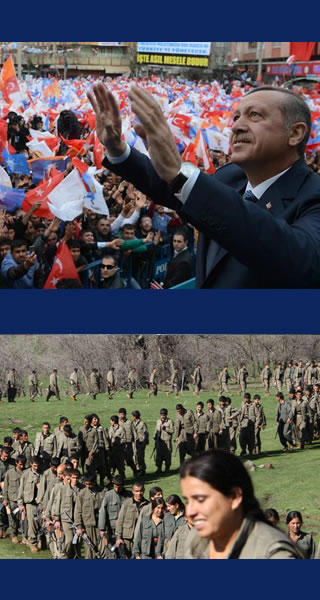 NEW HAVEN: In a result that confounded pollsters, Turkey's ruling AK Party won a new majority in parliamentary elections on Sunday. Within Turkey and among its neighbors, the vote will be seen as a decisive endorsement of President Recep Tayyip Erdoğan and the political party that has governed Turkey since 2002. Confronting renewed conflict with Kurdish militant groups and the devastating consequences of four years of war in Syria, Turks voted to continue current policies to manage the country's long-running conflicts.
The decisive victory for the Justice and Development Party was not only surprising because the party won an outright majority in parliament, reversing an indecisive June election that saw the AK Party's support fall to decade lows and led to a hung parliament. In the election on November 1, however, the party not only won back its parliamentary majority, it did significantly better than polls had predicted, taking over 49 percent of the popular vote, according to provisional figures. The secularist CHP won 25 percent of the vote, similar to its June results, while both the far-right MHP and the Kurdish leftwing HDP lost votes, each winning around 11 percent.
Since June, Turkish politics were destabilized by the renewal of open conflict between the government and Kurdish PKK militants, who are fighting for independence or greater autonomy from Ankara. Turkey's Kurds – who make up between 15 to 20 percent of the population and live predominantly in the country's southeast region bordering Syria, Iraq and Iran – have long had a confrontational relationship with the Turkish government. Critics of the AK Party allege that Erdoğan incited conflict in order to bolster his party's support, while the government maintains that the PKK first violated the long-running ceasefire by launching attacks on Turkish soldiers and police. Two deadly bombings further destabilized security situation, one in the southern city of Suruc and the second in Ankara, which killed more than 100 people. Both attacks were widely attributed to the Islamic State militants that have declared the establishment of a caliphate in war-torn Syria and Iraq.
Faced with spiraling violence, Turkish voters decided that stability was best preserved by a majority AK Party government rather than a potentially unstable coalition. Both the far-right MHP, which opposes Kurdish demands, and the Kurdish HDP lost votes to the AK Party, which now has a full four-year parliamentary term with which to restore security.
The election results force Turkey's neighbors and larger allies to recalibrate on strategy. Turkey's Western partners, including its major European trading partners and NATO allies, have grown impatient with the country's president. Erdoğan's mercurial style and his intolerance of political opposition have cost him many friends in the West, who criticized his crackdown on the 2013 protests in Istanbul's Gezi Park. The subversion of the country's justice system and alleged widespread corruption have also drawn significant criticism from Western governments and advocacy groups.
Yet though many in the West would be happy to see Erdoğan go, an AK Party parliamentary majority comes with certain benefits. Western observers most feared that the AK Party would choose to form a coalition with the far-right MHP, a choice that would have dragged Turkish politics rightward, exacerbated conflict with Kurds, and heightened anti-Western rhetoric in Turkish politics. With a parliamentary majority, some Western observers hope, the AK Party has the political capital it needs to focus on reforming the economy and improving relations with the Kurds, two initiatives that the West fully supports.
More importantly, however, Western relations with Turkey are increasingly focused on two areas of shared interest: Russia and refugees. Russia's bombing campaign in Syria is boosting ties between Turkey and the West by underscoring shared interests in marginalizing Russian influence in the Middle East. At the same time, as Europe struggles to cope with the surge of Syrian and other refugees into countries such as Germany, Turkey is an ally. The European Union is working with Ankara to help provide refugees better conditions within Turkey, which currently houses 2 million Syrian refugees. Given the priority of the refugee crisis for European politicians, relations with Turkey are likely to focus on cooperation in this sphere rather than confrontation over Turkish domestic politics.
The biggest impacts of the election, however, will be felt in Southern Turkey, Syria, and Iraq – three regions wrapped up in the same complicated and interlocking conflicts. Turkey's government and the Kurdish groups that operate on Turkish territory are both major participants in the civil wars that have embroiled Iraq and Syria in recent years.
The war in Syria has sharply divided Turkish society. After street protests against Syrian President Bashar al Assad began in 2011, Ankara loudly criticized Syria's government for violently suppressing protestors. As violence spiraled out of control – and as the conflict became increasingly driven by sectarian divides, with Alawites backing the government and Sunnis supporting opposition movements – Ankara began to intervene on behalf of predominantly Sunni rebel groups. In part this was because Turkey felt that it had an interest in shaping events occurring along its border, but the backing of Sunni groups also dovetailed with the AK Party's broader support for the Muslim Brotherhood and likeminded parties across the Middle East.
As Syria's government lost control over its territory, significant chunks of regions that border Turkey came under the control of the PYD, a Kurdish militia with deep links to the PKK, the Kurdish group fighting the Turkish government. Turkey saw the emergence of pro-PKK territories in Syria as a potentially existential threat, fearing they would become bases for PKK attacks and might even emerge as de facto independent states. In response, Turkey cut off supplies to the Kurdish-run territories even as they were assaulted by ISIS forces. The refusal to aid Syria's Kurds against ISIS not only inflamed Turkey's ethnically Kurdish population, which broadly supported efforts to defend Syrian Kurds. It also led to disagreements with the United States, which backed the Syrian Kurds in the fight against ISIS.
Here the AK Party's election victory may have counterintuitive effects. The party campaigned on its ability to bring stability to Turkey's southern regions, and it has taken a hard line on the PKK militants. So one might expect a harsh line on Kurdish militants to continue. Yet the election results give the government a strong position – and a large amount of political capital – with which it can push for a peace deal with the PKK. Such a deal would help resolve the Kurdish conflict in Turkey and improve relations between Ankara and Syria's Kurds. The HDP's electoral defeat may make the PKK more willing to strike a deal. After the renewal of conflict between the government and the PKK this summer, the AK Party's support from ethnic Kurds appears to have increased while support for the Kurdish HDP fell. This is a clear signal to the PKK that many Kurds do not back violent methods to win Kurdish rights – a conclusion that should place pressure on the PKK to lay down arms and agree to a peace deal.
A final deal between Ankara and the PKK would reshape the war currently raging in the Levant. Turkey would have less reason to fear Syria's Kurds and might even be convinced to support them in their battle against ISIS. The conflict in Syria and Iraq is unlikely to be resolved soon. But Turkey's election provides an unexpectedly good condition for resolving at least one of the region's conflicts.
Chris Miller is associate director of the Grand Strategy Program at Yale and a fellow at the Foreign Policy Research Institute. He is currently finishing a book manuscript on Russian-Chinese relations.
Copyright © 2015 YaleGlobal and the MacMillan Center