Can China and Turkey Forge a New Silk Road?
China and Turkey are taking steps to reinvigorate their relationship and role as strong bookends to the Asian continent while encouraging new connections along the routes of the ancient Silk Road network. The two countries aim to boost bilateral trade to $100 billion by 2020, and plans are underway to connect Ankara and Beijing by rail. But there are complications, too. Turkey, NATO member, also seeks full membership in the Shanghai Cooperation Organization. Both China and Turkey share wariness of US power, but the US has quickly responded to aid Turkey against attacks and spillover conflict from Syria, while China's policy is hand's off. China and Turkey are divided, too, over treatment of the Turkic-speaking Uyghurs throughout Central Asia. Other obstacles to reviving a Silk Road network include Central Asian states loosening restrictions on trade, travel and border crossings. Many anticipate a new Silk Road adding to Asia's prosperity, but heavy traffic is still a distant dream. – YaleGlobal
Can China and Turkey Forge a New Silk Road?
Trade, cultural exchanges enrich Sino-Turkish ties, but new Silk Road is a distant dream
Anna Beth Keim, Sulmaan Khan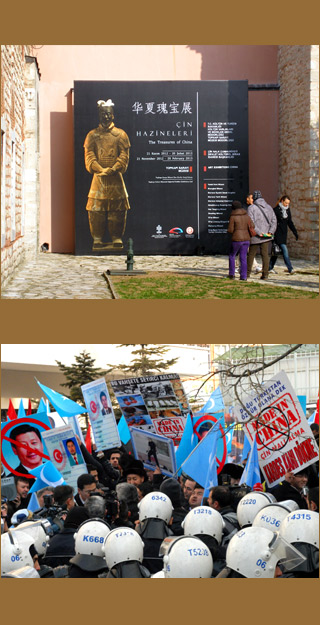 ISTANBUL: In a dark room in Istanbul's Topkap Palace Museum, four terracotta warriors stare at visitors. Part of  The Treasures of China" exhibit, they're accompanied by jade carvings, pottery and other artwork on loan from the Forbidden City and other Chinese museums. On the wall, a large map depicts the historic Asian trading routes known as the Silk Road. "The ancient Silk Road," notes the introduction on another wall, was "a golden bridge across Asia and Europe" for more than 1,000 years, with "China as the starting point and Turkey as the terminal."
The exhibit is part of Turkey's 2012 cultural year of China in Turkey, but there's more to this exchange than nostalgia and cultural bonhomie. It's part of a broader project: the rejuvenation of a new geostrategic Sino-Turkish relationship harkening back to the age of the Silk Road network.
The new Silk Road has potential for shaping Eurasia's future, yet is more a gleam in the eye than a vision fulfilled. Turkey's NATO ties and entanglement with ethnic brethren Uyghurs in China's Xinjiang province could also pose complications.
Relations between China and Turkey, NATO's easternmost member, began to improve in 1971, when Turkey recognized the People's Republic of China, yet only recently, with China's economic rise and Turkey's growing regional clout has the relationship taken on global significance. In 2010, then Chinese Premier Wen Jiabao made a landmark visit to Ankara during which the two sides agreed to strategic cooperative relations.
The first imperative for cooperation is commercial. Wen and Turkish Prime Minister Recep Tayyip Erdoğan aimed to boost bilateral trade to $100 billion by 2020. Xi Jinping, then heir-apparent and now paramount leader of China, reaffirmed the commitment when visiting Turkey in 2012. Much of this new traffic could travel overland paths that overlap with the old Silk Roads, though this time with trains, not camels. Though each enjoys access to maritime trade routes, China and Turkey both have vast inland territories which could benefit from overland trade. In a recent interview with Turkish newspaper Today's Zaman, Turkish Customs and Trade Minister Hayati Yazıcı painted a glowing picture of how new transport infrastructure and energy corridors could spur trade flows across the Silk Road, bringing prosperity to all. Overland trade – especially if Turkish attempts to convince other Silk Road countries Afghanistan, Azerbaijan, Georgia, India, Iraq, Iran, Kazakhstan, Kyrgyzstan, Mongolia, Pakistan, Russia Federation, Syria, Tajikistan, Turkmenistan and Uzbekistann to simplify customs and border crossings prove successful – could reduce Turkey's trade deficit with China and serve Beijing's goal of developing growth in landlocked Chinese territories like Xinjiang, where Beijing is encouraging Turkish businesses to provide textiles and food processing, among other goods.
Chinese investment in Turkey is rising, too. A state-owned Chinese enterprise, the China Civil Engineering Construction Corporation, is building a high-speed railway linking Ankara and Istanbul. Discussions on the construction of another railway connecting eastern and western Turkey are underway. If approved, the project would cost $35 billion, with Beijing providing $30 billion in loans. This is not altruism. With plans to connect China and Turkey by rail underway, a line running across Turkey could give China swift connections all the way to London. The new Silk Road would be the grandest stretch of a global trade highway.
China and Turkey share a wariness of American power. Despite Turkey's security ties to the US, popular opinion in the country sees America as an oppressive superpower. Implicit in Wen's expressed desire to work with Turkey in multilateral forums to safeguard the interests of developing countries was a portrayal of the US as a unilateral cowboy, opposed to the interests of developing countries. Joint military exercises between China and Turkey heralded Wen's visit, and China and Turkey could counter American power. It would be difficult for Washington to isolate Iran economically, to take one example, given that both Turkey and China envision any new Silk Road including that country.
One multilateral forum where Ankara and Beijing might cooperate is the Shanghai Cooperation Organization, a Central Asian pact comprising China, Kazakhstan, Kyrgyzstan, Russia, Uzbekistan, and Tajikistan. The SCO has demanded that external – read American – influence leave the region. Turkey, currently a SCO dialogue partner,  seeks full membership – natural considering its linguistic, cultural and religious ties to the Central Asian states.  The SCO also offers Turkey energy links with resource-rich Central Asian countries and Russia.
In an ideal world, a modern Silk Road would usher China and Turkey into a new era of prosperity. The countries in between would thrive on swift trains bearing goods, the oil and gas flowing freely as the investors. And they could tell imperialist powers with one voice: "Back off."
But there are roadblocks. One of China's goals in the SCO has been to thwart dissident Uyghurs in Central Asia. An ethnic group in Xinjiang, the Uyghurs are Turkic-speaking Muslims. But where Beijing sees Uyghur rebels undermining China's territorial integrity, Turks mourn their "religious brothers'" suffering at Chinese hands. A large number of Uyghurs have found refuge in Turkey; some burned the Chinese flag outside Xi Jinping's hotel during his visit. When Uyghur riots broke out in Xinjiang in 2009, Erdoğan declared Chinese policy "a kind of genocide." Erdoğan later tried to mollify Beijing, but the issue isn't fading.   
Second, there is the question of how to deal with the US. Washington retains strong interests in Central Asia: Its own Silk Road policy aims to counter Russian influence in the region. China, wary of Russian power in Central Asia despite the SCO's united front, should be sympathetic. But it sees itself, not Russia, as America's target. For all its anti-Americanism, however, Turkey remains a NATO member. If it becomes a member of SCO, Turkey would be in the odd position of demanding that its military partner, the US, leave a geostrategically vital region. Ankara may not find it easy satisfying both Washington and Beijing.
No single issue crystallizes Ankara's dilemma as clearly as the Syrian crisis. As Russian and Chinese vetoes at the UN Security Council defeated attempts at sanctions on Syria, the violence spilled into Turkey. Ankara, having already clapped its own sanctions on the Assad regime, turned to NATO for Patriot missiles and accompanying troops.
China remains intractably opposed to interference in Syria's internal affairs. Xinhua, China's official news agency, described Turkey's real motives for installing the Patriots as "grappling with Egypt for influence in the Middle East…deterring Kurdish armed forces at home… and getting on the good side of the EU and NATO."
Such suspicions might be overcome. But eagerness to travel the new Silk Road remains uncertain. Turkish traders, whatever their sympathy for their religious brothers, remain more eager to do business on China's east coast than in Xinjiang. A mere 97,000 Chinese tourists came to Turkey in 2011, compared with 900,000 to France. "The other European places are more famous – and people think this is still Asia," explained a young Chinese visitor at the Topkapı Palace.
States can promote friendship and cultural affection, but as with the original Silk Road network, relationships depend on people willing to travel. It will take more than a few terracotta warriors to blaze a path between Ankara and Beijing.
Anna Beth Keim is a writer and a Mandarin-English translator. Sulmaan Khan is a writer and a historian of international relations.
Copyright © 2013 Yale Center for the Study of Globalization