China Fuels Vietnam's Protest Movement
Vietnam has a long and troubled history with China. After the chill caused by the 1979 Chinese invasion of Vietnam and subsequent tussles over the South China Sea, the two nations normalized relations in 1991 for cross-border trade and diplomacy. Still, the Vietnamese people are not so quick to forget as indicated by unprecedented protests during summer of 2018 over a proposal to designate three special economic zones in sensitive areas with 99-year leases that would likely land with Chinese corporations. "Vietnamese leadership today walks a tightrope of balancing official condemnation of Chinese actions in the South China Sea with a pragmatic approach to trade and investment cooperation," explains journalist and filmmaker Tom Fawthrop. "June's mass protests reflected sentiment that Vietnamese people no longer trust their government to achieve the right balance with Chinese investment projects often tainted by corruption, lack of transparency and land-grabbing." Protests united anti-communist dissidents and former government officials alike, forcing the government to delay the law's passage until May 2019. Fawthrop concludes that Vietnamese leaders must develop a vision for development and a strategy for protecting the nation's culture and independence from China's regional hegemony. – YaleGlobal
China Fuels Vietnam's Protest Movement
The Vietnamese people, wary of Chinese expansionism, expect their leaders to control development, protecting culture and independence
Thursday, November 29, 2018

HANOI: Few people had expected mass demonstrations to erupt throughout Vietnam in 2018, as the one-party state usually snuffs out dissent before many understand the issue or have a chance to mobilize. 
A new law on special economic zones debated by the National Assembly in June triggered unprecedented protests. The public was especially indignant over a proposal to open three strategic locations in Vietnam to 99-year leases that would almost certainly end up in the hands of Chinese companies. Vietnam's communist regime typically cracks down on calls for multiparty democracy. Even so, civil society and some reformist voices inside the government ranks can delay and revise unpopular policies tied to the country's troubled history with China.
Former economic adviser to the government and member of the Communist Party Lê Đăng Doanh anticipated a "strong reaction from the Vietnamese people," reported the South China Morning Post. He signed a petition to the National Assembly, urging postponement. The "strong reaction" erupted in at least six cities and towns including Ho Chi Minh City, Danang, Nha Trang, Vinh and Hanoi, apparently catching the security apparatus off-guard.
Vietnam has witnessed a series of smaller protests in recent years, primarily directed against the Chinese government supporting Vietnamese historic claims to islands in the South China Sea. Vietnam calls the contested body of water the "East Sea" or "Eastern Sea." A human rights defender and blogger known to his 42,500 Facebook followers as Anh Chi explains: "recent protests by Vietnamese people have been strongly against the invasion, expansion and aggression by the Chinese government in the East Sea." Chinese investment scandals also triggered protests over a 2009 bauxite mine project and a 2016 toxic spill, wiping out fish along 120 kilometers of coastline.
Vietnam's internet penetration is just over 60 percent, according to UN data, and the country ranks seventh worldwide with its Facebook user base of 58 million. Critics suspect that China exchanges surveillance capabilities with Vietnam, but admit there is no hard evidence. "We know that the Vietnamese cybersecurity police are trained in China," wrote blogger Manh Kim in June. "We cannot rule out that China has helped Vietnam to design and equip its cybersecurity infrastructure."
Lively social media debate galvanized opposition to the draft law on economic zones. State-owned media even reported on the public alarm. Bishop Paul Nguyen Thai Hop, a leading figure for the Vietnamese Catholic community, stated in a petition to the National Assembly that the measure could "potentially harm our national interests, especially our security and sovereignty." Nguyen Quang Dy, former foreign ministry official and analyst, wrote that the Chinese "through their capitalist corporations have the capital and incentives to conquer these special zones as a soft invasion."
Anh Chi admitted that he "rarely saw such public interest in the National Assembly, a legislature that usually acts as a rubber stamp for the Communist Party's Central Committee."
Tens of thousands of Vietnamese risked protesting online and in the streets because of the strategic locations for the economic zones. Vietnam specialist Carl Thayer explains that the zones could bring economic benefits, but the locations are sensitive: Quang Ninh is near the border with China; Phu Quoc island is within China's nine-dash line claim at the southern extremity of the South China Sea, near Chinese projects and port construction in Cambodia's coastal region; and Bac Van Phong is in Khanh Hoa province.
China would likely be the major investor in the three zones due to fast-expanding economic domination in the Mekong region of Southeast Asia, part of its far-reaching Belt and Road Initiative. Vũ Quang Việt, former UN staff economist and contributor to Vietnamese media, is skeptical about benefits and suggests, "proposed incentives would only encourage property developments and casino projects, and would not enhance the hi-tech industries that Vietnam needs to boost its economy."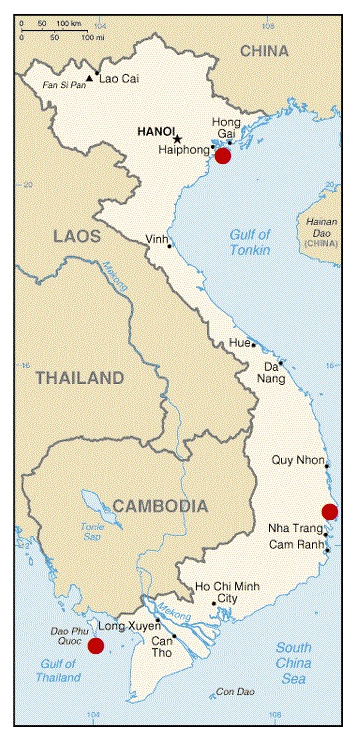 Nguyễn Phú Trọng, as head of state and leader of Vietnam's communist party, delayed the law's passage until October and then again until May 2019 – a partial victory for the critics.
Vietnam's leadership is determined to press ahead next year, but hopes that time, assisted by a clampdown on social media, especially Facebook, will subdue passions. Embarrassed security authorities have predictably imposed harsh sentences on leading dissidents and human rights campaigners with more than 80 jailed nationwide. The country also passed a new cybersecurity law, extending surveillance and censorship, to counter the opposition bloggers.
China is a conundrum for Vietnam's leaders. Their strategy of combining a degree of consultation with harsh repression is unlikely to resolve the underlying fault-line of Vietnam's centuries-old distrust of the economic giant perched on its northern border.  Vietnamese school pupils learn that Chinese emperors and warlords colonized their country for nearly a millennium, from 111 BC until 938 AD. As recently as 1979 China invaded Vietnam as "punishment" for Hanoi's ousting the brutal Pol Pot regime that devastated Cambodia with millions displaced, enslaved, tortured and killed. China and Vietnam normalized relations in the 1990s with trade, investment and diplomacy. Meanwhile open conflict continues over China's militarization of Paracel and Spratly islands in the South China Sea and the sinking of Vietnamese fishing boats in disputed waters.
Vietnamese leadership today walks a tightrope of balancing official condemnation of Chinese actions in the South China Sea with a pragmatic approach to trade and investment cooperation. Beijing is Vietnam's unloved trading partner, ranking first for import origin and second to the United States as an export destination.
June's mass protests reflected sentiment that Vietnamese people no longer trust their government to achieve the right balance with Chinese investment projects often tainted by corruption, lack of transparency and land-grabbing. Fear that China's agenda compromises Vietnam's hard-won battles for independence is not confined to anti-communist dissidents exiled in the United States and France, but also unites many followers of Ho Chi Minh among senior government advisors, retired military officers, communist party cadres and the wider society. Dissident Pham Chi Dung concludes that reformers close to the government share increasing disillusionment about ambiguous policies and Hanoi's uneasy coexistence with China: "the failure of the government's economic governance and the state of corruption, even the intellectuals and experts aligned to the ruling communist party are losing patience and express disagreement with the government's baffling demeanor."
China, with an increasingly dominant economic role in the Mekong region, leans on Hanoi to contain the unrest and stop protests directed at China. Hanoi is far from moving towards a more careful review and regulation of Chinese investment projects – and appears more concerned about wooing additional Chinese funding for infrastructure development. Vietnam's Prime Minister Nguyễn Xuân Phuc announced at November's International Import Expo of China held in Shanghai, that his country "is a promising land for international investors, including China to cultivate." He added that Vietnam needs US$25 billion per year for infrastructure development.
If Hanoi's conservative ideologues row too close to the Chinese model, then party reformers and government insiders, as well as a strong sense of nationalism in the wider society, will increasingly call the legitimacy of Hanoi's communist rule into question. Hanoi's leaders lack vision for a Vietnamese development model – and clear strategy of how best to protect the country's culture, values and much-cherished independence from China's globalization of the Mekong region.
Tom Fawthrop, a journalist and filmmaker based in Southeast Asia, is a regular contributor to the Economist and the Guardian. He also provides features for BBC and Al Jazeera Online. His documentaries include The UN Mission to Cambodia and The Damming of the Mekong and provide extensive coverage of Vietnam since his first visit in 1987.  
Update: The complete name for Nguyen Quang Dy was added on December 9, 2018.
© 2018 YaleGlobal and the MacMillan Center