China-Russia Gas Pipeline: Wall Street Journal
A new 1800-mile pipeline called the Power of Siberia has begun delivering Russian natural gas to China, a crucial link between the two countries. Russian President Vladimir Putin and his Chinese counterpart Xi Jinping presided over the launch via video. The project is a tangible symbol of the Beijing-Moscow economic and trade partnership in economics as well as mutual political support for confronting pressures from the United States and Europe. Russia has the world's largest proven gas reserves, about 25 percent, and China eyes these for developing its enormous economy, especially while contending with the US trade war. The new pipeline alleviates the reduction in energy-dominated trade due to US and EU sanctions imposed after Russia's takeover in Ukraine's Crimean Peninsula in 2014. China and Russia also cooperate in other areas. Indeed, the pipeline and increased trade are a response to those sanctions. Russia also invited Chinese troops to join military maneuvers and increased the share of Chinese yuan in its foreign currency reserves to 14.2 percent from 5 percent in 2018, according to the Russian central bank. The new pipeline also reduces China's need for US liquefied natural gas imports. – YaleGlobal
China-Russia Gas Pipeline: Wall Street Journal
The Power of Siberia, a new 1800-mile pipeline, symbolizes strengthening bilateral cooperation on economic, political and security fronts for China and Russia
Tuesday, December 3, 2019
Read the article from the Wall Street Journal about the opening of a 1800-mile gas pipeline between Siberia and China. 
Georgi Kantchev is a Moscow-based reporter covering Russia and the region.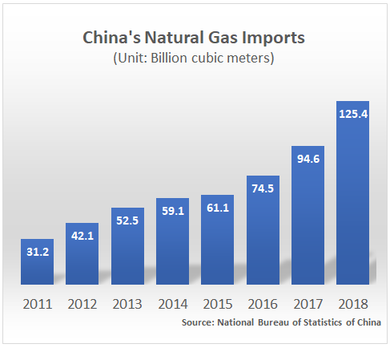 Feeding a trade tiger: China's energy imports climb as its economy grows
Rights: ©2019 Dow Jones & Company, Inc. All Rights Reserved.