Crippling Aramco Attack: Bloomberg
A drone strike on a Saudi Aramco in Abqaiq slashed production by half, representing about 5 percent of the world's oil supply. The company expects to restore production within days, but other analysts suggest months. Saudi Arabia supplies about 10 percent of the world's crude oil and suppliers will fill the gap with reserves. OPEC tried to slow production in recent years to lift oil prices. The attack will prompt a temporary price hike, which one analyst suggests could slow long-term demand. Houthi rebels in Yemen claimed responsibility for the attack by 10 explosive drones. Throughout the summer, tankers in the Persian Gulf have been targets, and the United States blames Iran. "The attack will likely rattle oil markets and cast a shadow on Aramco's preparations for what could be the world's biggest stake sale," reports Bloomberg. "It's also set to escalate a showdown pitting Saudi Arabia and the U.S. against Iran, which backs proxy groups from Yemen to Iran and Lebanon." Saudi Arabia has led an intervention in Yemen to since 2015 prop up the government. Saudi Arabia ranks among the world's top five countries for military spending and at 8.8 percent spends more per capita on its military budget than any other in the world. – YaleGlobal
Crippling Aramco Attack: Bloomberg
Ten explosive drones strike Saudi Arabia's Aramco oil facilities, knocking out about half of the Saudi crude oil production but expected to be restored within days
Nayla Razzouk and Javier Blas
Sunday, September 15, 2019
Read the article from Bloomberg about an attack on a Saudi Aramco facility.
Nayla Razzouk is team leader for Mideast commodities and energy for Bloomberg. Javier Blas is chief energy correspondent.
A CNN September 10 report suggested "Saudi Arabia is in a rush to boost oil prices as it gears up for Aramco IPO 'very soon.'"
This post, with estimates of time required for normal production to resume, was updated on September 16.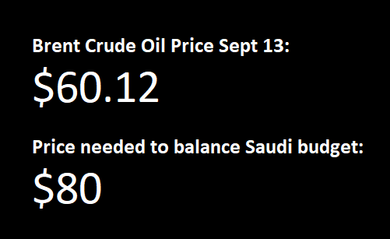 ©2019 Bloomberg L.P. All Rights Reserved