The Cruelty of Live Animal Exports: Guardian
The human population tripled since 1950 and the global trade in farm animals has more than quadrupled. "Every year nearly 2 billion farm animals are loaded on to trucks or ships and sent to new countries in journeys that can take days and sometimes weeks," reports the Guardian. "Every day, at least 5 million animals are in transit." The animals are grown and fattened in areas that can support feeding and then shipped to areas that cannot. Regulations are slim, and activists express concern about mistreatment of living creatures – long journeys in crowded, hot conditions and disease before slaughters that involve immobilization and a slow death. The World Organisation for Animal Health sets standards on animal health but nations are responsible for enforcement, and monitoring of animal welfare breaks down once the animals cross borders. Eurogroup for Animals calls for a ban on live animal exports and limits for domestic journeys. – YaleGlobal
The Cruelty of Live Animal Exports: Guardian
Growing demand for meat means more living animals – pigs, cattle, sheep and more – are shipped around the world in brutal conditions
Hilary Osborne and Bibi van der Zee
Read the article from the Guardian about the lack of regulations on live animal exports.
Hilary Osborne is a Guardian reporter. Bibi van der Zee has covered environmental issues for over 20 years and is the author of the Protestors Handbook. She is currently the commissioning editor on  Animals Farmed, a global Guardian series looking at farming and food production.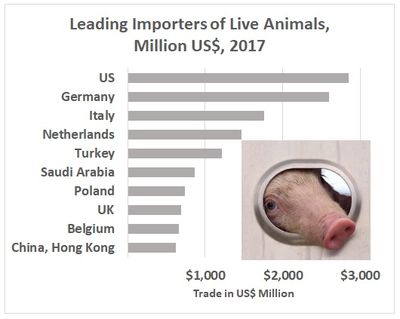 (Source: Statista)
Read about the work of Eurogroup for Animals.
© 2020 Guardian News & Media Limited or its affiliated companies. All rights reserved.