Danger to Cities by the Sea
Asia's coastal megacities are among the most vulnerable to the impacts of climate change, in particular the risk of coastal flooding. What makes cities like Jakarta, Manila or Bangkok so vulnerable is that they are heavily populated and among the least prepared, suggests Aditi Sen of Verified Carbon Standard. The organization aims to reduce greenhouse emissions and encourage quality assurance among voluntary carbon markets. As population of these megacities continues to grow, they face challenges – inadequate flood protection infrastructure, a large number of urban poor living in low-lying areas with limited access to services and flood protection, and an approach to land-use planning that is often myopic. These cities, like many others around the globe, are largely focusing efforts on shoring up physical defenses. Climate resilience requires more than just investments in infrastructure, but also involves rethinking the approach to urban planning and governance. – YaleGlobal
Danger to Cities by the Sea
Asia's coastal megacities are especially vulnerable to extreme flooding
Tuesday, January 28, 2014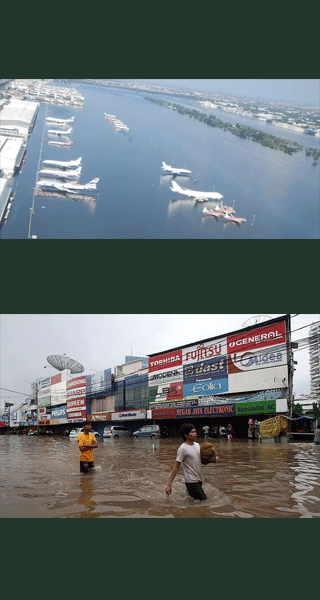 WASHINGTON: Typhoon Haiyan hitting the Philippines in November was yet another devastating reminder of what climate-related extreme weather may mean for coastal communities. While the underlying causes and the full impact of the typhoon are yet to be known, this disaster was by no means an isolated occurrence.
Several studies indicate that coastal communities in Asia are especially vulnerable to the impacts of climate change and among the hardest hit will be the region's megacities. The sprawling cities by the sea – cities like Bangkok, Manila and Jakarta – face an increased risk of flooding thanks to the combined impacts of sea level rise, storm surge from intensified tropical cyclones and land subsidence. The ecological vulnerability of these cities is exacerbated by the fact that Asian cities are some of the most populous in the world and continue to grow at a staggering rate. A 2007 OECD study estimates that by 2070, of the 20 coastal cities with the highest population exposure to coastal flooding, 15 would be Asian.
Yet the real vulnerability of Asian megacities lies not so much in the fact that they are the most at risk from the impacts of climate change, but the fact that these cities are among the least prepared.  A 2013 study in Nature which estimates the annual losses from flooding in 136 coastal cities shows that while the ranking in terms of exposure includes mainly rich-country cities, the ranking in terms of absolute flood losses contains more cities from developing countries , particularly Asia. On average, Asian coastal cities have a high concentration of population and assets, but are not as protected as coastal cities in the developed world: For example, in Amsterdam where exposure to flooding is high, with a 100-year exposure of US$83 billion, the actual vulnerability is quite low. In contrast, a city such as Ho Chi Minh, with a lower 100-year exposure of US$18 billion, has one of the largest vulnerabilities.
It's no surprise then that in the 2013 Climate Change Vulnerability Index released by Maplecroft, a global consulting firm, nine of the top 10 cities identified as "extreme risk" are in Asia with Dhaka, Manila and Bangkok topping the list. Three Indian cities, Kolkata, Chennai and Mumbai, are also among the top 10. However, reducing the vulnerability of Asian megacities to flooding would require more than just investments in flood-protection infrastructure; these cities would also need to address a more fundamental challenge of weak urban planning and governance.
In the wake of the increased frequency and intensity of flooding, several of Asia's cities are belatedly taking steps to shore up their flood defenses. Manila and Jakarta have initiated ambitious projects to clean their clogged waterways with financial support from the World Bank and Asian Development Bank. In Mumbai, a proposal to overhaul the city's 150-year-old storm-water drainage system, shelved in 1993, was revived by the city following the deluge of 2005.
Yet investments in physical flood defenses only go so far. Most of Asia's cities have grown haphazardly as each year they lure thousands of migrants in search of a better life. As the population in these cities continues to swell, their capacity to deliver services and provide safe housing to residents has been stretched to breaking point. In Manila, where flooding from typhoons is an annual phenomenon, one third of the residents live in slums. Their makeshift settlements are built along the city's many rivers and canals. During typhoon season, these settlements are hardest hit because clogged waterways leave floodwaters with nowhere to go but up. For years, the city has chosen to deal with slums either by pretending they don't exist – famously building a fence last May to hide one sprawling community ahead of a visiting Asian Development Bank delegation – or by resettling inhabitants, often forcibly in city outskirts. In response to the spate of intense typhoons that have battered the city in recent years – Ketsana, Saola and Trami – the government has announced plans to dredge the waterways and relocate the slums built around them. But efforts to demolish the shanty towns and resettle residents have met with fierce resistance. Slum dwellers fear that relocation to far-flung areas could jeopardize their livelihoods.
In Mumbai, the development plan formulated by the city corporation ignores large swaths of lands occupied by slums. Planning for civic services such as water and sanitation may not account for close to 40 percent of the city's population. There is also concern around the city's slum rehabilitation schemes that encourage private developers to clear areas classified as slums by the municipality and build high-rise housing blocks in which each family receives a free 225-square-foot unit. In exchange, the developer gets valuable "transferable building rights" on public land.
In cities that are highly unequal, there is a danger that policies to upgrade a city's infrastructure may push the marginalized further to the margins. A new book Contested Urbanism in Dharavi: Writings and Projects for the Resilient City from the Development Planning Unit, University College London, offers insights on how this struggle is playing out in one of the world's most iconic slums in Mumbai.
Underpinning all of this is an approach to land-use planning often driven by short-term gains and vested interests with scant regard for flood, seismic and other ecological factors in determining where and how new development should be permitted. Many urban planning experts point out that government efforts that have been focused on building more infrastructure does not address the fundamental problems of environmental degradation that contribute to the increased risk of flooding. A case in point is Bangkok where the biggest threat to the city, in terms of flooding risk, comes from land subsidence and not sea level rise. Reckless groundwater extraction combined with aggressive high-rise construction has meant that this city built on clay sinks each year by almost 3 centimeters.
In Mumbai, over the past several decades, the mangroves and wetlands that surround the city and provide a natural defense against flooding have slowly been eroded to make room for new real estate development. Just last month, the Mumbai High Court gave the nod to clear the city's mangroves to build a new airport in Navi Mumbai. A similar story has been unfolding in Jakarta where the mangroves are rapidly disappearing.  As recently as 1998, mangroves occupied 44,000 hectares in the greater Jakarta area, but are today down to less than 12,000 hectares.
In the aftermath of Hurricane Sandy that pummeled the city of New York, Mayor Michael Bloomberg announced an ambitious plan to boost the city's capacity to withstand extreme weather events that included proposals for building adaptable floodwalls and storm-surge barriers. But making Asia's megacities climate-resilient cannot depend just on building dikes, levees and canals; it also requires rethinking urban planning and governance. And that may be no easy task in cities that have historically thrived on chaos.  
Aditi Sen currently works at the Verified Carbon Standard where she manages the development of carbon accounting frameworks and previously worked at the World Bank on a range of low carbon initiatives. She also collaborates with environmental advocacy groups in Mumbai.
Copyright © 2014 The Whitney and Betty MacMillan Center for International and Area Studies at Yale