Deported to Danger: Human Rights Watch
Many immigrants flee abuse, gang recruitment and crime in their homelands, yet no government, UN or nonprofit agency monitors what happens to El Salvadoran immigrants after deportation. Human Rights Watch researched court cases and press reports to document brutal deaths of 138 immigrants deported from the United States to El Salvador since 2013, along with abuse and torture of more than 70 others. The number of victims could be higher as the United States transfers enforcement responsibilities to Mexico and other countries. "Perpetrators of these abuses include gangs, former intimate partners, and Salvadoran police or security personnel," reports Human Rights Watch. "International law binding on the United States prohibits the return of anyone to a country where they face serious risks to their lives or safety." Hunan Rights Watch calls on the United States and other countries to provide fair asylum procedures and broad protections to immigrants facing risk of harm upon their return to homelands. – YaleGlobal
Deported to Danger: Human Rights Watch
Human Rights Watch documents the killings of more than 130 El Salvadorans and the abuse and torture of 70 more after deportation from the US
Elizabeth G. Kennedy and Alison Parker
Wednesday, February 5, 2020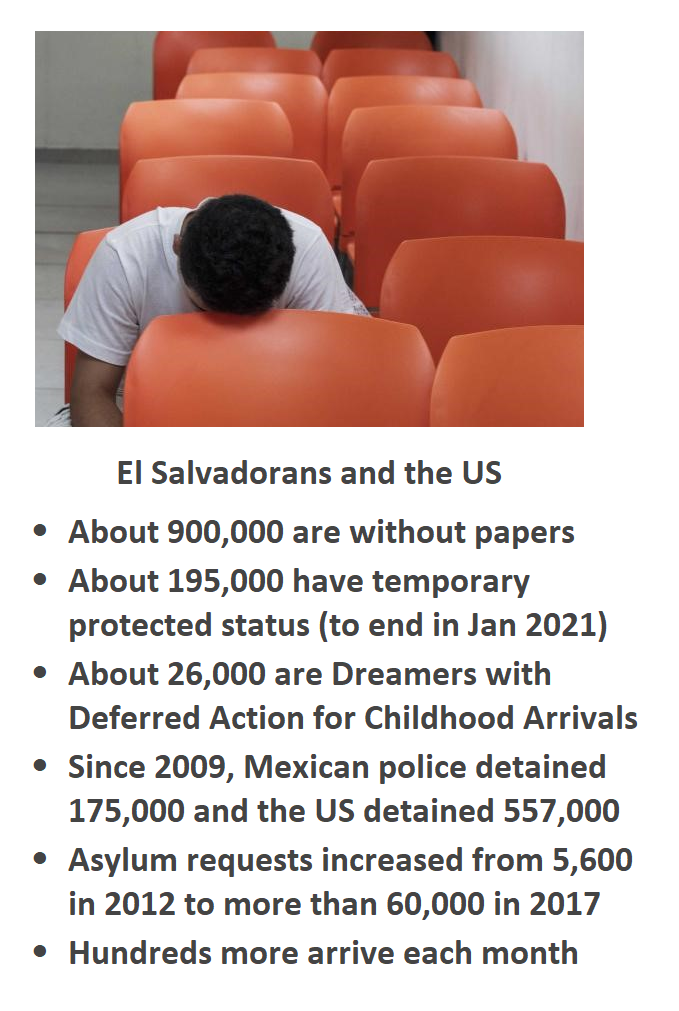 Read the article from Human Rights Watch about the deaths of 138 immigrants after the US deported them to El Salvador.
Elizabeth G. Kennedy, former researcher on El Salvador for the United States Program of Human Rights Watch, researched this report. The report was jointly authored by Kennedy and Alison Parker, managing director of the US Program
Read "Deported to Danger: United States Deportation Policies Expose Salvadorans to Death and Abuse" from Human Rights Watch.  
Human Rights Watch Recommendations:
- The Trump administration should repeal the Migration Protection Protocols (MPP); the two Asylum Bans; and the Asylum Cooperation Agreements.
- The attorney general of the United States should reverse his decisions that restrict gender-based, gang-related and family-based grounds for asylum.
- Congress and the executive branch should ensure that US funding for Mexican migration enforcement activities does not erode the right to seek asylum in Mexico.
- Congress should immediately exercise its appropriation power: 
1) Refraining from providing additional funding to the Department of Homeland Security for Immigration and Customs Enforcement and US Customs and Border Protection until abusive policies and practices that separate families, employ unnecessary detention, violate due process rights, and violate the right to seek asylum are stopped;
2) Prohibiting the use of funds to implement the Migrant Protection Protocols, the "Asylum Bans," or the Asylum Cooperation Agreements, or any subsequent revisions to those protocols and agreements that block access to the right to seek asylum in the United States.
- The Government Accountability Office and the Office of Inspector General should produce reports on US fulfilment of asylum and protection responsibilities, including by collecting and releasing accurate data on procedural experiences of asylum seekers (access to counsel, wait times, staff capacity to assess claims, resources) and harms experienced by people deported from the United States to their countries of origin.
- Approve legislation that would broadly protect individuals with Temporary Protected Status (including Salvadorans) and DACA recipients, such as the Dream and Promise Act of 2019, without broad restrictions based on juvenile conduct or information from flawed gang databases.
© 2020 Human Rights Watch