EU and US Disagree in Munich: Washington Post
The annual Munich Security Conference exposed widening disagreements between the United States and Europe in terms of foreign policies, tariffs, national defense and more. This conference's theme of "Westlessness" shows the concern of some political elites over a multipolar world as China and Russia gain power. Western rules-based international order remains the best option for the ensuring human rights and economic development, argues US Secretary of State Mike Pompeo. However, German President Frank-Walter Steinmeier, criticized current "American First" policies as harmful for Europe. The United States continues to pressure Europe on issues that carry costs, such as avoiding Huawei to build 5G infrastructure and reducing reliance on Russian gas from North Stream 2 project. European allies express annoyance that the emphasis on "sovereignty" by the Trump administration implies opposition to the European Union. Furthermore, the Trump administration's threats of threats and sanctions deepen mistrust among US transatlantic allies. – YaleGlobal
EU and US Disagree in Munich: Washington Post
America-first policies annoy allies in Europe; divisions among long-time allies, as expressed at the Munich Security Conference, reveal a weakened West
Michael Birnbaum, John Hudson and Loveday Morris
Monday, February 24, 2020
Read the article from The Washington Post about divisions between the US and EU revealed at the Munich Security Conference.
Michael Birnbaum is the Brussels bureau chief for The Washington Post. John Hudson is a national security reporter at the Washington Post covering the State Department and diplomacy.  Loveday Morris is The Washington Post's Berlin bureau chief.
The West is polarized along economic and climate issues, and equally crippling, the United States and Europe are divided within, too. John Kerry, former US secretary of state, spoke at the Munich Security Conference, as reported by Deutsche Welle, and addressed the need for sustainability. Kerry is the Distinguished Fellow for Global Affairs, Jackson Institute for Global Affairs, Yale University.
Kerry on globalization:
"People need to see that globalization doesn't mean exploitation, people need to see that their wages go up if they work harder and produce more. The upper 1% of our country has been getting more than 51% of the income that is earned, broadly. That's not sustainable."
Kerry on climate change:
"To have a president who wants to put his head in the sand and pretend it's not happening is a moment of enormous irresponsibility."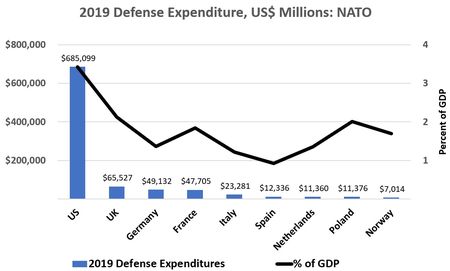 (Source: NATO)
washingtonpost.com © 1996-2020 The Washington Post