Foreign Policy: Trump's State of the Union
In his state of the union address, Donald Trump quickly reviewed foreign policies. Trade talks with China are underway, and the president described previous deals as "calamitous." He focused on southern border security and need for a wall although undocumented immigrants in the US are at low levels. He plans a second summit with North Korea's dictator, claiming these talks prevent war – even though intelligence reports North Korean nuclear-weapons development continues. Claiming defeat of the Islamic State, he added that "great nations do not fight endless wars." He described Iran as a "leading sponsor of state terror," yet did not credit the country for its role in combatting ISIS. He underscored need for NATO allies to contribute to defense spending. In reiterating support for Juan Guaidó as Venezuela's leader, Trump issued blanket criticism of socialism. He supports a political solution for Afghanistan though "The Taliban now control more territory than at any time since the U.S. invasion of 2001 and are estimated to have some 60,000 fighters," as reported by Robbie Gramer and Amy Mackinnon for Foreign Policy. On Russia, Trump explained US withdrawal from the 1987 Intermediate-Range Nuclear Forces Treaty with Russia and promised to "outspend" other nations. Trump also emphasized that the country cannot unite with "partisan" investigations underway into Russia's efforts to influence the 2016 US election. – YaleGlobal
Foreign Policy: Trump's State of the Union
Trump's state-of-the-union address glosses over complex and nuanced foreign policy threats when it comes to alliances, trade, Iran, Afghanistan and Russia
Robbie Gramer and Amy Mackinnon
Wednesday, February 6, 2019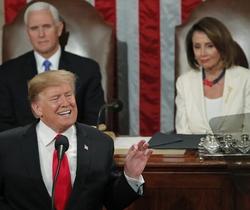 Read the article from Foreign Policy about the US state-of-the-union address by Donald Trump.
Amy Gramer and Amy Mackinnon are staff writers for Foreign Policy.
US President Donald Trump described the state of the union as strong: "An economic miracle is taking place in the United States, and the only thing that can stop it are foolish wars, politics, or ridiculous, partisan investigations. If there is going to be peace in legislation, there cannot be war and investigation. It just does not work that way." Read the transcript from Vox.