Gaza Explosions Reverberate in Europe
Israel invaded Gaza and waged war for 22 days, in response to Hamas firing a nonstop barrage of rockets over the border and refusing to recognize Israel's right to exist: 13 Israelis and 1,300 Palestinians died, and more than 50,000 people were left homeless. A tenuous ceasefire is in place, but the hard feelings and questions swirl far from the region. In Europe, thousands marched along the streets of capitals, Muslims but others as well, to protest the imbalance of power and calling for an end to the conflict. Analyst Shada Islam offers the reminder that "Europe's social stability [is] fraught with danger as long as there's no peace in the Middle East between Israel and Palestinians." She stresses that the European Union can no longer limit its efforts on controlling Muslim anger within its own borders, worrying about violent responses to every tragic step in the Middle East conflict. Instead, Islam urges that the EU join with the US in seeking an agreement to stabilize the region and discourage extreme reactions that stir consciences far, far away. – YaleGlobal
Gaza Explosions Reverberate in Europe
Devastation in Gaza reignites passion in Europe about Israel, Palestine and Muslim integration in the continent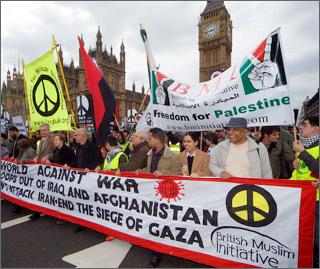 BRUSSELS: Israel's recent military offensive in Gaza may have been taking place thousands of miles away, but the heat of the battle was felt in the streets of Paris, London and Madrid, reminding European leaders once again about the reality of an integrated world. Large anti-Israel demonstrations and reports of an increase in anti-Semitic violence in several European countries have brought home the message that relations between the continent's Muslim and Jewish communities and Europe's social stability are fraught with danger as long as there's no peace in the Middle East between Israel and Palestinians. The death and destruction in Gaza and the European Union's ambivalence towards Israel also remind Europe's Muslims of the discrimination they suffer.
Inevitably, as in the wake of the September 11, 2001, terror attacks on the US and the subsequent Madrid and London train bombings – not to mention other alleged terror plots that European security services claim to have foiled in recent months – the spotlight is on Europe's 20 million strong Muslim community, suspected of importing the Middle East conflict into the heart of Europe.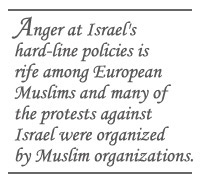 European leaders have some cause for worry. Anger at Israel's hard-line policies is rife among European Muslims and many of the protests against Israel were organized by Muslim organizations. The Arab-Israeli conflict is cited as a core reason for the radicalization of young Muslims across the continent. Many Muslims accuse their governments of "double standards" in the Middle East, saying the EU must criticize human-rights abuses by Israel as severely as it decries attacks by Hamas and Hezbollah.
British Muslim leaders have warned that the Israeli assaults in Gaza help extremists in Britain and abroad, eroding faith in democratic and peaceful means. British Justice Minister Shahid Malik told the Guardian newspaper that the assault on Gaza is causing collateral damage even among non-violent, moderate British Muslims. "There is a real feeling of helplessness, hopelessness and powerlessness among Britain's Muslims in the context of Gaza," said Malik, adding, "The sense of grievance and injustice is both profoundly acute and obviously profoundly unhealthy."
The Young Muslims Advisory Group, launched by the British government last October, has also sent a letter to British Prime Minister Gordon Brown warning that the Gaza war is undermining efforts to reduce home-grown radicalization: "In the current climate there is a real danger young people who witness the impotence of institutions that are supposed to be protecting innocent life will turn to other organizations in an effort to make their voices heard and the violence stop."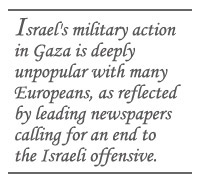 However, while understandable, the quasi-exclusive focus on European Muslim reaction to the Gaza war is too narrow and risks masking other equally compelling realities of Europe's relations with Israel. For one, the mass protests against Israel and the reported rise in attacks on Jewish individuals and synagogues are not just the result of rising European Muslim frustrations. Israel's military action in Gaza is deeply unpopular with many mainstream Europeans, as reflected by repeated calls by leading European newspapers for an end to the Israeli offensive and reports on the humanitarian crisis in Gaza.
In a letter recently published in the Irish Times, Irish politician Chris Andrews condemned Israel for state terrorism and called for the expulsion of Israel's envoy to Ireland. Spanish Prime Minister Jose Luis Zapatero's has taken part in a major anti-Israel rally organized by Spanish trade unions and the premier's own Socialist Workers' Party. Protests in London's Hyde Park brought together 100,000 people, including human-rights campaigner Bianca Jagger and Eurythmics singer Annie Lennox along with labor activists, Muslim leaders, Jewish peace campaigners and left-wing groups. In Italy, trade unionist Giancarlo Desiderati called for a boycott of Jewish products and shops in Rome.
In addition, while Muslim-Jewish tensions have risen in the wake of the Gaza conflict, Europe's extreme right-wing parties have had a long and ugly tradition of anti-Semitic violence, including attacks on synagogues and Jewish cemeteries. Significantly, the demonstrations reflect rising European public outrage at the failure of their national governments and the wider European Union to end Middle East hostilities in a region that many view as the bloc's southern backyard.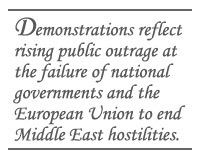 Certainly, anger over Israel's actions adds to more general resentment among many Muslims at Europe's failure to implement more vigorous anti-racism and anti-discrimination laws. Despite recent efforts by European governments to speed up the integration of Muslims – and an increased focus on assuming the rights and obligations of citizenship by Muslims themselves – "racism is a pervasive, persistent phenomenon across the EU which impacts negatively on all aspects of the lives of ethnic and religious minorities," says Mohammed Aziz, president of the European Network Against Racism, adding that manifestations of racism are visible in employment, housing, education, health and elsewhere.
Increasingly, the political debate in Europe focuses on questions related to the role and status of Muslims – especially Muslim women – in Europe and the conflict between traditional Muslim practices, such as the wearing of Islamic headscarves, and European values. Wider questions about the compatibility of Islam and democracy, whether it's possible to be Muslim and European, are regularly raised by politicians and sociologists as well as the European media. In some cases, devout Muslim behavior is misperceived as anti-European.
The simplistic, heated and often biased nature of a debate that sees Islam as a "problem" and European Muslims as inherent outsiders ignores the reality of Europe's Muslim community, however. Despite the clichés and scaremongering, in today's Europe, Muslims are more self-confident, more assertive in demanding full rights as citizens and determined to fulfill their citizenship obligations. Muslims are also economically and politically active. Recent years have seen a mushrooming of Muslim groups, including at the grassroots level, with many also joining mainstream politics and becoming more visible in the political sphere, business world and the arts.
Despite their increasing clout, however, European Muslims have a long way to go before they can influence European policy in the Middle East. Muslims are by no means alone in their anger at the EU's failure to act in a united and decisive fashion in the Middle East. True, the EU did decide last week to put its plans for an upgrade of relations with Israel on hold because of the Gaza war. But the EU's current Czech presidency says it will press ahead with plans to hold a summit with Israel in the spring. The disarray in EU ranks has been reflected by the rival peacemaking missions to the region by an array of EU leaders, including French President Nicolas Sarkozy, European foreign ministers and commissioners.
While Europe's foreign policy shortcomings are not new, the bloc's inability to act decisively in the latest outbreak of Middle East violence is particularly embarrassing at a time when the new US administration is expected to ask its European allies to take a stronger role in stabilizing the region.
As such, instead of focusing almost exclusively on fears of Muslim violence in response to the war in Gaza, EU policymakers should use the crisis to try and forge a united front on the Middle East. This would be easier to achieve if their Muslim minority was better integrated. They should also examine their so-far unsuccessful efforts to build an inclusive society which recognizes and celebrates diversity instead of fearing it.
Shada Islam is a senior program executive at the European Policy Centre. She writes for YaleGlobal Online in a personal capacity.
© 2009 Yale Center for the Study of Globalization