Georgia Seeks Help Against Russia: Financial Times
Before its 2014 takeover of Crimea in Ukraine, Russia intervened in Georgia, and that interference continues today. Russia is increasing influence around Black Sea area with a series of military actions and investments, pushing Georgia to seek urgent support from Western countries. Since Russia occupied about 20 percent of its territory in 2008, Georgia has lived in the shadows. Recently, the West accused Russia's intelligence agency GRU of a cyberattack against Georgia's government and media outlets in October. Moscow also deployed more missiles and radar, posing a threat on regional security. According to Georgia's Foreign Minister David Zalkaliani, EU and other western partners do not appreciate the strategic importance of the Black Sea area and he urges more attention and support for Georgia in terms of political, military and socio-economic dimensions. Those economic investments, especially in undersea electricity and fiber-optic cables, could benefit Europe by shortening Eurasian trade routes. Several days ago, Georgia, Ukraine, and Moldova wrote to the European Commission to emphasize recent reforms. – YaleGlobal
Georgia Seeks Help Against Russia: Financial Times
Georgia leaders question if Western leaders appreciate strategic value of Black Sea region and urge more support to counter Russian intervention
Michael Peel and Henry Foy
Read the article from Financial Times about Russia intervention in Georgia.
Michael Peel is an EU diplomatic correspondent for the Financial Times.
Henry Foy manages the FT's coverage from Moscow, focusing on the politics and personalities of Vladimir Putin's Kremlin and the administration's foreign and diplomatic strategies, amid souring relations between Russia and the west.
(Source: Map, Heritage Foundation; data, World Bank, Observatory of Economic Complexity)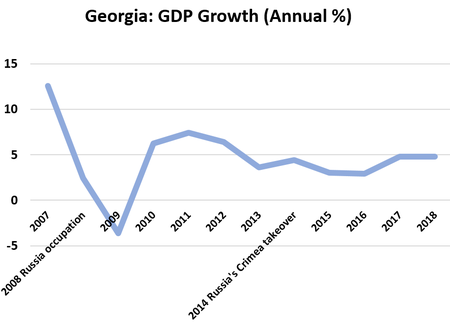 (Source: World Bank)
Copyright The Financial Times Limited 2020. All rights reserved.