Globalizing Insurgency in Somalia
The Somali Al Qaeda–linked insurgent movement al-Shabab has ruled most of southern and central Somalia, including the capital city of Mogadishu, since mid-2008. Originating as the most radical wing of the military arm of the Islamic Courts Union coalition, the movement delivered relative law and order and peace to Somalia in 2006. Since then, al-Shabab has moved ideologically closer to the transnational Sunni jihadi trend exemplified by Al Qaeda. In need of fighters, al-Shabab has recruited members of Somali diaspora communities in North America, Europe, East Africa, the Arab world, and Australia as well as non-Somali Muslims, explains Christopher Anzalone. With severe drought gripping the entire regions, tens of thousands of Somalis stream toward the southern border, both official and makeshift refugee camps. Al-Shabab's relief efforts are inadequate and old grudges with some international food programs add to an overwhelming crisis. But recruitment from the Somali diaspora continues. – YaleGlobal
Globalizing Insurgency in Somalia
Amid dire poverty and famine, Somali-insurgency al-Shabab conducts transnational recruitment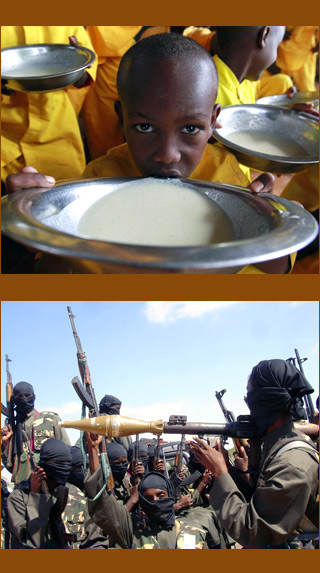 MONTRÉAL: Heart-wrenching images of emaciated and dying children in Somalia have brought the country back to the world's attention. The difficulty in delivering food to the needy because of the opposition of the Islamist Somali insurgents has also put a spotlight on Harakat al-Shabab al-Mujahideen. Famine or not, al-Shabab's "jihad" continues.
Even before the United Nations declared famine in parts of the country, suicide attacks by al-Shabab on an African Union post in the Somali capital of Mogadishu drew world attention to the role of Somali diaspora in the insurgency. Of the two suicide bombers dispatched by the Somali Islamist-insurgent movement Harakat al-Shabab al-Mujahideen, or Movement of the Warrior-Youth, one was 27-year-old Somali-American Farah Mohamed Beledi, killed before he could set off his device. In July, Omer Abdi Mohamed of Minnesota pleaded guilty to charges that he had facilitated the travel of young Somali-American men to Somalia to join the insurgent movement. 
Now the famine may have given al-Shabab new opportunities. The insurgent movement has its own emergency drought-relief committee, currently headed by Hussein 'Ali Fiidow, formerly an official in al-Shabab's governing administration in the district of Banaadir, where Mogadishu is located. This committee organized modest relief programs that included collection of food, water and medical supplies as well as refugee camps. Senior al-Shabab leaders, including Hasan Dahir Aweys, recently visited one of these camps in the Lower Shabelle district. 
Despite these efforts, the massive scale of the famine has proved to be too much for the insurgent movement to deal with alone, leading al-Shabab leaders to state publicly that they would allow international humanitarian aid organizations to operate in territory under its control. However, some organizations, including the World Food Program, previously barred from distributing aid because they were allegedly disrupting sales by Somali farmers in 2006, remain banned.
Since its rise to public prominence following the US-supported December 2006 invasion of Somalia by Ethiopia, al-Shabab has sought foreign recruits to bolster its military strength. It emerged as the main insurgent group fighting Ethiopian military occupation of Mogadishu and other parts of Somalia.
Al-Shabab has aggressively recruited in Somali diaspora communities in Europe, North America, East Africa and the Middle East, estimated to be 1.5 million. Estimates suggest that al-Shabab has attracted around 1,000 recruits from the diaspora and several hundred non-Somali Muslim recruits. A controversial Homeland Security congressional hearing convened by US Representative Peter King produced a report that claims 40 Americans, most of Somali descent, have joined the movement.
It's difficult to draw a single general profile for al-Shabab recruits.  A number of Somali-American recruits, including Beledi, came from single-parent households, leading lives of petty crime.  Others, such as Abdisalan Hussein Ali, were enrolled in college before joining. Many of the Minneapolis recruits, including Beledi and Shirwa Ahmed, a Somali-American who carried out a 2008 suicide bombing in Somaliland, attended the city's Abubakar as-Saddique Mosque.
The lion's share of attention from Western media and law-enforcement agencies has focused on al-Shabab's ability to attract scores of men from Somali immigrant families in the United States, Canada and Western European. Evidence suggests, however, that the movement views East African recruitment a priority. There are several reasons for this: The largest Somali communities reside near East Africa, along the Kenyan-Somali border in places such as the Eastleigh district of the Kenyan capital of Nairobi. Travel logistics for regional recruits are simpler. Somali refugees in East Africa also endure economic hardships in countries such as Kenya, making them more susceptible to recruitment. Regional recruits typically require less time to adjust to the battlefront than those coming from Europe or North America. Finally, al-Shabab maintains a well-established support network throughout East Africa, useful for fundraising and potential refuge during battlefield setbacks.
Many recruits from Somali diaspora communities are wooed by al-Shabab's mixing of a relatively simple creed composed of a peculiar form of militant Islamism with appeals to Somali nationalism. Most of the estimated 20 Somali-Americans who traveled to Somalia and joined al-Shabab did so when the Ethiopians were still occupying Mogadishu and other parts of the country in support of the Transitional Federal Government.  Other non-Somali recruits are Muslims, like American al-Shabab member Omar Hammami, also known by the nom de guerre Abu Mansur al-Amriki, or the American. 
The movement's media foundation, the Al-Kata'ib, or Brigades, continues to produce increasingly polished propaganda films that serve as recruitment vehicles. Young Somalis in North America and Britain have been targeted since 2007, as evidenced by the appearance of multiple English-speaking young men in insurgent films released in 2007 and 2008. A lengthy video recruitment message released in August 2008 from Saleh 'Ali Saleh al-Nabhani, an Al Qaeda operative in East Africa with Kenyan and Yemeni citizenship, was subtitled in English. More recent al-Shabab videos have also included subtitles or narration in English.
Al-Shabab's appeal for East African recruits is best illustrated by a film produced by Al-Kata'ib and released in November 2010. The 35-minute film, Message to the Ummah and Inspire the Believers, features nine foreign fighters identified by country of origin. The video is subtitled in English and Swahili, and also includes spoken parts in Arabic, English, Swedish and Urdu. Of the nine recruits, six come from countries near East Africa including Kenya, Tanzania, Ethiopia and Sudan. The other three are identified as from Britain, Sweden and Pakistan and address the camera in English, Swedish and Urdu. A tenth recruit, also an English speaker, is not identified by country.
Al-Kata'ib's decision to subtitle Message to the Ummah in Swahili, the lingua franca of East Africa, is indicative of the movement's interest in East African recruitment. Swahili, a Bantu language, is spoken by some 35 million people in the region including Tanzania, Kenya, Burundi, Uganda, Somalia, South Africa and the United Arab Emirates. The film closes with spokesman 'Ali Mahamoud Rage smiling and saying in a mix of Arabic and Swahili, using a common Swahili phrase: "And we say to our people/family in East Africa: Welcome to Somalia, hakuna matata [there are no worries]."
In its recruiting appeals, al-Shabab's methods vary depending on the audience. For the Somali diaspora, appeals rely on a mix of Somali nationalism and militant Islamism that painted first the Ethiopian military and now the African Union Mission in Somalia, a 9,000-soldier force in Mogadishu, as foreign interlopers propping up a corrupt government. Al-Shabab's call to non-Somali Muslims is largely transnational. For example, Swedish recruit Abu Zaid in Message to the Ummah speaks about Lars Vilks, the controversial Swedish cartoonist who drew derogatory cartoons of the Prophet Mohammed that offended many Muslims around the world, both militants and non-militants. These calls are not Somalia-specific and are aimed at a wider audience of discontented Muslims. Similar religious exhortations, combined with Somalia-centric messaging, are also made to the Somali diaspora.
Al-Shabab's desire and ability to recruit from outside the country signals both strength and domestic weakness. On the one hand, its recruitment networks abroad have proven to be relatively successful in attracting diaspora recruits through diverse recruitment appeals based both on a virulent interpretation of Somali nationalism and militant Somali Islamism, influenced by the notions of a militant Islamic transnationalism. However, the insurgent movement's need to recruit abroad is also a sign that it's incapable of meeting manpower needs domestically.
Christopher Anzalone is a PhD student in the Institute of Islamic Studies at McGill University. His research focuses include Islamist movements, contemporary jihadi movements, Shiite Islam and Islamist visual culture. Much of his current work is focused on Harakat al-Shabab al-Mujahideen in Somalia.
Copyright © 2011 Yale Center for the Study of Globalization