"Grand Coalition" Could Break the Deutsch Deadlock
Germany's elections this Sunday led to a surprising outcome: a virtual draw between current Chancellor Gerhard Schröder and his opponent Angela Merkel. In the aftermath of an unusually bitter campaign, many critics predict a sustained political deadlock within the Bundestag. Other commentators, including Shada Islam, predict a different outcome. "As Germany's largest parties – albeit with a diminished parliamentary majority – Merkel's Christian Democratic alliance (CDU/CSU) and Schröder's Social Democrats (SPD) may have no alternative but to work together for economic change," writes Islam. Given Germany's primacy in European policy making and its status as the regional "engine of economic growth," domestic political cooperation may prove critical to the EU as a whole. If the opposing parties can put aside their political bickering, a "grand coalition" could constructively tackle the underlying message of the election: that most Germans see a critical need for economic reform. In turn, Islam writes, such collaboration may finally "rev up the faltering engine of German economic reform and reinvigorate wider European efforts at economic regeneration." If so, then the split election may be a blessing in disguise. – YaleGlobal
"Grand Coalition" Could Break the Deutsch Deadlock
If opposing parties set aside political wrangling, Germany's split election may be a blessing in disguise
Tuesday, September 20, 2005
BRUSSELS: Germany faces weeks of political uncertainty and confusion following Sunday's national elections, which have left both Chancellor Gerhard Schröder and conservative challenger Angela Merkel claiming victory and vying to become the country's next leader.
The chaotic election outcome is an unprecedented development in a country traditionally known for stable coalition governments and sober politicians. Germany's faltering efforts at economic reform will certainly be put on hold, as Schröder and Merkel struggle to whip up support for a coalition that can govern Europe's largest economy for the next five years. Given Berlin's central role in European Union policy making, the country's inevitable focus on domestic issues may also slow down EU efforts at economic and political revival. Nevertheless, there may be a silver lining.
As Germany's largest parties – albeit with a diminished parliamentary majority – Merkel's Christian Democratic alliance (CDU/CSU) and Schröder's Social Democrats (SPD) may have no alternative but to work together for economic change. Such a "grand coalition" may, as many fear, turn out to be recipe for disaster, with government members unable to make decisions because of conflicting political ambitions. But an alliance between the two political giants on the German landscape may also finally rev up the faltering engine of German economic reform and reinvigorate wider European efforts at economic regeneration.
The weeks ahead promise to be difficult. What German newspapers describe as an election without victors will be followed by weeks of tough political horse-trading as Merkel's CDU and the Schröder's SPD struggle to forge a governing coalition. The two long-standing adversaries, who hurled insults at each other during an unusually fierce election campaign, appear in no mood to compromise. Each claims the right to be chancellor of a "grand coalition" or any other alliance formed by bringing the smaller parties, including the Greens and the liberal Free Democrats (FDP), into government.
The election results, giving Merkel only a razor-thin three-seat majority in the national parliament, are certainly not what the CDU leader expected. The straight-talking 51-year old pastor's daughter was widely predicted to secure at least 40 percent of the popular vote, virtually assuring that she would become Germany's first female chancellor. With preliminary official results showing Merkel's alliance capturing a disappointing 35.2 percent of the votes – 225 seats in the Bundestag, or German parliament – many speculate that the CDU leader may end up sidelined by powerful party barons anxious to reassert their influence over the so-called "iron lady."
Schröder, in contrast, is reveling in the role of "comeback kid." Widely depicted as a spent force and a lame-duck chancellor, the youthful 61-year old Schröder rejoiced at the SPD's better-than-expected poll results: 34.3 percent, 222 parliamentary seats. Merkel's lead could, in fact, become even smaller following the October 2 elections in Dresden. (Polls were delayed due to the sudden death last week of a far-right candidate.)
The revolution in Germany's political landscape could produce an array of different political constellations, with the smaller parties – traditionally the kingmakers in Germany where coalitions are the rule – becoming the focus of attention. Most analysts expect the country's future to be in the hands of a "grand coalition" including members of Merkel's CDU/CSU and Schröder's SPD. However, some in Berlin are betting against such collaboration.
Many analysts warn that a "grand coalition" of conservatives and social democrats will mean decision-making gridlock in Berlin. Cooperation among "strange bedfellows" championing different and often conflicting political and economic agendas is unlikely to lead to strong policies or decisive action on either the domestic or European fronts, says an EU diplomat in Brussels.
But others point to what Germany's influential Spiegel newspaper described as the "subtle and hidden charms of a grand coalition." Those in favor of such a formation argue that Germany's urgent economic problem makes it imperative that the left and the center-right join forces.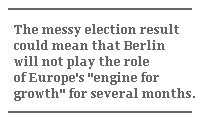 Despite their very different public rhetoric, both Schröder and Merkel are committed to economic reform and change, says Guillaume Durand, policy analyst at the Brussels-based European Policy Center. Schröder may have succeeded in portraying Merkel's economic manifesto as extremist, but his seven years in power have been marked by a determined effort to modernize the German economy.
In fact, says Durand, a "grand coalition" of sorts already exists. "Schröder's ruling SPD has carried out a range of reforms during the last few years with the support of the opposition conservatives," in areas such as health care and cuts in government subsidies, Durand points out. Where the two parties disagree is on the pace of change, with Schröder opting for slower reform and softer policies and Merkel espousing a more liberal agenda and rapid reform. If they succeed in patching up such discord, an alliance between the SPD and the CDU/CSU would be more stable than other three-party coalitions, Durand says.
Whether they opted for Merkel's economic "shock therapy" or Schröder's gentler polices, the message from German voters is that reforms are unavoidable, adds Marco Incerti of the Center for European Policy Studies, a Brussels-based think tank. German politicians' success in convincing voters of the need for economic sacrifice may help the French and Italian governments to take up the challenge, he says.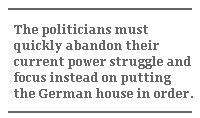 The focus at the EU's headquarters in Brussels, meanwhile, is on ensuring that Germany does not enter a period of prolonged political wrangling. "It is important for the EU project that the biggest economy in Europe is operating well and at full potential," says an EU diplomat, voicing fears that the messy election result could mean that Berlin will not be able to play the role of Europe's "engine for growth" for several months.
Merkel's failure to move immediately into the chancellery does clarify one key EU policy, however: Since no other German political party espouses the CDU leader's policy of offering Turkey a "privileged partnership" rather than full entry, Turkey can now be sure of opening negotiations on EU membership as scheduled on October 3. And, as Incerti points out, once talks with Ankara begin and pick up pace, even a coalition led by Merkel will find it difficult to stop the flow.
While the next weeks will be marked by acrimonious and protracted political wrangling, German politicians will ultimately have to turn their attention to resolving the country's long list of economic woes. The two leaders and their parties are aware of the stakes. Schroeder made a valiant effort last year to launch a package of pension, health, and labor reforms to try to drag Europe's largest economy out of years of stagnation before he ran out of steam following popular protests. Merkel's agenda calls for even more radical measures, including changes in the country's tax system. German election results have shown that most people in the country recognize the need to embrace change, although they may disagree on the pace. If they want to keep up the momentum, German politicians must quickly abandon their current struggle for power and influence and focus instead on ways of putting the German house in order.
Shada Islam is a Brussels-based journalist specializing in EU policy and Europe's relations with Asia, Africa, and the Middle East.
© 2005 Yale Center for the Study of Globalization