Growth Without Equity Roils South Africa
Labor unrest does not attract foreign investment. South Africa must subdue strikes in its mining industry before unrest spreads to other sectors while addressing the challenges of a high unemployment rate and dire poverty, argue researchers Haroon Bhorat, Morné Oosthuizen and Anne Kamau. South Africa is the world's biggest producer of gold and platinum. The strikes are both reducing gold and platinum supplies and revenues. Four factors contribute to unrest: labor agreements signed at the national level overlook local concerns; weak or non-representative labor unions have ushered in new organizations that ignore previous agreements; infrastructure in mining communities has not kept up with new, heavy demand for platinum; and the mining sector depends on migrant labor, which is male-dominated, conservative and easily swayed. Internal union conflicts and strikes are costly for mining workers as well as the South African economy and global investors. Ultimately growth that fails to provide jobs and aspirations for equality is unsustainable. – YaleGlobal
Growth Without Equity Roils South Africa
Rapid growth in South African mining sector has failed to produce jobs or equality
Haroon Bhorat, Morné Oosthuizen, Anne Kamau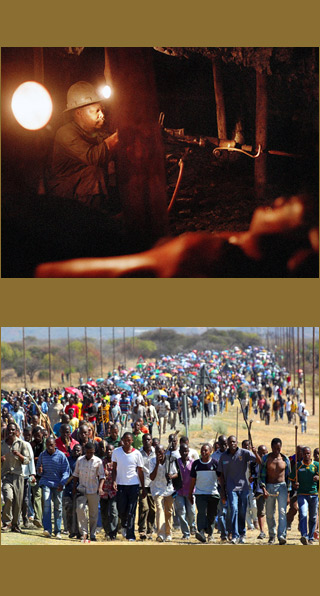 JOHANNESBURG:  Recent killing of miners and spreading labor unrest have taken the shine off South Africa's attraction for foreign investors as Africa's largest and most sophisticated economy. The declining interest can only complicate the government's task in reducing one of the world's highest unemployment rates – 25 percent. To reverse the trend, South Africa needs to ensure that a more optimal dispute-resolution and bargaining system is in place together with improved worker-manager relations in general. Unless the country's huge wealth of natural resources are better managed, the country runs the risk of falling victim to negative foreign-investor sentiment, which then spreads to other sectors, beyond mining.
South Africa is often seen as a potential source of growth for the entire region, yet faces significant economic and development challenges. If including those not actively seeking work, the unemployment rate has risen to 33.5 percent, as calculated from the Quarterly Labour Force Survey 2012Q2. Almost one third of the population survives on less than $2 a day, and the poorest 20 percent of the population accounts for just 2.7 percent of national income, according to World Bank's World Development Indicators and Global Development Finance,  2012.
The recent spate of labor strikes in the country has drawn concerns about the government's ability to address ongoing problems of poverty, inequality and unemployment.  These and other troubling incidents are shaking local and foreign investor confidence beyond the mining industries, which represent 8.6 percent of GDP. The mining sector is dominated by foreign companies, which increasingly view South Africa as a risky place to invest. The country's image was further tainted by Moody's lowering its credit rating in September 2012.
Origins of the violent strikes and protests in South Africa lay in the country's mining industry at the Lonmin Platinum Mine in the town of Marikana, 114 kilometers northwest of Johannesburg. The Lonmin platinum workers at Marikana went on an illegal strike that led to the death of 34 miners after police fired at them. Similar strikes soon spread to other platinum mines and several gold mines, and then to non-mining sectors, such as the transport sector where more than 20,000 truck drivers refused to work.  They only returned to work after a new wage increase agreement was reached three weeks after the strikes began.  The country's agricultural sector also faced problems with workers on strike and farms set on fire in the Western Cape region.  
Amid the labor unrest, the strikes in South Africa's mining sector stand out. Specifically, the onset of the mining strikes caught both employers, represented by the Chamber of Mines, and unions, represented by the National Union of Mineworkers, NUM, off-guard.  Because trade unions and employers bargain annually through semi-formal structures, they did not foresee such huge disruptions. Negotiations have since taken place.  A few weeks into the platinum and gold mining strikes, wage increase agreements were signed, and most mines are back to full, normal operation. 
South Africa is the world's biggest producer of gold and platinum and the labor strikes have reduced revenues. Quarterly returns from the corporate entities with exposure to these assets show the economic effects: AngloGold Ashanti saw its profits drop by $215 million, or 49 percent, in thethird quarter of 2012; the Lonmin platinum firm has asked shareholders for an $800 million rights issue and faces a hostile takeover bid. Platinum mines are warning of supply shortages for the next year or so. The South African National Treasury revised growth forecasts for 2012 from 2.7 to 2.5 percent, citing in part the role played by the mining sector.
Four factors stand out as tipping points leading to the strikes in the mining sector:
First, wage and non-wage agreements were signed at the national level between the NUM and the mining employers. The negotiations occurred at the centralized level by the unions and were fairly far removed from workers' demands at the plant level.
Second, the NUM has become a weak representative trade union that has lost its base in the platinum and gold mines. Into this void stepped a fast-growing independent union not bound by existing collective bargaining agreements. The independent union and independent groups of workers are seeking to engage outside of formal wage agreements and outside the ambit of the law, arguably out of desperation.
Third, and a fact often underappreciated, platinum is a relatively "new metal" to the global economy. South Africa which dominates global production has seen an increase in production volumes of 170 percent over the past 30 years, with the Rand value of local production of the metal quadrupling between 1993 and 2011 in real terms. Adequate municipal infrastructure has not kept up with expanded operations in South Africa, with inadequate water supply, schools, municipal services and basic housing.
Finally, the mining workforce, unlike any other in South Africa, is heavily dependent on migrant labor drawn from rural areas. The workers are male-dominated, culturally conservative and easily influenced by traditional healers and simplistic arguments about how these strikes were about getting just wages from the big corporations or government.
These factors do not characterize the rest of the South African economy. The majority of the non-mining, non-agriculture, non-formal workforce are urban-based, fairly organized and have representative trade unions. Importantly, the country's largest employer, the public sector, is seen as a wage-setter in the economy and has secured a three-year wage agreement.
It is a catch-22 for the employees. The industry must restructure to remain profitable. There will almost certainly be job losses in both the platinum and gold industries. As wage bills rise for mine owners, so too will unemployment. The short-run effects of these strikes have been significant.
The country can learn from the strikes to prevent future unrest. Workers and unions must work closely to ensure that trade unions truly reflect the needs and aspirations of workers at all levels. Internal conflicts within unions are costly for workers, as evidenced by strikes in the mining sector. Those sectors in which unions have lost sight of worker demands or where unions are poorly represented may be prone to unpredictable labor unrest in the future. Assessment of relationships between workers and unions, employers and unions, and mending tensions in these relationships, can prevent further deterioration and friction.
The spread of strikes to other sectors driven by non-mining-specific factors are indicative of South Africa's endemic poverty, inequality and unemployment. Sadly, the key economic sector drivers – mining, agriculture and transport – are also affected by strikes, weighing negatively on the country's economic growth.
These recent labor strikes in South Africa represent a microcosm of an economic development trajectory that has generated positive growth without sufficiently generating employment or equity across all groups. South Africa now faces the huge task of ensuring more inclusive growth in order to create jobs and address poverty. The labor strikes are a reminder that inequality is still a major challenge for South Africa.
Haroon Bhorat is professor of economics, University of Cape Town & Director, Development Policy Research Unit; Morné Oosthuizen is deputy director with the Development Policy Research Unit; and Anne Kamau is an Africa research fellow with the Africa Growth Initiative, Brookings Institution.
Copyright © 2013 Yale Center for the Study of Globalization