Hitting Refresh on Privacy Policies: Brookings
Technology and online applications have developed swiftly and many people still do not realize how much private information they release with every choice and click online. US legislators and policymakers express dissatisfaction with prrivate policies that regard issuance of notices, often lengthy and cryptic, as consent. A Brookings report highlights the problems with privacy policies: over-notification, imbalance of knowledge between companies and the most vigilant customers, and little choice by users on how businesses might use personal information. "In November, Senate Democrats released a set of privacy principles that propose to shift this burden to the companies that collect and use data," the authors report. "This is a key step toward legislation that sets responsibilities and boundaries for businesses that apply regardless of what disclosures their users read or boxes they tick." The article reviews proposals, some of which seek to shorten privacy notices and others lengthen the documents. The Brookings report urges transparency, recognition of various audiences and contexts, along with accountability for corporate officials. – YaleGlobal
Hitting Refresh on Privacy Policies: Brookings
A Brookings report recommends transparency and recognition of various audiences for privacy notices and accountability among corporate officials
Cameron Kerry and Caitlin Chin
Thursday, January 9, 2020
Read the article from Brookings about recommendations for privacy noticies.
Cameron Kerry is a global thought leader on privacy and cross-border information flows. He joined Governance Studies and the Center for Technology Innovation at Brookings in December 2013 as the first Ann R. and Andrew H. Tisch Distinguished Visiting Fellow. Previously, Kerry served as general counsel and acting secretary of the US Department of Commerce.
Caitlin Chin is research assistant with the Center for Technology Innovation.
The authors would like to thank Marla Odell for her research and editing assistance.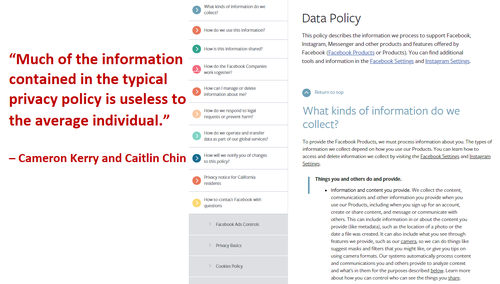 (Source: Facebook)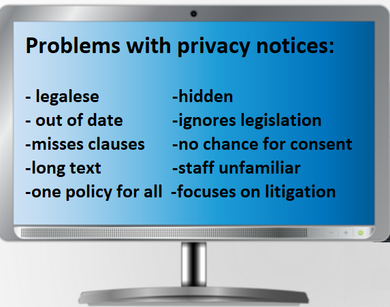 (Source: PrivacyNotices.com)
Copyright 2020 The Brookings Institution