How Far East Can Europe Go?
As the celebrations over the expansion of the European Union die down, debates over the next big expansion proposal are sure to heat up. Talks on Turkey's entry into the European Union, however, won't be limited to a simple discussion of the economic benefits of regional consolidation. To some, letting Turkey - an Islamic nation that has been accused of human rights abuses - into the largely Christian and democratic community known as 'Europe' would fundamentally challenge long-held notions of European identity. But this might be exactly the reason to continue negotiations with Turkey, suggests Shada Islam, a Brussels-based journalist who specializes in EU policy. With an ever-increasing number of immigrants from Africa and the Middle East now living in the European heartland, pro-Turkey Europeans argue that Europe's self-image needs to grow and change with the realities of its current population. Furthermore, on a pragmatic level, Europe may need the 70 million people that Turkey could bring in - as well as its land and additional resources - to compete with China, the US, and other economic competitors. Regardless of where one stands on the issue, Islam concludes, Turkey's application for EU membership presents both a challenge and an opportunity that can't be sidelined for long. - YaleGlobal
How Far East Can Europe Go?
Turkey wants to join the EU, but some say Europe ends where Islam begins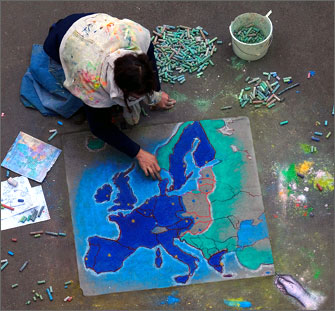 DUBLIN: On May 1 one could hear the sound of Champagne bottles popping across Europe. The dream of a unified continent, articulated by 15 nations more than a decade ago, has come true. In the intervening period, the union has been expanded to cover all of Europe's 25 countries - including eight former communist states - so as to mark the beginning of a new era for a once-divided continent. But the new and rapidly changing EU faces even more historic changes ahead. The bloc's leaders will decide in December whether to start membership negotiations with Turkey, a Muslim country and NATO member, which has been knocking on the Union's doors for decades but whose entry application was only formally accepted by the EU in 1999.
Viewing EU entry as the ultimate symbol of Turkey's coming-of-age, Turkish Prime Minister Recep Tayyip Erdogan is pressing the country's government and business leaders to step up efforts to meet the EU's tough political and economic membership criteria. As a result, Turkey has carried out more sweeping reforms in the last 12 months than in the last 40 years, says Amanda Akçakoca of the European Policy Centre. The Turkish Parliament has acted to reduce the dominant role of the military, abolish the death penalty and granted greater cultural rights to long-oppressed Kurds. Despite the strict conditions attached to EU membership, opinion polls consistently show overwhelming Turkish support for joining the EU, with no major political party in the country opposing the move.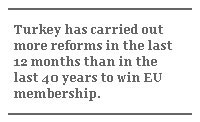 European opinion on Ankara's entry bid remains fiercely divided, however, with politicians across the bloc locked in bitter battle over whether Turkey is too big, too poor, too neglectful of human rights - and too Muslim and Asian - to join the Union.
Religion is an important issue. Although Erdogan's Justice and Development Party (AKP) rejects the Islamist label, describing itself as conservative, democratic and pro-western, those against Turkish membership - including centre-right parties in Germany and France - say Ankara's entry will dilute Europe, undermining the club's still-largely Christian character. If Turkey is brought in, it will be "the end" of the EU, according to former French President Valery Giscard d'Estaing who recently also chaired an EU constitutional conference.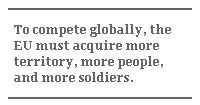 Critics also claim that the entry of a country as big as Turkey will destabilize current EU power politics, giving the country as many votes as current EU giant Germany in the bloc's decision-making machinery. In fact, on current demographic trends, by 2020, Turkey, with a population of about 70 million could have more people than Germany, which currently counts 80 million people. Given its size and still largely under-developed economy, there is also concern that Turkish accession will mean additional burdens on already cash-strapped EU budgets.
Significantly, however, arguments in favour of Turkish membership are beginning to gain ground. Senior EU policymakers and many independent analysts insist that the EU, seeking to compete with the US and emerging powers like China and India, must acquire more territory, more people - especially young people - and more soldiers. Ankara's entry into the EU will provide all three benefits, says Eberhard Rhein, a former senior official at the European Commission, the EU's executive arm. "In a global world where some will matter and others will not, Europe's political class is very aware of the geo-strategic importance of Turkey," he says.
Far from destroying the EU, pro-Turkey analysts argue that opening the doors to Ankara will help Europe cope with a spate of specific social and civilizational challenges sparked by the September 11 attacks on the US. Turkey as a Muslim nation offers the EU the opportunity to build stronger bridges with the rest of the Islamic world, boost its presence in the Middle East and with an estimated 15 million Muslims already living in the Union, help confirm Europe's emerging multi-ethnic, multi-religious identity. Crucially also for most Muslim nations, the credibility of the EU's calls for a dialogue between the West and Islam hinges on whether or not Turkey gets into the European club.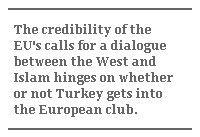 The already-heated debate on Turkey is getting even more acrimonious ahead of elections to the European Parliament in mid-June, with critics accusing rightist and conservative parties of stirring passions over Turkey in order to capitalise on rising public fears over Islamic radicalism and the presence of Muslim migrants in Europe. Germany, home to more than 2 million Turks, is in the throes of a particularly emotional debate, with the opposition centre-right parties adamantly against allowing Turkey into the EU while the ruling Socialists have pledged to support the move.
German backing is important but not enough. Much to Turkey's dismay, French politicians, once viewed as stalwart defenders of Turkish membership of the EU, appear to be having second thoughts. Turkey does not currently meet the criteria to become an EU member French President Jacques Chirac said on April 29, adding: "Turkey's EU entry is only possible under certain conditions, which do not exist today." Chirac's skeptical comments came only days after Alain Juppe, head of the ruling UMP - and a close friend and advisor to Chirac - stunned Ankara by announcing that he would campaign actively against Turkish entry in the upcoming European polls.
Anxious to keep the discussions on a more objective level, EU policymakers insist that their assessment of Turkey's entry credentials will be purely factual. "Credit will be given where credit is due," European Commission President Romano Prodi promised recently. While commending Turkey's "impressive progress" in meeting EU membership standards, Prodi warned that the Commission would judge Ankara on full and effective enforcement of its new laws.
Given the high political stakes, however, many argue that the Commission will find it impossible to disappoint Ankara by saying no to opening entry talks. For one, the prospect of joining the Union has worked as a crucial spur for reform and helped boost secularism in the country. Removing the goal would strengthen the hand of the army and Turkish nationalists, cautions Akçakoca at the European Policy Centre. "Rejecting Turkey would also have an enormous backlash because it could be seen as rejection of a Muslim state," she adds.
Even if membership talks get the Commission go-ahead, however, actual Turkish entry into the Union is unlikely for another 10 to 15 years. "Nobody wants Turkish accession to take place rapidly," says Rhein. Since a vast amount of work will be needed to bring Turkish legislation up to EU standards - in areas such as human rights, the judiciary, environmental law, gender equality and competition policy for instance - negotiations on membership will not go fast, he says.
The next six months leading up to the EU's make-or-break summit on Turkey in December are likely to be tough for both sides. Ankara will have to make sure there is no slippage in its reform effort and focus its energies on implementing the new laws. European policymakers, meanwhile, will probably engage in more bickering over the merits of Turkey and more soul-searching on the identity and future contours of an expanding EU.
EU leaders are widely expected to give the thumbs up to the opening of membership negotiations with Turkey. But even if Ankara's application is once again put on ice, Turkey will continue to loom large on the EU's horizon.
Shada Islam is a Brussels-based journalist specializing in EU policy and Europe's relations with Asia, Africa, and the Middle East.
© 2004 Yale Center for the Study of Globalization