India's Digital Revolution Poised to Propel Services
India is poised to revolutionize the service industry, in such a way that borrowing, saving and transferring money could happen as swiftly as sending an email. This technological leap enables India to rely more on services and domestic consumption even as world trade is slumping. A nationwide government initiative encouraging financial inclusion and bank accounts, combined with biometric-based unique identification numbers, has positioned the country for a surge of growth, explains Nandan Nilekani, former chairman of UDAI, which launched the massive digital platform for providing India's billion-plus people with Aadhaar numbers. Based on iris scans, the numbers already authenticate 100 million transactions per day. A Unified Payment Interface system allowing instant payments with smartphones begins July 31. A society where everyone can depend on the set of universal connections known as the India stack – the ID number, a bank account and mobile phone – promises paperless and presence-less transactions as well as big leaps in innovation and productivity. Nilekani predicts creation of new platform aggregators along the lines of Uber or Amazon that will organize thousands of entrepreneurs and reduce costs in finance, education, health care and all manner of services. – YaleGlobal
India's Digital Revolution Poised to Propel Services
The India Stack – connecting bank accounts, unique ID numbers and mobile phones – will deliver massive productivity in services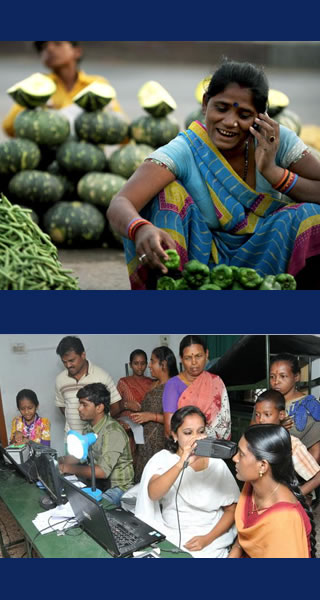 BENGALURU: Conventional wisdom for the future of India is that we must grow like China, Japan and South Korea. That we must build large companies creating thousands of jobs and exporting goods. I believe that domestic consumption, not exports, will drive India's growth. The economy will be services-led and not manufacturing-led. Small businesses will lead rather than large corporations.
Serendipitously, this condition has arisen at a time when the globalization trend is reversing. Jeffrey Immelt, CEO of General Electric recently noted, "Globalization is being attacked as never before." He talks about how the whole era of globalization of the last 40 years is under threat. Protectionism is growing around the world.  Brexit is the latest proof of the challenge. Countries no longer want to participate in global formations. Trade deals are slowing down. The WTO has not cut a deal in many years and the Trans-Pacific Partnership and Transatlantic Trade and Investment Partnership are stuck in all kinds of wrangling. Fundamentally, globalization is slowing.
Value of global trade has come down in the last six to seven quarters. Data as tracked by The Economist shows global trade is falling. The Baltic Dry Index indicates a dramatic drop in freight prices, a proxy suggesting globalization is slowing down. India's exports standing at $22.17 billion in June have slowed for the 18th consecutive month. 
In the meanwhile, a key component of delivering services, the mobile phone, is becoming the universal electronic product in everybody's hands. India is selling 25 million smart phones per quarter and the anticipation is 700 million smart phones in hand by 2020. Internet penetration is growing. With 332 million internet users, India is now the second largest internet market ahead of the US.
Another building block in India is the Aadhaar number – the world's largest digital infrastructure for establishing unique identity. The system has 1 billion people, and in less than six years, it can already authenticate 100 million transactions per day. The world has only a dozen platforms that can handle a billion users and those include Microsoft Windows, Microsoft Office, Facebook, WhatsApp, Android and YouTube. Aadhaar is the only billion-user platform outside the United States and the only government one.
India's Internet Penetration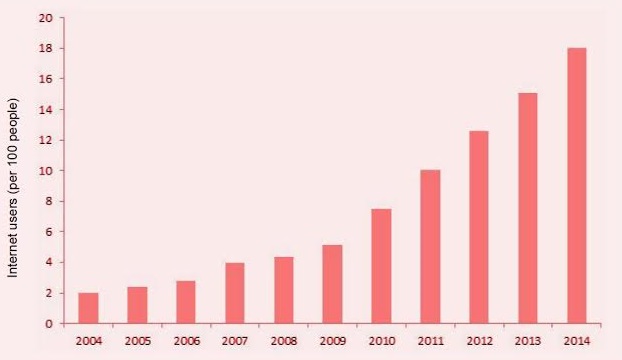 Designed in 2009 as an online identity platform for all Indian residents, Aadhaar provides open Application Programming Interfaces, or APIs, which can be integrated easily into any electronic device. These APIs enable online authentication using a fingerprint or iris. Recently Samsung introduced an Aadhaar-compliant tablet with a camera that in a single click performs iris authentication.   
With the 2014 introduction of Prime Minister Narendra Modi's Jan Dhan Yojana for financial inclusion, more than 290 million bank accounts are linked to Aadhaar today, and several billion dollars of benefits and entitlements have been transferred to people's bank accounts electronically in real time. Jhan Dhan (J) for bank accounts, Aadhaar (A) for identity and the mobile phone (M) form the JAM trinity
The arrival of New Age platform aggregators – from Amazon and Flipkart for small merchants to Uber and Ola Cabs for taxis – will create a huge digital footprint that could be leveraged by individuals and businesses to secure credit. Such platform aggregators will also create jobs, not as monolithic large organizations, but as millions of small entrepreneurs connected to a platform.
India's Growing Consumption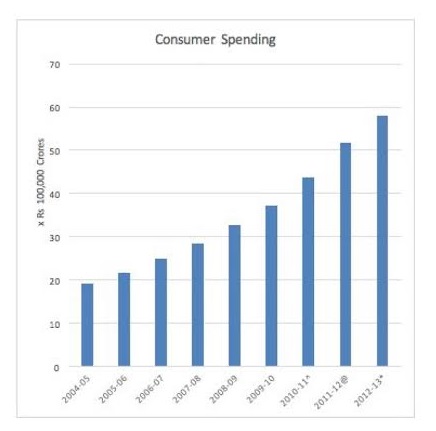 These platforms enabling seamless transactions give the service economy a big boost. India is the largest young country in an aging world and will continue to have a young population for the next 25 years, whereas China has started aging. Indians will either migrate or do outsourcing work. Care providers around the world will come from India. There will be doubling of GDP growth in housing, education, health – all services. Services are labor intensive and their incremental return on capital is much faster than manufacturing. And then there will be services like tourism that create jobs – Thailand, for example, has 25 million international visitors per year and India has only 8 million.
Another factor is that manufacturing trends are changing dramatically. Robotics, 3D and automation are changing industry. Automation will hit manufacturing before India can catch up. Manufacturing is becoming a high-end, capital-intensive activity and as such won't contribute to job creation. Manufacturing outsourcing trends, too, are reversing with operations, like those of Foxconn, going back to the West. Such automation and outsourcing reversals are going to happen in every industry and, fundamentally, manufacturing is getting squeezed as the future of manufacturing will be very high-tech, very automated.
Many economists have suggested that India should copy China, but it cannot. When China started its development journey, it had no established competition. Global overcapacity challenges India. For example, China has steel capacity of 822 million tons, and India has 86 million tons. Recently the India government had to protect its steel industry by introducing minimum import pricing. Normal competition without tariffs will be difficult in many sectors.
India's manufacturing and agricultural sectors are fragmented due to excise and other taxes and also due to a lack of infrastructure, cold chains, storage processing and more. Yet India has a single market for banking, telecom, insurance and capital markets. Consider, to launch an insurance policy or a mortgage in the United States, one must go to 50 regulators. In the European Union one must go to all member countries. China has a single market, but no free movement of labor. India's combination of a free market for labor combined with single market for services is the reason why services is the country's biggest growth area. The only place where India can achieve economy of scale is in services. This is apparent in the dramatic growth of service tax.
India's Growth in Services

The India Stack – a set of programming interfaces built on the trifecta government-created people's bank account  of Jan Dhan, Aadhaar and mobile phones – in brief JAM – enables paperless, presence-less and cashless transactions. The Reserve Bank of India introduces Unified Payment Interface on July 31, allowing all payments to be made by mobile phone, which backed by JAM will lead to dramatic leaps in productivity.
Dramatic consequences will follow creating thousands of startups and billions of dollars of capitalization. Four shifts will happen: First, banking at scale because everything a bank can do, individuals can do on a mobile phone.  Second, investment at scale – people can buy a mutual fund on the phone with one click. Third, credit at scale where entrepreneurs can get a loan with just by click by aggregating their own data. And fourth, skilling at scale – as platforms happen, India will have thousands, millions of people gathering skills to operate in this new economy with great strides in reading and math literacy happening at scale.
World trade may be shrinking and barriers may be emerging among nations, all making movement of labor difficult. India with its vast unified market, youthful labor force and growing digital platform-backed services alone is poised to build a new power economy.
 
Nandan Nilekani, former chairman of UDAI, which launched Aadhaar, is now chairman of EkStep Foundation, which is focused on enabling learning opportunities. This essay is adapted from a speech he delivered at Microsoft Think Next 2016 in Bengaluru on June 23, 2016.
Copyright © 2016 YaleGlobal and the MacMillan Center