International Students Find Roles in US Presidential Campaign
The percentage of international students enrolled at US colleges and universities has climbed over the past five years, due to rising applications from overseas and declining enrollment by US students. College administrators encourage civic engagement for all students, and international students are following the US presidential race. "The election will determine the roles for foreign nationals in the US economy and whether their contributions are welcomed," write Paul Elish and Susan Froetschel for YaleGlobal. "International students and children of undocumented immigrants join their peers in attending campaign rallies and protests, writing opinion essays and volunteering for campaigns by making telephone calls, giving voters rides to the polls and providing IT support." The work of passionate volunteers can make a difference in close contests. The campaign messages resonate, the students note, and US policies carry impact in an inter-connected world. – YaleGlobal
International Students Find Roles in US Presidential Campaign
US colleges encourage civic engagement, so international students attend rallies, write op-eds and volunteer for presidential candidates
Paul Elish and Susan Froetschel
EAST LANSING: US colleges and universities attract more international students than any other country in the world. The students cannot vote in the country's elections, but are otherwise encouraged to take an active role in campus affairs. A competitive primary election season coinciding with spring semester has blurred the lines between political and campus activities.
The election will determine the roles for foreign nationals in the US economy and whether their contributions are welcomed. International students and children of undocumented immigrants join their peers in attending campaign rallies and protests, writing opinion essays and volunteering for campaigns by making telephone calls, giving voters rides to the polls and providing IT support. Saint Anselm College, George Washington University, Drake University and others offer courses related to the presidential race. Harvard's Government 1359, "The Road to the White House," taught by Carlos E. Díaz Rosillo, had record enrollment with more than 500 students.  
Interest is running high as analysts anticipate the next president to continue using executive orders for setting immigration policy, bypassing legislative deadlock from a divided Congress. For example, as of May 10, the US Department of Homeland Security finalized a rule allowing international students with degrees in select science, technology, engineering and mathematics fields to stay in the country for up to three years after graduation to seek jobs in related fields. Such rules could be overturned by the next president.
About 40 million immigrants live in the United States, including green-card holders, 11 million undocumented immigrants and their children who have known no other home along with more than 1 million students. Many have decided they have a stake in the 2016 election as debates heat up over contentious foreign policies including immigration and securing borders, trade and jobs, military intervention, torture and terrorism. Immigrants represent 16 percent of the nation's workforce, and international students represent 5 percent enrollment in the nation's institutions of higher education and also nearly half of the workers and students in the sciences and engineering. Public state universities welcome talented students who pay the higher out-of-state tuition rates, and the United States has 73 percent more international students than a decade ago, contributing more than $30 billion to the economy, according to the Institute of International Education.
Swetha Kesineni, from India and studying psychology and economics at Emory University in Georgia, attributes international students' interest in US elections to globalization. She foresees the election having far-reaching repercussions, explaining, "In the last few years, it has become increasingly evident that we live in a highly connected world and that whatever happens in the US has a greater global impact than ever before. Any issue that a US president advocates for tends to garner phenomenal attention and awareness around the world, and would subsequently impact us wherever we may end up."
Candidates themselves are drawn to college campuses for a ready supply of volunteers looking for work experiences. Campuses also provide large arenas and auditoriums for campaign events and an ability to draw large enthusiastic crowds with less than a week's notice.
Jorge Mena Robles, an undocumented graduate student at the University of Illinois at Chicago, started an online petition, urging cancellation of a rally for Republican candidate Donald Trump scheduled for his campus March 11. "Even if we cannot vote, that does not mean we don't have political agency," he said, adding that he does not volunteer for a campaign. "The choices made will affect my life and my community."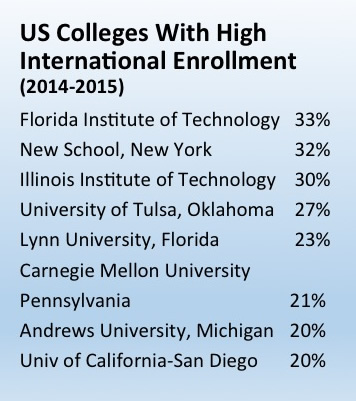 The petition, signed by more than 50,000, expressed concern about the rally attracting extremists to one of the nation's most diverse campuses and urged that "UIC should not be host to hate." A week later, about 6,000 Trump supporters waited inside the Pavilion and more than 2,000 protesters gathered outside with a few hundred more inside. Soon after the campaign canceled the event, fights broke out.   
School officials point out that renting out facilities and hosting such events on campus do not represent an endorsement of candidates. Michael Amiridis, the university's chancellor, encouraged civic engagement and responded to the petition that "we endorse the idea that the answer to speech that one does not like or finds offensive is more speech and not censorship."
With an unconventional style and simple policy prescriptions, including plans to build a massive wall along the southern border and convince Mexico to pay for it, Trump draws a lion's share of media attention. He has taken some of the toughest stances on illegal immigration and legal immigration, including a proposed temporary ban for all Muslims, though has wavered over plans to increase H-1B visas for talented foreign workers from the current cap of 85,000.
Some international students have adopted the any-candidate-but-Trump stance.
"It seems unbelievable to me that this country is considering Donald Trump a serious candidate for president," wrote Nandhini Narayanan for The Chronicle, the student newspaper at Duke University, listing concerns about the candidate's positions on climate change and immigration. "Initially, I thought it was a joke, one of the many Americanisms I have failed to understand in the 16 months I have spent here. Then, I found out it is not a joke. You are serious…."
From India, she has since graduated with an engineering degree and remains active on Tumblr, Facebook, Twitter and other social media – exchanging campaign news, fact-checking candidates' statements and reminding friends who are citizens to vote.
She suggests that Americans may be more laid-back about the campaign than people from elsewhere in the world, especially students, green-card holders and their families who have a vested interest in the election's outcome.
Others take stands on particular candidates. Sebastian Albrecht, an international student from Germany, defended John Kasich, Republican candidate and Ohio's governor, in Fordham Political Review as "one of the few Republicans that has the ability to win the general election."
The political science and economics major also serves as president of the College Republicans at Fordham University in New York.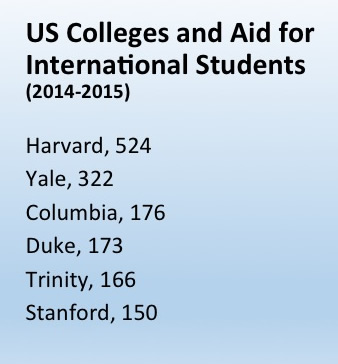 An international student from India co-founded and chaired the Students for Hillary organization at Wellesley College, Clinton's alma mater. Hometown newspapers, like India's Deccan Chronicle, profile campaign volunteers like Emory's Swetha Kesineni who describes a passion for politics and being inspired by former Secretary of State Hillary Clinton's support for women's rights. And while attending Chandler-Gilbert Community College in Arizona, Belen Sisa volunteered for Senator Bernie Sanders by registering voters – and later obtained a permit to work as a field organizer in Nevada. Her parents left Argentina for the United States when she was six years old.


The US Federal Elections Commission limits participation by foreign nationals. "Even though a foreign national cannot make campaign contributions or expenditures (including advances of personal funds), he or she can serve as an uncompensated volunteer for a campaign or political party. However, the individual may not serve in a decision-making capacity within the committee. For example, a foreign national is allowed to attend campaign strategy meetings and events, but may not be involved in the management of the committee." Nevertheless, Kesineni notes that "there has been greater acceptance and inclusion of international students as campaign volunteers lately, which provides us with better access and opportunities to support our chosen candidates."
Narayanan expects the candidates' stances, their understanding of history and cultural sensitivity as expressed during the campaign, will reflect how they will work with other world leaders, and she advises political leaders and voters to consider how closely the rest of the world is following the US presidential race.  
Paul Elish is a recent graduate of Yale College. He currently works on projects evaluating infectious disease treatment programs in Peru as a Charles P. Howland Fellow. Susan Froetschel is YaleGlobal's managing editor and author of five mystery novels that explore public policies at the local level.
Copyright © 2016 YaleGlobal and the MacMillan Center