Investors and Globalization's Decline: Barron's
The bout of protectionism and transactional approaches to trade will linger even after China and the United States reach a trade agreemen. "Globalization is being overwhelmed by populism, nationalism, and protectionism," explain Avi Salzman and Nicholas Jasinski for Barron's, adding that globalization has long moved in cycles and is "no longer the dominant force." Trade growth has slowed, according to multiple indicators. Protectionism and populism spur increased interest in automation and investment in new technologies, allowing companies to avoid employees disgruntled over wages. Governments and citizens express wariness of foreign investors and products, and populist voters reject foreign ties even if it means economies will suffer. . Political leaders erect barriers in an attempt to protect jobs. Consumers attach brand names to country of origin. Companies, caught in the middle, seek new flexibility in re-routing supply chains, emphasizing regional over international and simplicity over complexity. The writers suggest that Vietnam and other countries could be beneficiaries of these new trends in globalization. – YaleGlobal
Investors and Globalization's Decline: Barron's
New globalization cycle: Companies respond quickly to trends of populism and protectionism, rerouting supply chains, investing in automation and technologies
Avi Salzman and Nicholas Jasinski
Read the article from Barron's about the decline in trade.
Avi Salzman is a senior writer at Barron's, covering stocks, the economy, and the impact of new technology on financial markets. He has also written for the New York Times, WSJ.com, Businessweek.com, the Hartford Courant, and several other newspapers.
Nicholas Jasinski is a reporter at Barron's focusing on stock coverage. He writes the Sizing Up Small Caps column and, frequently, the Barron's Review & Preview newsletter.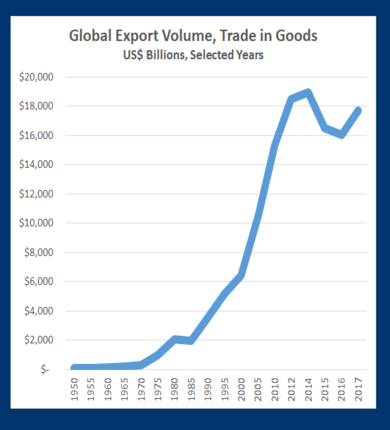 Source: Statista
Copyright ©2019 Dow Jones & Company, Inc. All Rights Reserved.