Iran Breaches Nuclear Fuel Limit: Business Insider
Inspectors with the International Atomic Energy Agency confirm Iranian reports that the country has exceeded a limit on its enriched uranium hexafluoride as outlined in the 2015 nuclear deal. The United States withdrew from that Joint Comprehensive Plan of Action in 2018 and re-imposed sanctions. Iran initially abided by those limits as requested by the European Union, but announced a change of heart after the United States accused Iran of attacking two oil tankers. The limit would have expired in 2030. "The stockpile, which is enriched to a relatively low level, can be used in power plants, but not to build nuclear weapons," reports Alexandra Ma for Business Insider. She points out analysts suggest "Breaching the limit is a symbolic defiance of Trump, but will not really put Iran much closer to building a nuclear weapon." The move, which could be reversed, is the latest in a series of escalating tensions between Iran and the United States. – YaleGlobal
Iran Breaches Nuclear Fuel Limit: Business Insider
Iran breached limits on its nuclear fuel stockpile – meant to be observed another 11 years under the 2015 international nuclear deal from which the US withdrew
Read the article from Business Insider about escalating tensions between the United States and Iran.
Alex is a reporter at Business Insider's London office. She covers geopolitics, China, and breaking news. She has appeared on BBC radio and TV programs, participated in panel discussions, and given speeches on her reporting.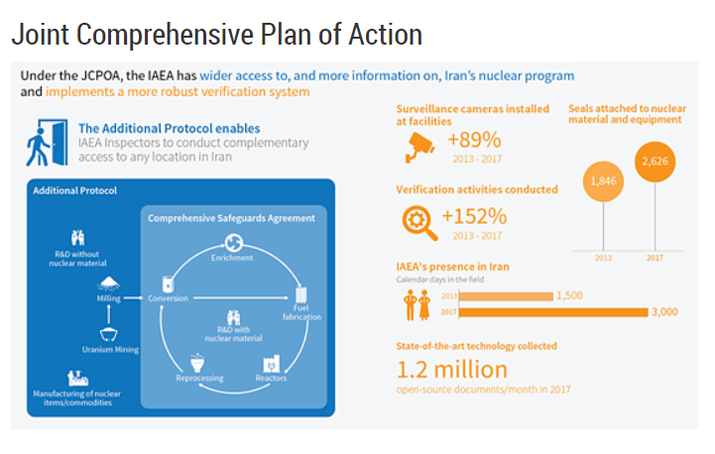 The Joint Comprehensive Plan of Action gave inspectors with the IAEA broad access since 2015 (Source: IAEA)
Copyright © 2019 Insider Inc. All rights reserved.