Iran Deal Reached, Struggle For Acceptance Begins
The cliff-hanging negotiations over curbing Iran's nuclear program have ended with preliminary agreement. Iran negotiators had to contend with six powers that rarely agree - the US, the UK, China, France, Russia and Germany - as well as internal US polarization. "The hard-knuckle bargaining that has marked high-level negotiations over the past several days at the Swiss resort of Lausanne centered chiefly around three contentious points: the length of restrictions on Tehran's nuclear program within the general agreement; the pace or modality of lifting UN sanctions on Iran; and the penalty for Iran in case of its non-compliance with the agreed protocol," explains author Dilip Hiro. Final details for the joint comprehensive plan of action will be worked out by 30 June, and some parts of the agreement would remain secret. US officials must convince Republican lawmakers, Israel and Arab allies that completing this deal is better than doing nothing at all. - YaleGlobal
Iran Deal Reached, Struggle For Acceptance Begins
Permanent members of the UN Security Council and Germany crawl in reaching agreement on Iran's nuclear program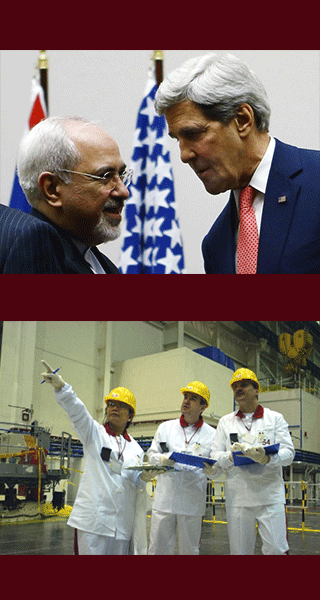 LONDON: Extended negotiations on Tehran's nuclear program between Iran and six major powers revealed differences among the key five permanent members of the UN Security Council. At the two extremes, Russia tilted toward Iran whereas France insisted on a robust deal with detailed checks. China urged all sides to meet one another halfway. And the United States, after threatening to walk away on Tuesday if current negotiations failed to yield a political framework accord, was once again at the center of the talks.
The negotiators reached a tentative agreement on the rough outline of a public statement on the progress made so far, which will also highlight areas of disagreement. Last-minute haggling was about the crucial details in the political framework that could form the basis of a future nuclear agreement to be signed by 30 June. All the same, some parts of the agreement reached by the parties will probably remain confidential.
The bottom line for the United States and five other powers – Britain, China, France, Germany and Russia – has been to keep Iran at least one year away from being able to produce enough nuclear fuel for a single weapon. A year is universally considered to provide enough warning time to head off an Iranian race for an atom bomb by re-imposing tight economic pressure or, if need be, to stage a few bombing raids by the Pentagon.
The hard-knuckle bargaining that has marked high-level negotiations over the past several days at the Swiss resort of Lausanne centered chiefly around three contentious points: the length of restrictions on Tehran's nuclear program within the general agreement; the pace or modality of lifting UN sanctions on Iran; and the penalty for Iran in case of its non-compliance with the agreed protocol.
Iran wanted the life of the agreement to be 10 years with restrictions on its nuclear program to apply over that period. The five permanent members of the UN Security Council (P5) and Germany favored 15 years. They wish to extend the limitations on Tehran for a further five years on the assumption that, with advanced centrifuges available to Iran, its breakout time to produce an atom bomb – should it decide to do so – would be reduced. Iran's leaders reject prolonged curbs on their centrifuge development, arguing that would make their country dependent on foreign technology.
A compromise could be to impose strict restrictions on the research and development of centrifuges for 10 years and then lift them. 
On the modality of lifting UN sanctions on Iran, Supreme Leader Ayatollah Ali Khamenei outlined his position; on 30 March morning his website noted, "sanctions must be lifted in one go, not as a result of future Iranian actions."  He seemed to take on board the open letter that 47 US Republican Senators addressed to the Leaders of the Islamic Republic of Iran on 9 March, warning that "The next president [after Barack Obama] could revoke such an executive agreement with the stroke of a pen, and future Congresses could modify the terms of the agreement at any time." Foreign Minister Mohammad Javad Zarif, head of Iran's negotiating team, described the letter as a propaganda ploy, adding that revocation by a future US administration would violate international law.
Obama found it "somewhat ironic" to see some members of US Congress form "an unusual coalition" to make common cause with the hardliners in Iran. Actually, hardliners in the Islamic Republic have been quiet recently, noting Khamenei's repeated backing for the Iranian negotiators.
The six UN Security Council resolutions on sanctions passed during 2006 to 2010 under Chapter 7 of the UN charter were based on the premise that Iran's nuclear program was illegitimate and a threat to international peace and stability. Once a document on Iran's nuclear activities is signed between Iran and the five permanent members of the Security Council, the very basis of these resolutions would collapse.
Russia, which has been closer to Iran than the rest of the negotiators, seems to agree. During his break from the talks on Monday, Russia's foreign minister Sergey Lavrov said that all UN Security Council sanctions should cease after a final deal in June. This was a departure from the earlier common position of the P5+1 that the sanctions should be lifted in stages in response to Iranian steps to dismantle part of its nuclear infrastructure. "There are different options," Lavrov said. "A full cancellation, or an initial suspension followed by abolition in the legal sense... but in practice this must mean that sanctions must cease to work."
The argument in favor of suspension of sanctions – this would make it possible to automatically reactivate sanctions if Tehran is non-compliant. But that seems unacceptable not only to Russia but also to China and France since it would deprive them of the right of veto.
The issue of non-compliance by Tehran, though in theory assigned to the Vienna-based International Atomic Energy Agency, will need to be fleshed out thoroughly. This could only be achieved during detailed discussions during the runup to 30 June, the final date for a written agreement with technical annexes.
Much can happen before 30 June. The Republicans in US Congress are set to play the spoiler role. On 14 April, a US Senate bill is due to be voted on in committee and go to the floor. If passed, it would deprive President Obama of the right to approve or reject a nuclear deal with Tehran. It would also give a green signal to the imposition of further US sanctions.
Obama is therefore keen to see the framework deal as a formal written document, one that preferably quantifies Iran's commitments, for presenting it to US Congress and the general public. Specifically, quantification applied to the reduction of 40 percent in the number of functioning centrifuges by Iran from the present 9,500. 
Obama has said that if the Senate passes the bill, he would veto it. The only way that his adversaries could override it would be to line up 67 senators. That would mean gaining 13 defectors from the Democratic side, which is highly unlikely.
US public opinion favors Obama's stand. The latest Washington Post-ABC News poll shows that 59 percent of the respondents back an agreement with Iran that would restrict its nuclear program in exchange for the lifting of sanctions.
In the long-running negotiations the technical aspect is intertwined with political diplomacy. To smooth the technical path, Obama appointed Energy Secretary Ernest Moniz in February as second to Secretary of State John Kerry who has been leading the American team. Iran's President Hassan Rouhani dispatched Ali Akbar Salehi, current head of Iran's Atomic Energy Organization and confidante of Khamenei, to Geneva the next day to act as number two to Zarif.
As it happens, in the early 1970s Salehi was a student of nuclear engineering at the Massachusetts Institute of Technology where Moniz was a faculty teacher. As a result of the Salehi-Moniz talks in Geneva lasting 20 hours, the issue of research and development of centrifuges by Iran was settled before the final round of political negotiations by seven foreign ministers in Lausanne in late March. Iran may have agreed to suspend R&D in this field for 10 years.
In the coming weeks it falls to Moniz to convince skeptical US lawmakers, Israel and Washington's Arab allies that Iran would be incapable of assembling the raw materials for an atom bomb in less than a year.



Dilip Hiro's latest book
is The Longest August: The Unflinching Rivalry Between India and Pakistan
(Nation Books, New York and London). His earlier book is
A Comprehensive Dictionary of the Middle East
(Interlink Publishing Group, Northampton, Massachusetts, and London). 
Read an excerpt.
Read the US Department fact sheet on the parameters for the Iran deal.
Copyright © 2015 YaleGlobal Online and the MacMillan Center at Yale