Iranians Display Unity: Wall Street Journal
The US targeted killing of powerful commander Qasem Soleimani in Baghdad has united Iranians and their leaders call for retribution. Esmail Qaani vows to carry on Soleimani's work of orchestrating interventions and shadow wars throughout the Middle East, suggests, "The minimum retribution for us is to remove America from the region." Iran also announced its withdrawal from the 2015 nuclear deal with China, Russia and Europe – and the United States had already withdrew from the agreement in 2018. In neighboring Iraq, the parliament passed a draft bill to expel US troops. "Baghdad has for years balanced its simultaneous alliances with Tehran and Washington, but the killing has strengthened Iran's position in Iraq and thrown the U.S. presence there in doubt," reports the Wall Street Journal. "In response, President Trump threatened Iraq with sanctions and a bill for billions of dollars if the U.S. is forced to withdraw from the country." The United States invaded Iraq in 2003, removing Saddam Hussein from power and later targeting the Islamic State terrorist group. Amid heightened tensions, the United States and regional allies are on alert. – YaleGlobal
Iranians Display Unity: Wall Street Journal
Iranians seek revenge for death of powerful commander; Soleimani's successor says removal of the US from the Middle East is a minimum retribution
Aresu Eqbali and Sune Engel Rasmussen
Read the article from The Wall Street Journal about a united Iran.
Sune Engel Rasmussen is a correspondent for The Wall Street Journal based in Beirut where he covers Iran and regional conflicts Laurence Norman contributed to this article.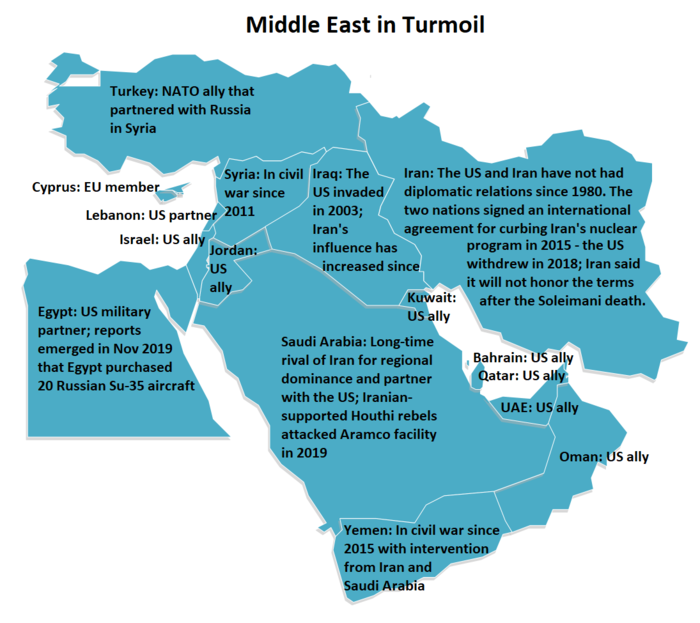 (Source: US State Department, Council on Foreign Affairs, CIA World Factbook, BBC News; map, Your Free Templates)
Copyright ©2020 Dow Jones & Company, Inc. All Rights Reserved.