Korea to Ban Stock Short-Selling: Korea Herald
Stock exchanges of many nations imposed various bans on short-selling during and after the 2008-2009 global debt crisis. Investors expecting a stock to decline borrow shares – as a hedging strategy or speculation – and then resell these to buyers who pay the market price: Further decline results in profits for the first investor while a rise can result in huge losses, explains Investopedia. South Korea's top financial policymakers met to address global financial turmoil, trade wars and currency battles, and the Financial Services Commission chairman announced a ban could imposed at any time. Stimulus funding by central banks over the past decade increased cash and forces investors around the world to hunt for safe havens. The expectation is that a ban will encourage foreign investors to switch from short-selling to buying South Korean stocks. The United States regards short-selling as helping with the price discovery process in markets and resists such bans. – YaleGlobal
Korea to Ban Stock Short-Selling: Korea Herald
South Korea's policymakers prepare for global recession, trade wars and currency battles and warn a ban on short-selling could be imposed any time
Wednesday, August 7, 2019
Read the article from the Korea Herald about South Korea's policymakers preparing for a ban on short-selling.
Read about short-selling as an investment strategy from Investopedia.
Read analysis about short-selling bans around the globe.
Explore data on the South Korea's Stock Exchange KOSPI from TradingEconomics.com.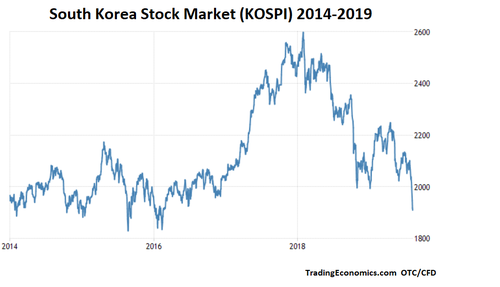 All materials contained on this website are protected by South Korean Copyright Law and may not be reproduced, distributed, transmitted, displayed, published or broadcast without the prior written permission of Herald Corporation, or in the case of third party materials, the owner of that content.