Medicine Shortages? South China Morning Post
China has ordered closures of businesses and schools to prevent the spread of COVID-19. "As the world's top producer of active pharmaceutical ingredients, … China's disrupted factory output has the potential to upset global supply chains, and regulators have been watching with concern," reports Simone McCarthy for South China Morning Post. The US Food and Drug Administration named 20 drugs with active ingredients sourced from China, with one drug already in short supply, reports McCarthy. The FDA did not announce the name to prevent panic-buying. "Antibiotics, blood pressure and diabetes medications, antiretroviral treatments for HIV and Aids, common household products such as the pain and fever reducer Ibuprofen, and the steroid hydrocortisone all fall within China's sprawling industrial production of generic drugs and their active ingredients." Many ingredients are no longer under patent, and shortages are expected to be short-term. The United States imports more than 80 percent of active pharmaceutical ingredients, most coming from China and India. China's manufacturing purchasing managers' index showed a record low in February. About 90 percent of state-run businesses and about half of small and medium firms have resumed production. – YaleGlobal
Medicine Shortages? South China Morning Post
China's factory activity hit a record low in February due to measures to stop outbreak; EU and US monitor delays on supplies and medications
Read the article from South China Morning Post about the potential for drug shortages due to COVID-19 and factory shutdowns.
Simone McCarthy joined the Post in 2018. She previously wrote about China tech, business and society for SupChina and has a bachelor's in literature from Yale University and a master's from Columbia Journalism School.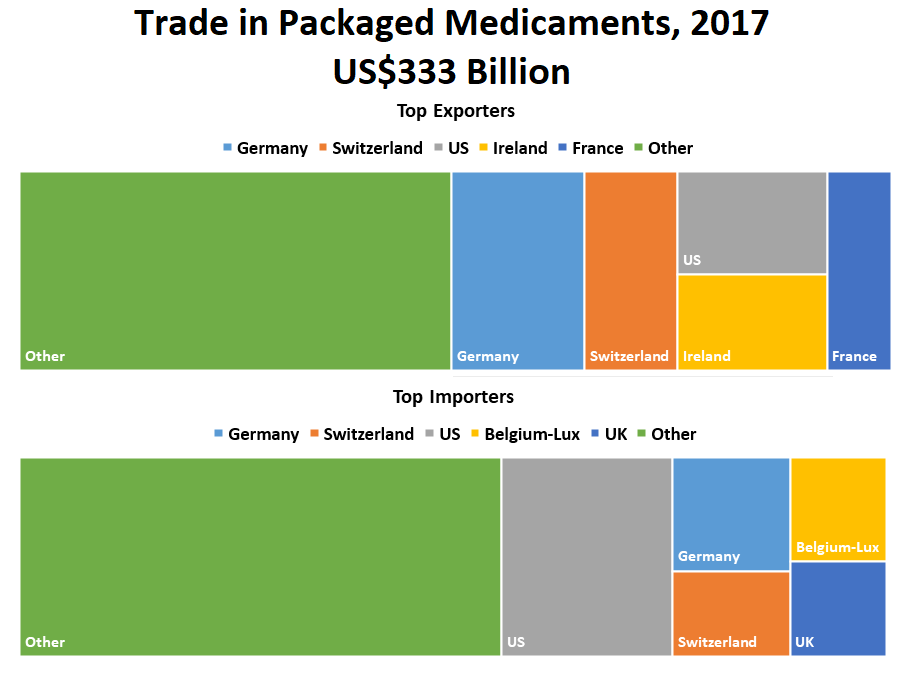 Supply chain: About 90 percent of the active pharmaceutical ingredients, for the US market including those used in packaged medicaments, were manufactured overseas in 2018 (Source: Observatory of Economic Complexity)
US FDA on the Global Drug Supply Chain
● China ranked second for exporting US drugs by import line. China ranked first for medical devices.
● Active pharmaceutical ingredientes manufactured by China also come to the U.S. as part of finished drug products manufactured in other countries, for example, India. Therefore, the percentage of APIs produced by China for the United States marketplace is likely underrepresented by the numbers as China is a major supplier of APIs for other countries.
● FDA's Drug Shortages Staff continuously monitor drug supply chain.
● The president's FY2020 budget includes a proposal to address information gaps relating to foreign drug manufacturers. 
● FDA maintains global vigilance of manufacturing facilities through a risk-based inspection strategy to focus inspectional resources on higher risk facilities and works closely with international regulatory partners in Europe to avoid duplication of inspections.
● Foreign acquisitions, or investments by a foreign entity involving over 10 percent, of a US company triggers a review of the transaction by the Committee on Foreign Investment in the United States. 
(Source: Mark Abdoo, associate commissioner, Global Policy and Strategy, US FDA, Congressional testimony, July 2019)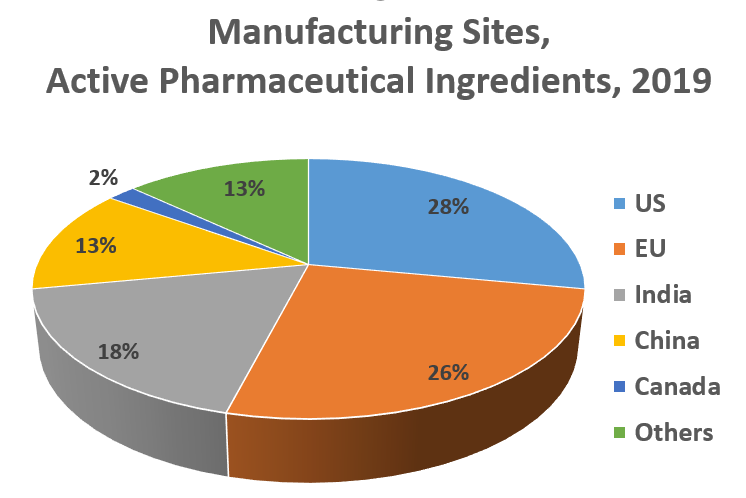 Supply chain: Any one drug can contain a number of active pharmaceutical ingredients manufactured overseas; sourcing gradually shifts to nations with low costs (Source: FDA and DCAT Value Chain Insights)
Active Pharmaceutical Ingredients Sourcing
● The US is the largest pharmaceutical market in the world but lags in API production.
● The shift in API production was due to a variety of factors including lower labor, shipping, energy and water costs.
● FDA cannot calculate the volume of APIs being used for US-marketed drugs from other countries, and what percentage of US drug consumption this represents. Additionally, the FDA data do not specify whether given API facilities are actually producing APIs, how much are produced, or where the APIs they are producing are distributed worldwide, including in the US.
● Limited reporting prevents the FDA from knowing whether API manufacturing facilities are actually producing the drug, or in what volume, or what portion of US drug consumption is dependent on APIs from other countries. So, the FDA cannot perform a reliable gap analysis. 
● Other FDA initiatives include collaboration with the Biomedical Advanced Research and Development Authority, working on a strategy and new regulatory framework to develop and implement miniature, mobile manufacturing platforms (i.e., Pharmacy on Demand) for manufacture of essential drugs near or at the point of care.
(Source: Janet Woodcock, director of the Center for Evaluation and Research, US FDA, Congressional testimony covered by DCAT Value Chain Insights, October 2019)
Copyright © 2019 South China Morning Post Publishers Ltd. All rights reserved