Modern Servitude: Romanian Badante Care for Elders in Italy
As Europe confronts the challenges of an aging population, workers from relatively poor countries relocate to wealthier communities to provide care. "Badante" is an Italian term for caregiver that also refers to foreign women, especially the Romanians who leave home and family to work long hours for low pay in Italy. The women "voluntarily enter this modern version of servitude, caring for the elderly, many of whom might otherwise be neglected," explains journalist Raluca Besliu. Such arrangements persist because of demographic differences among countries, strained national budgets, and uneven coverage of long-term care and home health care for the elderly. The European Union allows cross-border labor mobility, but regulations cannot contain the resentment. Many Romanian caregivers may not feel welcomed in Italy, but they also do not want to return to their homeland and limited opportunities. – YaleGlobal
Modern Servitude: Romanian Badante Care for Elders in Italy
Despite difficult conditions, poor Romanian women relocate to care for Italy's aging population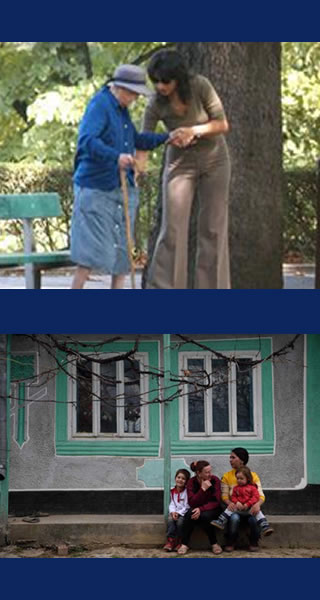 MILANO: In Europe, support is dwindling for a swelling elderly population, and immigrants, often with little qualification, have emerged as the main line of defense against a catastrophe.
Positions in Italy draw Romanian caregivers like Vasilica Baciu. For years, she took care of an elderly Italian woman who suffered from paralytic poliomyelitis and kidney failure by providing daily dialysis treatments and cleaning the woman's infected legs. Baciu lacked basic training, but the patient's doctor praised her care. A native of Romania, Baciu works as a badante, an Italian term for caregiver that gradually came to reference foreign women, mainly Romanians and Moldovans. Many women leave small villages for their first trips abroad to take on the intensive work at low wages. Most are high-school graduates.
Reliance on home care is expanding in Europe, with varying coverage, costs and regulations. Europe's population is aging – coupled with rising costs for conventional health providers and cuts to council budgets – because of decreasing fertility rates, the rise in life expectancy and retirement of baby-boomers. People over 65 are expected to represent at least one third of the EU population, up from the current 6.5 percent, by 2050.
With a growing imbalance between workers and non-workers, Europe has a shrinking pool of taxpayers capable of pumping funds into the formal system of long-term care. Even as the population ages, long-term care facilities are closing, due to rising costs and budget costs. In the United Kingdom, more than 40 percent of national health care spending is directed toward those over the age of 65, and the number of care homes has fallen from more than 18,000 to about 16,600 in July 2016.
Responsibility for care has shifted to families, though adult children with demanding jobs struggle to care for parents, and parents do not want to burden their children. The alternative is informal caregivers, a sector dominated by women from Eastern Europe like Baciu. She left her small town in Romania in 2006 "out of desperation." Her husband had lost his job at the local drilling company that went bankrupt.
More than a million Romanians live in Italy, representing the largest immigrant population. Some predatory agencies promise Romanian women stable work and wages, only to place them in exploitative conditions. In Baciu's case, a relative offered her a position, and the mother of two sons seized the opportunity, leaving her husband in charge of their household. The new job entailed living in a two-bedroom apartment of an elderly Italian woman, over 70, and being available around the clock to provide physical care along with meal preparation, washing, cleaning, shopping and other household chores. When a space opened in a nursing home, the family dismissed Baciu with little notice, and the woman died a few months later. 
Baciu and others voluntarily enter this modern version of servitude, caring for the elderly, many of whom might otherwise be neglected, to support their families. The average weekly wage of around €200 is meager for Italy, but ensures a comfortable life in Romania.
Many Italian families are struggling themselves and cannot afford professional caregivers and employ a badante, often without formal contracts. The caregivers have a grueling work schedule with few breaks, preventing them from resting or even calling families in Romania, explains Silvia Dumitrache, a social activist who works with authorities to raise awareness on labor abuses and the need for contracts to protect both workers and clients.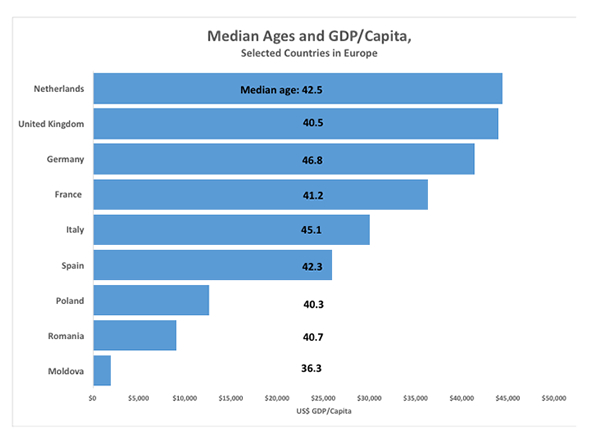 Desperate for work, most of these caregivers do not demand contracts detailing terms of payment, daily breaks, health benefits, vacations and other entitlements. Maria Cisiu, worked as a badante without a contract for nine years, and claims to have witnessed family members abusing her elderly patient.
The women do not speak Italian when they arrive. They have little free time and do not leave the patients' homes often, and "they are unable to make friends and are ultimately very lonely," Dumitrache explains.  She adds that the adjustment to a new culture, separation from families and caring for clients near death all carry a psychological toll for the caregivers and their families in Romania – including "identity crisis, caused by the guilt of being 'bad mothers.'"
The Romanian press fuels the guilt, by reinforcing the idea that the caregivers are "abandoning children," without acknowledging their dilemma. In turn, the Italian press depicts the women as fortune hunters and seductresses who hope to inherit fortunes by marrying elderly men or coercing patients. Such negative coverage contributes to the alienation and hardens public perceptions. Placing the blame on the caregivers diverts attention from the real culprit, notes Dumitrache, the governments of Romania and Italy for "failing to provide adequate living and working standards for their citizens and, thus, dividing and causing painful psychological trauma to their own societies."
Caregivers who lack contracts leave their posts, heading to Romania for several months, before returning to Italy to work for the same family or a new one. Baciu took a six-month break to visit her family in Romania, and Cisiu left for a month to visit a daughter and grandchild, before returning to the same job in Milano. A few manage to bring teenage children with them to their new homes.  Otherwise, fathers, grandparents or friends raise the badante's children. Dumitrache reports that many suffer from depression, attention deficiencies, impulsive conduct along with poor school performance.
The system upends traditional parenting roles in Romania. The badante, exposed to the gender values in Western Europe, become empowered as their family's breadwinners. The gap in values and expectations prompted Baciu to leave her husband. Young men join the exodus, seeking construction or farm jobs in Western Europe, and the long separations often mean that parents can no longer depend on children for care during their own elder years.
Romanians confront a depleted workforce, less economic output and pronounced demographic imbalances with decreasing natality and expanding mortality. Romanian authorities struggle to find sustainable solutions. The population of one small commune, Concesti in Botosani, shrunk in half over the past 20 years, and the mayor offered 40 empty houses and jobs to young families in need from across the country – many were single mothers with children, fleeing homes with domestic violence or substance abuse. And in 2010 Romania's president, seeking to expand his country's workforce, allowed neighboring Moldovans to apply for Romanian passports. 
At a macroeconomic level, the Romanian state, like many other sending governments, fails to acknowledge that the system and reliance on remittances are not sustainable. More than 3 million Romanians, more than 15 percent of Romania's population, live abroad, and these workers sent almost €3 billion home in 2015 alone, reports the World Bank. Some workers send for children and entire families after several years, and ties with home countries weaken. 
Like many other immigrants, Baciu dreams of returning to her home country and starting a small business.  She criticizes the Romanian government's dismissive treatment of its emigrants and contends they could be assets: "Living abroad has helped them develop entrepreneurial and intercultural skills that they did not possess beforehand that could valuable for Romania's development."
Dumitrache concludes that strong anti-corruption movements in both receiving and home countries could end the systemic problems of divided families and reliance on remittances – while ensuring that migrants are treated with dignity and respect.
Raluca Besliu is a freelance journalist focused on women's and children's rights, refugee and human rights issues, and peace and post-conflict reconstruction. She graduated from the University of Oxford with an Msc in Refugees and Forced Migration after studying international affairs at Vassar College. She founded the nonprofit organization Save South Kordofan. Follow her on Twitter: @Raluca_Besliu.
Copyright © 2017 YaleGlobal and the MacMillan Center