Modi's Middle East Outreach
Investing and trading in the Middle East carry high risk due to difficult political transitions and ongoing conflicts. Like other major economies, India leverages economic clout for strategic purposes, especially to isolate rival Pakistan's military and intelligence capabilities. India, soon to be the world's most populous nation, has a minority Muslim population that's larger than Pakistan's. The Modi government actively cultivates ties in the Middle East with official visits to the United Arab Emirates, Iran, Israel and most recently to Saudi Arabia. "India's ties with Saudi Arabia have grown over the last two decades based on burgeoning energy ties and the Indian diaspora – the largest group of foreign workers in the Saudi kingdom," reports Harsh V. Pant, adding that "Saudi Arabia is cautious in balancing ties between Pakistan and India." Pant concludes that Saudis probably won't break with Pakistan, but "a declaration of opposition to state-sponsored terrorism would be considered a major step." – YaleGlobal
Modi's Middle East Outreach
With visits to Saudi Arabia and UAE, Modi aims to position India globally so as to isolate Pakistan
LONDON: The Middle East, especially Saudi Arabia, may not be in India's neighborhood but the region plays an outsized role in the country's economic growth as well as relations with its querulous neighbor Pakistan. Not surprisingly, Prime Minister Narendra Modi and his government have been serious about cultivating ties with trips to the region. Eight months after a visit to the United Arab Emirates, Modi once again heads to the region, this time to Saudi Arabia to strengthen Delhi's close relations with the kingdom and loosen Saudi-Pakistani ties in the process.
India is a major trade partner in the region, and Modi aims to position India globally so as to isolate Pakistan's military-industrial complex and its policy of using terrorism as an instrument of state policy. The Saudis hope to leverage Indian expertise in IT and services to modernize and diversify a single-source economy dependent on oil.
India's ties with Saudi Arabia have grown over the last two decades based on burgeoning energy ties and the Indian diaspora – the largest group of foreign workers in the Saudi kingdom. Modi has already met King Salman of Saudi Arabia twice, and Saudi help was critical in the evacuation of Indian nationals from the Yemeni war zone. The 2012 deportation by the Saudis of Sayed Zabiuddin, also known as Abu Jundal, a suspect in 2008 Mumbai terrorist attacks, signaled a sea change in Saudi Arabia's counterterrorism priorities.
Saudi Arabia is cautious in balancing ties between Pakistan and India. Ahead of Modi's visit, Saudi Foreign Minister Adel al-Jubeir tried to alleviate concerns in Pakistan about budding Indo-Saudi ties and insisted that Saudi Arabia's "relations with Pakistan do not come at the expense of [its] relations with India." Adel al-Jubeir and Mohammad bin Salman, deputy crown prince and defense minister, visited Pakistan in January despite growing anger at Islamabad's refusal to commit troops in Yemen and join the Saudi-led "coalition against terrorism" of 34 Islamic nations.
The once close Saudi-Pakistani relationship, with Saudis even bankrolling the Pakistani nuclear program, has hit a troubled patch.
Pakistan was the target during Modi's 2015 visit to the UAE, the first by an Indian prime minister to the country in 34 years. A joint statement issued by Modi and UAE's Crown Prince Mohamed Bin Zayed Al Nahyan managed to redefine the contours of a relationship that had long been bereft of political heft. Both sides denounced terrorism in "all forms and manifestations, wherever committed and by whomever, calling on all states to reject and abandon the use of terrorism against other countries, dismantle terrorism infrastructures where they exist, and bring perpetrators of terrorism to justice." The UAE is among the countries closest to Pakistan, and the message, endorsing India's concerns on terrorism and underscoring the challenges facing Gulf kingdoms amid a widening sectarian divide, was a diplomatic triumph for Modi, demonstrating foresight on changing strategic realities in the Middle East.
For Indian strategists, any ally that can act as a counterweight to Pakistan in the Islamic world is useful. Saudi Arabia does the same with Iran, the two nations long competing for power and influence in the Gulf. As the regional balance of power between the two threatens to unravel in Iran's favor, India has repeatedly emphasized a desire for stabilization in the region's extant balance of power.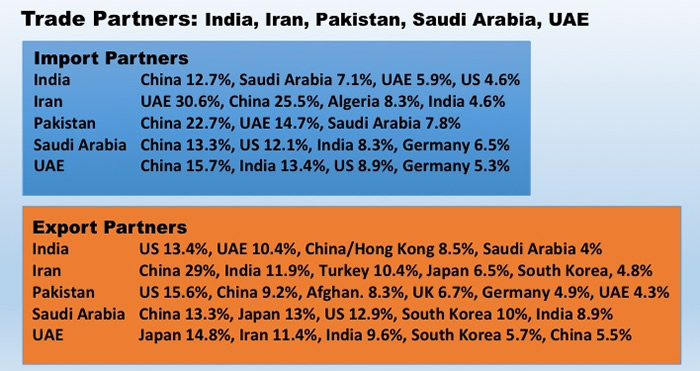 New Delhi had long tried to cultivate Tehran, but efforts stumbled as the Islamic Republic adopted an increasingly aggressive anti-Western posture. India had hoped Saudi Arabia might fill that gap as Iranian nuclear ambitions helped draw New Delhi and Riyadh closer together. Riyadh agreed to double oil exports to India, helping New Delhi reduce its reliance on Iran. Today, Saudi Arabia is the largest supplier of crude oil to India and India's fourth largest trading partner. At a time when Riyadh has been losing its market share in countries such as China and the United States, it supplanted Iraq as the top supplier of crude oil to India. The huge Indian diaspora in the country, nearly 3 million, makes India the largest recipient of foreign remittances from the kingdom at an estimated $11 billion. Pakistan, Bangladesh and Indonesia each send about 1.5 million foreign workers to Saudi Arabia
Indian IT companies are building capacity in Saudi Arabia, including an all-women business process operations center run by TCS as one example.
India's balancing involves developing closer ties with other key regional players, enhancing engagement on more substantive terms.
With the US opening to Iran, a new phase begins in Indo-Iranian ties. Easing of western sanctions on Iran opens the country for a more normal relationship with India, including more energy trade and greater participation of the Indian corporate sector. India has also approved a provision of $150 million to Iran for the development of the vital port of Chabahar, allowing India to compete with China's development of Gwadar port in Pakistan and have an opening to Central Asia. And, no top Indian leader had visited Israel until President Pranab Mukherjee's visit in 2015 – that despite 24 years of diplomatic ties and working closely on defense, counterterrorism, agriculture and energy-related issues. Previous Indian governments were reticent in acknowledging partnership with Israel, largely for fear of offending domestic Muslim sentiments.
Modi's visit to Saudi Arabia underscores India's stakes in a region with multiple fault lines and its preference for a stable balance of power. Though agreements on trade, energy, infrastructure, counterterror cooperation and safeguarding interests of the Indian workers are anticipated during Modi's visit, India's focus will be on gaining Saudi support for India's Pakistan policy awhile straddling the Saudi-Iranian rivalry. There are calls in India for Modi to take a more active role encouraging bridges between Riyadh and Tehran, but New Delhi is probably not ready to don the mantle of a regional reconciler, especially when other major powers are taking a cautious approach. The Obama administration, no longer dependent on Saudi oil, is openly critical of Saudi policies and, after opening to Iran, signals that the United States retains other options. As Washington prunes its role as a guarantor of regional security, China is trying to raise its regional profile. President Xi Jinping visited Saudi Arabia, Egypt and Iran earlier this year to promote its One Belt, One Road Initiative and establish credentials as a reliable regional economic and political partner even as it continues to avoid defense security responsibilities.
Investments in the region carry high risk. Political transitions that have been uneasy since the Arab Spring and ongoing conflict increasingly tests the resolve of the international community.
A hallmark of Modi's foreign policy has been a self-confident assertion of Indian interests, marking a distinct break from unnecessary and counterproductive diffidence of the past. The prime minister is keen to see that Pakistan's close allies apply pressure on Pakistan – and after limited success with the UAE, he will press the Saudis. While it's unlikely that the Saudis will break with Pakistan, a declaration of opposition to state-sponsored terrorism would be considered a major step.
To win such support, Modi likely won't be vocal about Saudi support for Wahhabism, a fundamentalist branch of Islam blamed by many in the international community for contributing to a spread of global terrorism.
How Modi positions India vis-à-vis other major players in the Middle East at this time of great tumult in the region is the real test of Indian diplomacy.

Harsh V. Pant is professor of international relations at King's College London and the author of India's Afghan Muddle (HarperCollins).
Copyright © 2016 YaleGlobal and the MacMillan Center