Netanyahu Indicted: Times of Israel
Israel's attorney general announced that charges of bribery, fraud and breach of trust will be filed against Benjamin Netanyahu. This comes as both Netanyahu and opponent Benny Gantz failed to form a coalition government. Netanyahu describes the charges as false, calling for an independent commission to investigate the investigators. "He brushed off calls for him to resign so he can deal with his legal troubles privately," writes Raoul Wootliff for the Times of Israel. Prosecutors met with Netanyahu's legal team who failed to refute the charges. Attorney General Avichai Mandelblit spoke in support of the rule of law, suggesting that law enforcement is neither optional or a question of politics, but a duty. The charges are related to receiving gifts from a US film producer in exchange for political favors; planning to help a newspaper publisher weaken a rival in exchange for favorable coverage; and supporting telecom regulations in exchange for positive coverage from a news site. The indictments, not yet formal, cast a shadow over domestic politics and foreign affairs. – YaleGlobal
Netanyahu Indicted: Times of Israel
Israel's prime minister to be indicted for bribery, fraud, breach of trust; Netanyahu rules out resignation, calling for an investigation of the investigators
Thursday, November 21, 2019
Read the article from the Times of Israel about the struggle for political opponents to form a government even as one candidate faces criminal charges.
Raoul Wootliff is the the Times of Israel's political correspondent.  Other Times of Israel staff contributed to the article.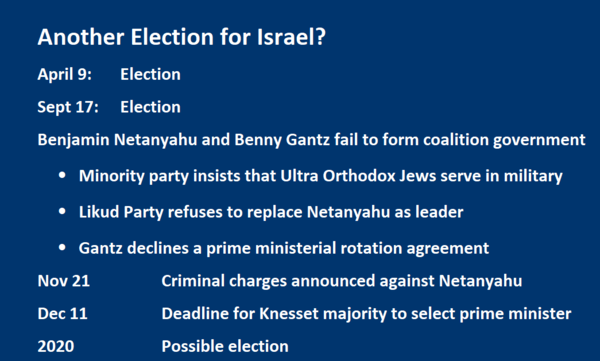 (Source: "Israel May Be Headed for Its Third Election in a Year," by Joseph Hincks, Time Magazine.)
Our Site, Services and materials published on the Site or the Services (including but not limited to news articles, text, photographs, images, illustrations, audio clips and video clips) (collectively, "Content") are protected by copyright, and owned or controlled by The Times of Israel or the party credited as the provider of the Content.