Pakistan Keen to Keep Ties with Iran and Saudi Arabia
Diplomacy in Asia is complicated by religious conflict and sets of regional rivalries including Iran and Saudi Arabia, along with Pakistan and India. A deal on Iran's nuclear program negotiated by the permanent members of the UN Security Council plus Germany, could test strategic relations in Asia and trigger a series of recalculations. In particular, strengthening Indian-Iranian ties could fray Iranian-Pakistani relations, notes Debalina Ghoshal, a research associate at the Delhi Policy Group. Oil-rich Iran offers opportunities for investment and trade. India has been a leading trade partner for imports and exports with both Iran and Saudi Arabia, and Ghoshal concludes that "Pakistan is in no mood to jeopardize relations with Iran and is keen to continue cordial ties with Saudi Arabia." In dealing with their own or other rivalries, countries may move cautiously on security issues to seek balance. – YaleGlobal
Pakistan Keen to Keep Ties with Iran and Saudi Arabia
Open for trade, Iran may test two rivalries – its own with Saudi Arabia, another between Pakistan and India
Thursday, October 1, 2015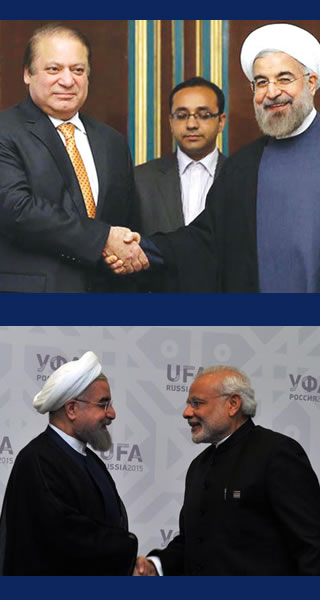 NEW DELHI: The Iranian nuclear deal, if implemented, could alter many strategic equations in West Asia, including Iran's relations with neighbors India and Pakistan.
The nuclear deal is sure to give Iran an upper hand in West Asia. However, strengthening Indian-Iranian relations may not bode well for Iranian-Pakistani relations.
Undivided India and Iran have shared long historic and cultural ties dating back from the Indus Valley Civilization. Cultural and economic ties however, deteriorated during the period of Aurangzeb's rule in India and worsened during the British colonial rule in India. Further, with the partition of India and Pakistan in 1947, after India lost geographic contiguity with Iran, Pakistan became a crucial factor in determining relations between Iran and India.
Pakistan, formed as an Islamic state, soon discovered Iran as a close friend, and the Cold War brought Iran and Pakistan even closer. During the Cold War, both Iran and Pakistan were aligned with the United States and joined the Central Treaty Organisation, CENTO. Both countries designated the other with most-favored-nation status. India on the other hand, followed a non-alignment policy, refraining from aligning with either the Soviet Union or the United States. India's closeness with the Soviet Union during the Cold War befuddled Iranians and prevented Iran and India from fostering closer ties. This along with India's support for Gamal Abdel Nasser of Egypt, who was unifying the Arab world while overthrowing monarchies, also brought Pakistan and Iran closer to each other. Meanwhile, Pakistan's venture to develop nuclear weapons during the 1970s strained relations with the United States and resulted in a cut-off for economic assistance.
Later in 1979, during the Iranian Revolution, Pakistan sent a high-level official to Iran to support friendly ties and demonstrate recognition of the revolution and new leader Ayatollah Ruhollah Khomeini. Pakistan had reasons to support the revolution: 20 percent of its population was Shiite, and Pakistan may have feared an increase in sectarian violence spreading from the Sistan Balochistan region in Iran to its own troubled Balochistan region. On the other hand, India did not view the Iranian Revolution in a positive light, and the United States cut off diplomatic ties and imposed sanctions after the revolution and hostage crisis at the US embassy in Tehran. These factors strengthened the ties between Iran and Pakistan.
Still, Pakistan is a Sunni-dominated state while Iran is Shia-dominated, and there has long been a tussle between the two states for greater hegemony in West Asia. Iranians want a Shia-dominated West Asia, while Pakistan prefers Sunni domination.
The downturn in relations between Iran and Pakistan probably started after the 1979 Soviet invasion of Afghanistan. Pakistan borders Afghanistan. Given India's closeness with the Soviet Union, Pakistan sought help from the United States during the invasion. Further, Pakistan's support to the Taliban in Afghanistan resulted in Iran distancing itself from Pakistan. Despite this, Pakistan supported Iran during the Iran-Iraq War throughout the 1980s. Pakistan was reported to have provided nuclear expertise for Iran's nuclear energy program, namely for the P1 and P2 centrifuges.
With the end of Cold War and US closeness with the Arabian states, amid emerging common strategic and economic interests, relations between India and Iran started to improve. The Indian prime minister visited Iran in 1993 and the Iranian president visited India in 1995.
Post-9/11, the US invaded Afghanistan in 2001 to wage a war against the Taliban. An emerging rift between the United States and Pakistan once again drew Iran and Pakistan closer together, though the volume of trade between the two countries continued to remain low. One reason was the sanctions imposed on Iran following the Iranian nuclear impasse. Likewise, border skirmishes between Iran and Pakistan provided minimal scope for improved relations between the two counties. Iran protested sectarian violence against the Shia population in Pakistan's Baluchistan region by Sunni militants.
Iran-India relations continued to grow with the New Delhi Declaration signed in 2003 between the Iranian president and Indian prime minister.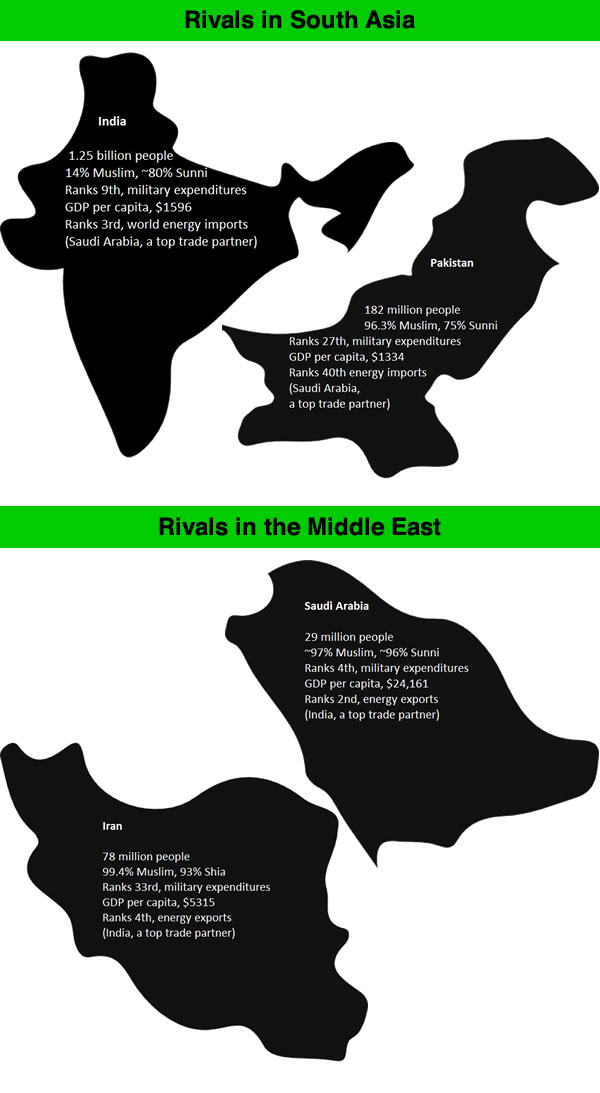 Pakistan is not oblivious to the opportunities presented by the recent US plan to lift sanctions from Iran once the current nuclear agreement is concluded. The end of sanctions gives Iran an opportunity to attract investments, initiating economic growth and development for the country of 78 million citizens. Other countries will enhance economic and trade cooperation with Iran. For example, progress could be made on an Iran-Pakistan gas pipeline project stalled for years due to the US sanctions.
In 2014, with the P5+1 – the five members of the UN Security Council plus Germany – progressing on the Iranian nuclear deal, Nawaz Sharif paid an official visit to Iran, the first by a Pakistani prime minister in 16 years, to discuss "bilateral issues and expansion of economic cooperation" as well as road and rail connectivity between the two countries. That same year Islamabad also expressed interest on extending a preferential trade agreement with Iran. The Joint Economic Commission between Iran and Pakistan is proceeding in a positive direction. The two signed a memorandum of understanding that included a joint investment committee, with cooperation in small-scale industries and connectivitybetween the ports of Karachi and Chabahar.
India also has a vested interest India in Chabahar Port, which would provide easy access for India to Afghanistan and Central Asia. The sole purpose to develop the port was to have access in Afghanistan without depending on Pakistan.
The scope for economic cooperation is great. Pakistan is not ready to jeopardize relations with Iran. Yet Pakistan must balance that relationship with its Saudi ties.
During the Yemen crisis, Saudi Arabia intervened by launching airstrikes against the Houthi rebels and sought help from Sunni Pakistan – no surprise since Islamabad had sent its troops during the First Gulf War, 1990-91, to Saudi Arabia, stationed under US coalition forces to fight the Iraqis led by Saddam Hussein. Pakistani troops are now stationed in Saudi Arabia. There's little doubt that Pakistan owes much to Saudi Arabia for bailing out Islamabad during economic crisis, especially post-1998 when Pakistan suffered economic sanctions following its nuclear tests, and aiding Islamabad during natural disasters, including the 2005 earthquake and 2010 flood.
Moreover, Saudi Arabia is alleged to have provided financial aid for Pakistan's nuclear-weapons program in return for a cooperation pact. Despite all this, Pakistan's domestic front opposed providing any military assistance to Saudi Arabia in Yemen – the parliament passed a unanimous resolution limiting Pakistan's role in the crisis to mediator and demanded the nation maintain its neutrality. Days before Pakistan's decision to maintain neutrality in the crisis, Iranian Foreign Minister Mohammad Javad Zarif visited Islamabad to dissuade the country against joining Saudi Arabia in the attacks on Yemen.
All this serves as evidence that Islamabad is keen to improve relations with Iran even at the cost of disappointing Arab allies. Moreover, though Saudis repeatedly express discontent over the US-led nuclear deal with Iran, Saudi Arabia also shows interest in improving ties with Iran, an interest reciprocated by Iran. Pakistan could play a mediator in improving relations between the two countries – crucial to increasing stability in West Asia. Pakistan is in no mood to jeopardize relations with Iran and is keen to continue cordial ties with Saudi Arabia. Improved Iranian-Saudi relations would be conducive for Pakistan in balancing relations with both as well as to isolate Israel. The region's leaders must tread carefully in balancing ties with Iran. This is particularly true for Pakistan, considering India's already high trade volume with Saudi Arabia and Iran.
Debalina Ghoshal is a research associate at the Delhi Policy Group, New Delhi, India
Copyright © 2015 YaleGlobal and the MacMillan Center