The Politics of Memory: Tiananmen at 27
China has transformed since the 1989 crackdown on thousands of protesters in Tiananmen Square who demanded economic, political and social reforms. China's leaders, initially triumphant about quelling the protests, soon retreated into a disciplined silence, banning public accounts or grieving. "As the years accumulate, the anniversary of the tragedy offers an occasion to wonder if the pursuit of money has erased memories of that blood-soaked night," writes Nick Frisch, a doctoral student in Asian Studies at Yale University and a resident fellow at Yale Law School. "Deng Xiaoping, the same leader who sent in the tanks, also opened China to market reforms, allowing the country to escape poverty." The harsh response of a nation's military turning on its own people, especially the image of a lone man in a white shirt facing the line of tanks, continues to haunt elsewhere in the world. Frisch challenges Hong Kong along with the global media, multinational businesses and foreign governments to consider whether the economic gains have been worth the burden of silence and controls. – YaleGlobal
The Politics of Memory: Tiananmen at 27
China's leaders moved ahead with economic reforms soon after the Tiananmen crackdown, but silenced politics and memories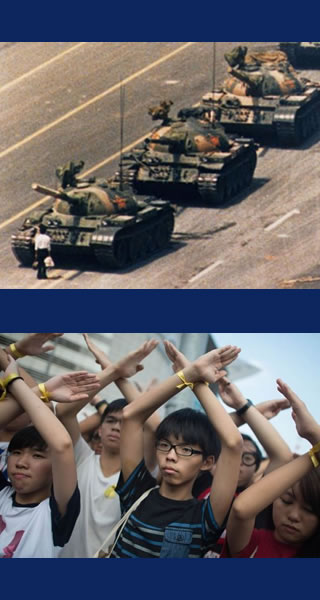 HONG KONG: Each spring, a ripple of recollection passes through Beijing, and anyone over the age of 35 remembers how hundreds of thousands of Chinese citizens went into the streets to join striking students. The crowds, demanding reforms, used their bodies as barricades against advancing columns of troops. No one believed the People's Army would fire on its namesake.
When the gunfire started, the crowds melted away in shock and disbelief. Most individuals became anonymous to history and one another and, like other urbanites across China, walled off memories of the massacre and accepted the Communist Party's gospel of prosperity: make money, avoid politics, get on with your lives.


As the years accumulate, the anniversary of the tragedy offers an occasion to wonder if the pursuit of money has erased memories of that blood-soaked night. In Hong Kong at least, the post-Tiananmen generation wants to leave the past and claim a new identity separate from the Chinese on the Mainland. With each passing year, even those who remember Tiananmen must ask: Is it worth looking back? Or, as the Mandarin pun has it – xiang qian kan, look to get rich. It's a question that global media, multinational business and foreign governments must confront as well.
This June 4, a sunny Saturday 27 years later, thousands walked the streets of Beijing. At Chang'an Avenue near the gleaming shopping district of Wangfujing and Tiananmen Square, a few may have felt a fleeting tug of memory of a lone white-shirted man confronting a column of tanks as cameras rolled before moving on in silence.
For the up to 20,000 Beijingers who were injured or lost a loved one, and countless others who lost faith in the People's Republic, the anniversary of June 4 is endured in silence. For the few hundred brave or foolish enough to attempt public grief or press demands for pingfan, official redress – springtime is an anxious wave of waiting for detentions or house arrest, visits to graves, attempts to elude state security long enough for a furtive interview with foreign media, and unfurling banners in the square for the few seconds it takes plainclothes officers to pounce.
Ding Zilin, an organizer of the Tiananmen Mothers memorial group, has spent more years living with state security agents than with her son Jielian, a teenager when he died near the square. In late May, police posted a notice on Ding's door that advised phone service was suspended from June 1, and the state provided a cellphone capable of reaching limited numbers including emergency services, a surviving son and a direct line to state security. Agents kept their own vigil outside her building, and each year a police bus transports Ding and relatives of other victims to a Beijing cemetery where some protestors are buried. A security detail escorts the dozen or so relatives – an elaborate strategy that defuses public anger by allowing private grief, but corralling and silencing those who resist letting the ripples fade.
The shadow vigil – a mass exercise in synchronized amnesia – contrasts with the triumph of the official party line immediately after the 1989 crackdown. Chinese state television aired the video of the unknown man with the tanks as proof of a magnanimous victory against "reactionaries." The announcer proclaims: "The American propaganda machine... slings mud about our Chinese troops, and gives frenzied flattery to this tank-blocking outlaw, calling him a fearless hero!... The camera image shows that... our troops scrupulously exercised the utmost restraint!"
The party was unapologetic. Veterans of the Square operation were rewarded with medals, commemorative engraved wristwatches and a performance by Peng Liyuan, now China's first lady. Selected instigators were publicly tried and shot. The Chinese press smeared student leaders who escaped into exile as traitors and saboteurs paid by foreign intelligence agencies.
Once Beijing decided to pursue a path to economic growth, silence became the easiest choice for the party and people alike. The tank man's image was not broadcast in China again, and June 4, 1989, was buried under censorship, detentions and intimidation.
Mass suppression brings its own risks. Today, the Tiananmen protest has become the Party's Voldemort, an existential threat that could return at any time – always feared, rarely seen, yet at the center of the Beijing's politics of memory, it demands constant vigilance and perpetual denial.
One place in the People's Republic, 1900 kilometers south of Beijing, allows mass remembrance. The former British colony of Hong Kong retains free speech, free association and free markets under the 1997 handover deal negotiated with London. The city, now a semi-autonomous Special Administrative Region of the People's Republic, is indispensable for keepers of Tiananmen memories: a platform where their grief and hopes for Chinese democracy can be aired. Each year since 1989, mass vigils and media reports have marked the event and probed its meaning.
Hong Kong journalist Yau Lap-poon called June 4 "a North Star in the darkness, a reference point for China's destiny," and asked, "Without June 4, would China have traveled its 27-year path of development?… Perhaps the blood of Tiananmen was a kind of fertilizer, helping China bloom prosperously on the soil of market economics."  Deng Xiaoping, the same leader who sent in the tanks, also opened China to market reforms, allowing the country to escape poverty. By touring China's south in 1992, visiting Special Economic Zones across the border from Hong Kong, Deng signaled that China was open for business. Hong Kong tycoons crossed the border with capital and manufacturing expertise, paving the path to "Made in China." Even as Hong Kong's free speech has helped China remember, its capital investments have helped China forget.
Yet Hong Kong's population has grown increasingly alienated from China. Hong Kong students mounted their own democracy protests in 2014, angry that promised reforms failed to materialize. Some analysts saw an echo of Beijing's 1989 protests, but local activists rejected the comparison. Many young see the Tiananmen memorials as naïve and sentimental, and a boycott from student groups made this year's June 4 vigil the lowest attended in years.
"We want self-determination for Hong Kong," said Joshua Wong, a protest leader and Hong Kong university student, to The New York Times. "Our generation grew up witnessing how the Chinese Communist Party has come to appropriate the Chinese identity for itself, so we're not associating ourselves with that." He and his allies held their own competing event outside the gates of the park that annually hosts the Tiananmen memorial.
Rejected by Hong Kong's rising generation of activists, carriers of Tiananmen's memory also find their media platforms in Hong Kong eroding. The Communist Party, with few tools of direct coercion against Hong Kong, instead uses the territory's free markets as a weapon against its free speech. Anyone with business interests in mainland China – which is most of Hong Kong's business elite – is vulnerable to financial and social pressure. The world's only June 4 museum, located in a Hong Kong office block, is closing under pressure from the building's owner. Hong Kong's media outlets, once known for skeptical and aggressive coverage of the region, have been gradually defanged through acquisitions by tycoons cozy with Beijing.
Ming Pao Daily News's culture section retains space for the little expression that remains and published "Burden," a poem by Cao Shuying, a Beijing poet living in Hong Kong, speaking out against the growing indifference and memories erased by time:  
 

"I'm from a planet you cannot forget …

We survivors look like husks...

A burden over years

The laughter of lost days, emptied out...."

 
 
Nick Frisch is an Asian studies doctoral student at Yale's graduate school and a Resident Fellow at Yale Law School. He translated the poem "Burden," and the poet gave him permission to reprint the excerpt.
Copyright © 2016 YaleGlobal and the MacMillan Center