"Public Charge" Immigration Rule: Politico
US officials have expressed a preference for wealthy immigrants, and the poor can expect challenges in obtaining green cards that allow permanent residency and work. The US Supreme Court voted 5 to 4, allowing "the controversial immigration rules go forward even as lower courts wrestle with multiple legal challenges against them," reports Susannah Luthi for Politico. "The policy in question would expand the government's ability to refuse green cards or visas for legal immigrants determined to be a 'public charge,' or dependent on public assistance." The aim is to discourage immigrants from relying on public assistance. Immigrant groups have filed legal challenges, expressing concern that the rule discourages poor immigrants from seeking needed care. Higher education officials also suggest the rule could reduce visa eligibility for some talented college graduates. One analysis suggests that more than 75 percent of green card applications would receive extra scrutiny. The Trump administration is making sweeping changes in immigration law, and supporters oppose blanket national bans imposed by some judges as federal courts review the policies and their legality. – YaleGlobal
"Public Charge" Immigration Rule: Politico
US Supreme Court lifts nationwide injunction against a policy expanding the government's ability to refuse visas for immigrants who may need public assistance
Thursday, January 30, 2020
Read the article from Politico about a US Supreme Court ruling on visa rule changes.
Susannah Luthi is a reporter for POLITICO Pro Health Care.
Read more about "public charge" as a basis for US immigration inadmissibility.
Also read "The 'Public Charge' Rule and Higher Ed" from Inside Higher Ed.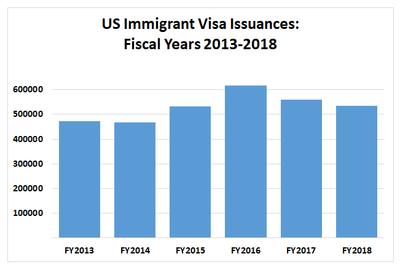 The list does not incude replaced visas (Source: US State Department)