Regional Fallout from Thai Turmoil
Bitter political division in Thailand against the backdrop of the failing health of the constitutional monarch and the resultant instability has been affecting trade and tourism for neighboring nations that rely on the country as a regional hub, explains journalist and author Bertil Lintner. After years of irregularities and a military coup in 2006, the former ruling People's Power Party was dissolved, with the prime minister forced to resign. A fragile ruling coalition, led by Western-educated Abhisit Vejjajiva, vows to work with ASEAN to improve human rights in Burma and eliminate corruption, but by necessity had to go in league with supporters of the exiled prime minister, Thaksin Shinawatra, who still retains political clout. His supporters demonstrate in red shirts, and are opposed by a separate group of demonstrators, who wear royalist yellow and insist that Thaksin lacks respect for the nation's king. The political unrest has sharply reduced tourism for nearby Burma, Cambodia and Vietnam, coming at an unfortunate time when tourism-dependent Thailand and the rest of Southeast Asia feel the effects of the global economic downturn. – YaleGlobal
Regional Fallout from Thai Turmoil
Political wrangling threatens stability and prosperity throughout Southeast Asia
Thursday, January 15, 2009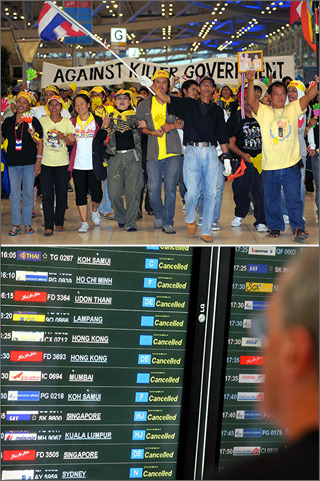 CHIANG MAI: By all accounts the year-long political turmoil in Thailand, which saw daily anti-government demonstrations and led to the occupation of Bangkok's two airports, was pure local politics. The signs of sharp political division in the country, shown in television images of demonstrators, some in red shirts and others in yellow, nevertheless sent ripples throughout the region, the effect of which is slowly becoming apparent. In today's interconnected world, all politics is global and even more so in a country that, in fact, is ethnically quite diverse and situated in the heart of Southeast Asia.
As a major transit point for visitors to the region, especially Cambodia, Thailand in turmoil has had the most direct fallout on that neighbor. In December Cambodia's Minister for Tourism Thong Khon expressed concern that his country might lose more than US$100 million in tourism-related revenue if the political situation in Bangkok did not improve in the next three months. In Burma, tourism arrivals have dropped by 80 percent. Vietnam, too, is experiencing a major tourism slump, unlikely to meet its target of attracting 5 million international visitors this year.
The regional fallout of the crisis in Thailand is not confined to tourism. Following the dissolution by the courts of the former ruling People's Power Party and the forced resignation of Prime Minister Somchai Wongsawat, the opposition, led by the Democrats, formed a new coalition headed by Abhisit Vejjajiva. Somchai is the brother-in-law of Thaksin Shinawatra, a former prime minister ousted in a September 2006 military coup. Thaksin, one of the richest men in Thailand, introduced "tycoon politics" and vast sums of money to build his powerbase – and he was eventually sentenced in absentia to two years imprisonment for irregularities during his time in power, 2001 to 2006. But despite his ouster and sentencing — and the fact that he lives in exile in Hong Kong and Dubai – he remains a potent force in Thai politics through proxies back home.
Apart from being a brash businessman, Thaksin, a fourth-generation Chinese immigrant, also moved Thailand closer to China, and cultivated close contacts with Burma's ruling military. "While China has maintained diplomatic silence about developments in Thailand, it's bound to be wary of democratic politics with emphasis on human rights in a close allyneighbor."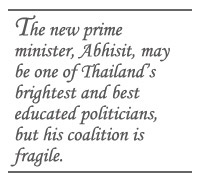 Abhisit is of Chinese ancestry as well, but is far more Westernized in his leadership style and outlook – he was born in 1964 in Newcastle-upon-Tyne, England, and received his education at Eton and Oxford. In a December 2008 interview with the Qatar-based Al Jazeera news network, Abhisit said that he would try to convince fellow members of the Association of Southeast Asian Nations (ASEAN) of the importance of human rights. Unless ASEAN's efforts to enshrine human rights are credible in the eyes of the international community, "the grouping will not be able to achieve its objectives," Abhisit said. He also stressed the need for ASEAN and the West to have a unified approach on the grouping's most troublesome member, Burma: "The West and ASEAN have a common objective. We want to bring good change in Myanmar (Burma)." Statements such as these may not be well received by other, more autocratic members of ASEAN such as Laos and Vietnam, or even Malaysia and Singapore, two of Burma's largest trading partners.
But it's an open question how long Abhisit's government will last. The new prime minister may be one of Thailand's brightest and best educated politicians, but his coalition is fragile. The price he and the Democrats had to pay for being able to put together a government was to include some dubious characters previously allied with his political foe, Thaksin, under pressure to return by Thaksin's followers, or "the Red Shirts," so called for their dress when they take to the streets. Opposed to them are "the Yellow Shirts" – the color of king Bhumibol Adulyadej – or the People's Alliance for Democracy, or PAD. This motley gathering of people from the extreme right to the far left occupied the airports last November. Their lowest common denominator is opposition to Thaksin, and they've vowed not to accept anyone close to him as the country's leader. The Democrats disagree with PAD's militant actions, but share views on Thaksin and his camp. The noble Thai art of compromise seems to have given way to a state of unprecedented confrontation and divisions in society.
The hatred of Thaksin stems from his perceived lack of respect for the country's revered monarchy. Although Thai sources are reluctant to discuss the matter, it appears that the goal of the anti-Thaksin camp wants is to prevent him or any cronies from returning to power at a sensitive time when the issue of succession to the throne could become a reality. The king turned 81 in December, and observers speculate about his health.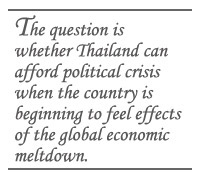 During his time as prime minister, Thaksin at times acted as if he were the head of state. At the culmination of the 2006 crisis, which led to the military takeover, Prem Tinsulanonda, the president of the Privy Council, the king's advisory body, said that that only persons with moral goodness should rule and that "bad people" should be kept from rising to power. Only 10 days before the September 19, 2006, coup, Prem told the Bangkok Post that the nation is sacred, that Thaksin had split the nation.
More than two years later, the nation remains deeply polarized with no solution in sight. The question is whether Thailand can afford a political crisis of this magnitude at a time when the country is beginning to feel the effects of the global economic meltdown. Exports are down for the first time in years and unemployment rises. The occupation of the airports only exacerbated the uncertainty. It scared away tourists and raised serious concerns about safety at Thailand's the new mega airport, Suvarnabhumi, which opened in September 2006 with the aim of becoming the aviation hub for Southeast Asia. Several international airlines are likely to shift regional operations away to rival airports considered safer, like Singapore's Changi or Kuala Lumpur International.
Thus, Abhisit must maneuver carefully and has made it his priority to heal the nation and reconcile opposing forces. That may not be easy – but the confrontation in Thailand is not, as the Western media portrayed it, a struggle between "the old elite" and "poor farmers," who benefited from Thaksin's populist policies. There are rich and poor in both camps, and it's often forgotten that Thaksin is a multibillionaire who primarily represents ethnic Chinese business interests. But he cleverly marketed his rural development policies, which won many votes in the north and the impoverished northeast, although he failed to win Bangkok and the south, traditional strongholds of the Democrats and their allies.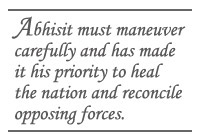 This regional divide is far more influential than social differences, perhaps the most serious issue facing Thailand in 2009. According to a Bangkok-based analyst: "People from different parts of Thailand actually come from different ethnic stock and cultures. And after years of nation-building and establishing a universal sense of Thai-ness, this is now breaking down. The protagonists are playing on and accentuating this regional divide in a risky manner."
If the turmoil continues – which seems likely – the country could become ungovernable, which it was close to becoming when PAD launched its campaigns against Abhisit's two, pro-Thaksin predecessors, Somchai and Samak Sundaravej. It remains to be seen if the "Red Shirts" can muster similar mob support against his new government, which it has pledged to do. If it does, 2009 could be a watershed in modern Thai history. The relative peace, stability and prosperity that it's enjoyed for decades are in jeopardy. And that does not augur well for Southeast Asia as a whole.
Bertil Lintner is a Swedish journalist based in Thailand and the author of several works on Asia, including "Blood Brothers: The Criminal Underworld of Asia" and "Great Leader, Dear Leader: Demystifying North Korea under the Kim Clan."
right © 2009 Yale Center for the Study of Globalization