A Retreat from Great Europe? – Part I
The highly anticipated French referendum on the EU constitution arrived this weekend: The vote was a resounding "Non." Voters signaled their distaste for the proposed constitution, as well as their opposition to the economic consequences of integrating new members. And as the Netherlands prepares for a similar vote, observers, both European and worldwide, now wonder what lies ahead for the European Union. YaleGlobal examines the fallout of the referendum in a two-part series. In part one, Shada Islam writes that the vote may not signal the immediate demise of the EU – but it does present some serious obstacles to come. Proposed economic reforms and plans for expansion will certainly suffer, and many worry that the outcome will affect other member states. "If they are to prevent other EU states from lining up behind France," concludes Islam, "EU leaders will have to focus on listening and responding to public fears about living in a changing Europe in a rapidly transforming world." – YaleGlobal
A Retreat from Great Europe? – Part I
After the French "Non," the EU will have difficulty in reforming the economy or expanding the Union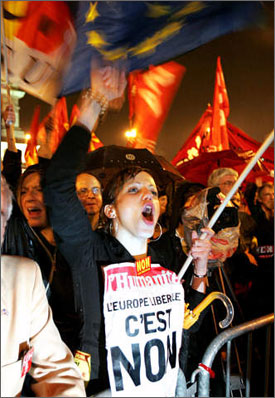 BRUSSELS: European Union leaders are braced for months of deadlock and acrimony following a resounding French vote against the bloc's first-ever constitution on May 29. Thanks to an earlier charter agreed in Nice in 2000, the massive "non" vote in France will not bring the EU's well-oiled institutional machine to an immediate halt. It does, however, strike a powerful blow to the 25-nation bloc's rising political confidence, economic reform efforts and plans for further expansion. It also confronts leaders with difficult questions on the EU's role and identity in the wider world. While French politicians squabble over the national fallout from the vote, EU policymakers fear the wider repercussions of the change of mood in a country traditionally noted for its Europhile views. French politicians have spearheaded the EU integration process throughout the last five decades, working in tandem with Germany to build a strong core of key EU policies, including the introduction of the euro and a common foreign and security policy.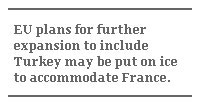 Many now fear that with the change of mood, France may become an equally formidable obstacle to building a stronger Europe. Treaty opponents, who included blue-collar workers, farmers, and a broad alliance of left-wing voters and anti-globalization activists, convinced voters that the constitution would open the way for more free-market initiatives, threatening jobs and France's generous social welfare benefits. The No backers also used the surge in Chinese textile exports to Europe following full trade liberalization in the sector as an argument against the treaty. EU officials say this wariness of a so-called "ultra-liberal" and pro-business EU agenda may increase France's reluctance to abide by EU economic liberalization directives, setting back long-overdue EU efforts at economic reform.
The EU enlargement – past and present – will also suffer. French public concerns about increased tax and labor competition following last year's EU enlargement have already created divisions between prosperous Western Europe and the poorer newcomers that joined the bloc last year. The rift could widen if France continues to make angry allegations that Eastern nations' lower taxes and cheaper labor force are luring French and German companies into moving operations to the East.
EU plans for further expansion to include Turkey – strongly opposed by far-right French political parties amidst concerns about the growing assertiveness of France's Muslim community – may be put on ice to accommodate France. Foreign diplomats also worry that the EU will turn inwards, a move they fear will have repercussions on developments in the Middle East and EU-led efforts to reach a nuclear compromise with Iran.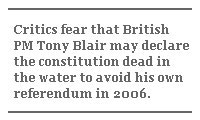 "If France is in crisis and becomes the sick man of Europe, all of the EU will run a high fever," warns Pierre Defraigne, head of the EU branch of the French Institute for International Relations (IFRI). The danger, he says, is that the French rebuff to the treaty could create a domino effect throughout the EU, with other countries – including the Netherlands which holds its own referendum on June 1 – also turning their back on the constitution.
The question is whether the French No will be the exception, reflecting the anxieties of a country finding it difficult to adapt to a new Europe, or whether it will spark a similar debate and disillusionment in other traditionally pro-European states like the Netherlands, Germany and Belgium, warns Defraigne.
The key problem, he says, is that while French politicians have engaged in a fierce debate over the merits of economic liberalization versus France's traditional model of social protection and subsidized public services, nobody has so far been able to devise a "modern social model for Europe." As such, the economic debate is likely to continue and spill over to other EU states, including Germany where Chancellor Gerhard Schroeder, facing national elections in autumn, is expected to go equally slow on demanding changes in Europe's economic structures and agenda.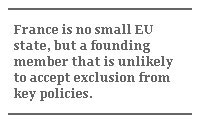 Signaling trouble and confusion ahead, EU leaders appear unsure on how best to contain the political fall-out of the French vote. Focusing on the immediate future, Luxembourg Prime Minister Jean-Claude Juncker, whose country holds the current EU presidency, insists that the show must go on. But Britain's Euro-skeptical Prime Minister Tony Blair, who will take over from Juncker as EU president on July 1, has urged a time for reflection. Critics fear that Blair may want to declare the constitution dead in the water to get off the hook of his own referendum on the treaty due in 2006.
Taking the new treaty off the table at this point would be a mistake, argues John Palmer of the European Policy Center, a Brussels-based think tank. "The peoples of Denmark, Poland, Ireland, Britain, and the others are as entitled to be heard as the French or Dutch voters," says Palmer. A final judgment on what to do about the treaty should only be made in autumn next year, after the planned British poll, Palmer argues. In the meantime, "the debate should continue, the real choices for the Union clarified and - if needed - a plan B thought out," he says.
Palmer and others warn against harboring an "apocalypse now" scenario, arguing that the EU has in the past come through similar institutional crises. The bloc's skillful policymakers are master craftsmen of political compromises; they have managed to the EU on track despite several setbacks. Denmark in 2000 and Sweden in 2003 rejected the euro in referendums but the single European currency is flourishing. Denmark also rejected the Maastricht treaty in 1992, while Ireland said No to the Nice treaty in 2001. But in both cases the blueprints were quickly resubmitted – with only minor modifications – until the right result was achieved.
But putting the EU back together again may not prove that easy this time around. For one, France is no small EU state, but a founding member that is unlikely to accept being excluded from key EU policies. Second, EU leaders, who have traditionally driven the bloc's integration – and enlargement – process forward with little regard for public opinion, may find it extremely difficult to change tack and start listening to their citizens' insecurities.
Although EU leaders insist they will not engage in the blame game, some finger-pointing is inevitable. EU officials in Brussels have long criticized French politicians for failing to explain the real stakes during pre-referendum debates on the EU constitution. French officials, meanwhile, say it is the "remoteness" of Europe that is to blame for the crisis.
Responsibility should be shared, however. Neither EU nor national policymakers have done a good enough job of explaining Europe to the men and women in the street, allowing popular misconceptions to flourish. Promises to run information campaigns on the benefits of enlargement have been little more than just that. If they are to prevent other EU states from lining up behind France, EU leaders will have to stop building nightmare scenarios about life without a new constitution and focus instead on listening and responding to public fears about living in a changing Europe in a rapidly transforming world.
Shada Islam is a Brussels-based journalist specializing in EU policy and Europe's relations with Asia, Africa, and the Middle East.
© 2005 Yale Center for the Study of Globalization