Russia Exports, Bans Fake News: Business Insider
Investigations by governments and internet companies point to Russian meddling during election campaigns, including the 2016 Brexit vote and the US presidential race, with outlandish social media messages and promotion of falsehoods. Yet, Russian President Vladimir Putin has signed a law outlining penalties for distribution of whatever the state decides is fake news. "With this new law, Russia can ban information that it decides is false within its own borders while spreading objective falsehoods around the globe," reports Business Insider, adding that "the country has been linked to spreading more fake news abroad than anywhere else." The law allows blocking websites that don't remove information deemed false by Russian authorities. Russia invests more than $1 billion annually in pro-Kremlin news sites, some purporting to be independent while spreading misinformation to instigate divisions in Europe and the United States. Internet companies like Facebook struggle to keep up in removing fake accounts used to spread incendiary tales. Those who do not practice critical reading skills are vulnerable to all forms of fraud. – YaleGlobal
Russia Exports, Bans Fake News: Business Insider
One way to avoid criticism: Russia is perhaps the world's top exporter of fake news, yet passes law banning any news deemed false by Russian leaders
Wednesday, March 20, 2019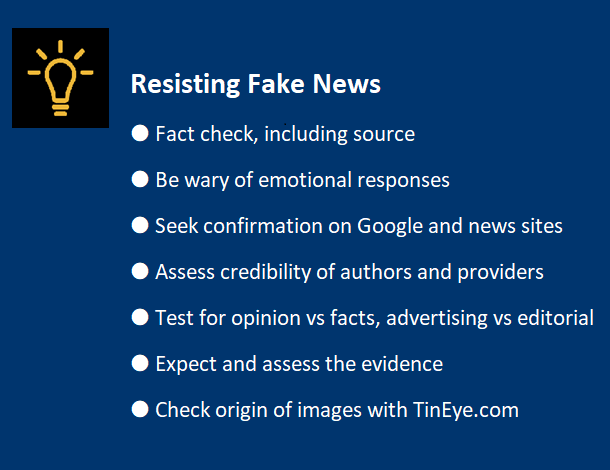 Read the article from Business Insider about Russia's new law on fake news.
Sinéad Baker is a News Reporter at Business Insider based in London. She completed a master's degree in investigative journalism at City, University of London, and has written for The Guardian, The Observer, and TheJournal.ie.
Practice Critical Reading and Thinking
SkillsYouNeed, based in Wales, recommends critical reading and thinking to avoid the consequences of fake news:
While reading:
●  Reflect on the text's meaning.
●  Pose questions about how and why an author makes an argument.  
●   Evaluate the text, think about other viewpoints,  and develop your own thoughts.
●  Do not take any argument at face value.
In thinking:
●   Be rational and aware of a range of opinions.
●   Be open-minded and avoid personal bias.
SkillsYouNeed concludes that critical reading and critical thinking are foundations for true learning and personal development.
Copyright © 2019 Insider Inc. All rights reserved.