Russian Civil Society Will Find It Harder to Breathe
Since 1991, hundreds of thousands of non-governmental orgnanizations (NGOs) have sprung up in Russia, enjoying a level of freedom unthinkable in the Soviet years. Yet following the pro-democratic revolutions in the former members of the Soviet Union, that freedom may be disappearing, says Liliana N. Proskuryakova. Russian civil society will face a host of new restrictions under new legislation supported by President Putin. Foreign organizations will be banned from the country, and Russian NGOs will have to apply to the government for permission to continue operating. Kremlin officials say the moves are necessary to combat the millions of dollars that flow from foreign governments to pro-democratic organizations in the country. Concerns have been voiced by many foreign governments and institutions, the latest being the US Secretary of State, Condoleezza Rice. There is a growing fear that by increasing restrictions on all NGOs, the legislation will "virtually strangle" Russian civil society. - YaleGlobal
Russian Civil Society Will Find It Harder to Breathe
President Putin cracks down on NGOs despite foreign criticism
Thursday, December 8, 2005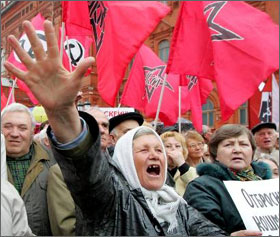 MOSCOW: Despite rising foreign criticism of its plan to muzzle civil society organizations, fear is growing that the Putin government may be returning to the authoritarianism of the past. What began as a stealthily-introduced bill to control non-governmental organizations (NGOs) may end up virtually strangling Russian civil society.
Although the Russian government has periodically cracked down on dissident news organizations, it has generally been willing to tolerate the country's thousands of NGOs, many of which criticize government policy. The sign that its tolerance is quickly disappearing emerged last month when a group of MPs quietly introduced a bill aimed at tightening the Kremlin's control over NGOs. Since coming to light, the proposed legislation has generated an international outcry. President Bush raised the matter with President Putin during the APEC summit and early this week U.S. Undersecretary of State Nicholas Burns is believed to have expressed concerns to his counterpart in Moscow. Yet there is no question that it will be adopted and enforced by the beginning of 2006, virtually strangling civil society organizations operating in Russia.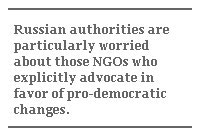 According to the latest available data, there are at least 600,000 registered non-governmental non-commercial organizations operating in Russia. At least as many may be working in the country without official registration. The number of NGOs in Russia has grown rapidly since 1991, and now includes social service providers, educational organizations, policy think-tanks, gender-based groups, and credit unions. In addition, organizations like those representing veterans and disabled people still remain from the Soviet years. Thus NGOs in Russia – as elsewhere – fill a number of important civic functions, including advocating for the marginalized and providing social services where the state can not or will not. Indeed, President Putin has praised these organizations. At a 2005 meeting with his Advisory Council on Civil Society, he expressed his hope that "NGOs … may become good and irreplaceable partners to the state in combating most acute problems." Yet Putin's public praise masks a clear distrust for some sectors of civil society.
Many Russian NGOs are actively involved in the promotion of cross-border initiatives. Some are national branches of international organizations – Charities Aid Foundation, for example, has an active office in Moscow. It is these foreign-based organizations that concern the Putin government. Given the recent pro-democratic "color revolutions" in several post-Soviet countries, Russian authorities are particularly worried about those who explicitly advocate in favor of pro-democratic changes. As the New York Times recently reported, in 2004 the U.S. Government donated $45 million dollars to Russian groups that promote democracy and civil rights. The bill might have been partly understandable if it targeted only these suspicious foreign foundations. However, the suggested changes will affect all NGOs operating in the country.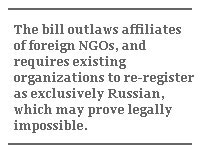 The bill will have three primary effects. First, it will limit Russian citizens' constitutional right to create unregistered but formalized civil society groups (those with statutes and governing bodies): registration authorities will have to be notified in all cases. The order of such notification will be regulated by the decree of the federal Government and not by law, while the list of reasons for refusal are ample and unclear.
Secondly, the bill will tighten controls over all existing Russian NGOs. The government will be able to exercise more control over NGOs' work and expenditure, and will be able to ask any organization to provide any documentation at any time. In addition, each of the hundreds of thousand of existing NGOs will have to re-register with the authorities. Given the high level of corruption in Russia, this proposition will leave ample space for abuse. It will also immediately paralyze the work of thousands of charity, cultural, youth, social, human rights, environmental and other organizations.
Thirdly, particularly tough measures will be applied to foreign NGOs operating in Russia. The bill outlaws affiliates of foreign NGOs, and requires existing organizations to re-register as exclusively Russian, which may prove legally impossible. At the same time, foreign citizens who are not permanent residents of the Russian Federation will not be able to become founders or members of Russian NGOs.
Despite recent statements by the Russian leadership expressing a willingness to intensify dialogue with civil society, no consultations or public discussions of the bill were held with NGOs or other stakeholders. This is hardly surprising. The USAID Sustainability Index and CIVICUS Civil Society Index for Russia certify that the external environment in which NGOs operate in Russia has been confusing, restrictive and inhospitable. There is a clear contrast between the pro-civil society rhetoric of the Russian government and the actual operating environment for Russian NGOs.
Even in the midst of pushing the new restrictions, Russian authorities are cracking down on civil society in other ways. This fall, President Putin created the Civic Chamber of the Russian Federation. The key function of the Chamber will be to submit recommendations to Mps about socially important legislation. Many human rights organizations have refused to work in the Chamber, calling it the latest Kremlin attempt to grasp control over NGOs. Parallel to the creation of the Chamber, Russian executive authorities are busy creating their own NGOs and grant-making foundations. In place of existing independent NGOs, the government clearly hopes to create a system of tame civil society organizations beholden to the state.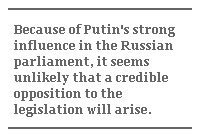 In response to these moves, leading Russian civil society organizations composed a letter of protest "No – to tightening control over civil society", which was posted on the web-site "Human Rights in Russia" http://hro.org/. The current list of supporters includes over 200 major organizations and activists. Moreover, Ella Pamfilova, Head of the President's Council on civil society and human rights, Vladimir Lukin, Russian Human Rights Commissioner, and half of the appointed members of the Russian Civic Chamber have expressed opposition to the new Bill. In a letter to the speaker of the State Duma, US Congressman Chris Smith - chairman of the US Helsinki Commission - said the planned new law "would have a chilling effect on civil society in the Russian Federation...and seriously undermine the rights of individuals in Russia to freedom of association."
But these protests may be in vain. Because of Putin's strong influence in the Russian parliament, it seems unlikely that a credible opposition to the legislation will arise. The parliament today is, according to its Chair B. Gryzlov, not a place for political debates. Russian NGOs hope that international organizations and NGOs will step up their opposition to the Bill. Yet the Kremlin may interpret foreign opposition as an intrusion into internal affairs and another reason to tighten controls. So despite national and international opposition, the legislation will likely become law before the end of the year. The second reading of the Bill is scheduled for December 9th.
By limiting the constitutional right of association, the bill contradicts the norms of international law, including the European Convention on Human Rights and Basic Freedoms ratified by Russia. Thus, the reputation of Russia as guarantor of international law will be compromised. This is especially awkward as it comes just a month before Russia assumes the G8 presidency; the G8 Summit will take place in St.Petersburg in summer 2006. Even if the restrictions go forward as planned, Putin's success at home may diminish his credibility abroad.
Liliana N. Proskuryakova is Head of the International Unit at St.Petersburg Strategy Center and a 2005 OSI International Policy Fellow.
© 2005 Yale Center for the Study of Globalization