Saharan Dust Plume Hits US: Washington Post
Storm winds have pushed a thick, 5,000-mile long dust cloud from the Sahara Desert to the United State, deteriorating air quality even as the region struggles with the Covid-19 pandemic. "Although plumes of Sahara Desert dust are routinely ejected from Africa's west coast during June, the ongoing event is extraordinarily rare, scientists said," reports the Washington Post. "This event stands out in terms of the dust layer's thickness, its low altitude and geographic reach, causing a dramatic deterioration in air quality in Puerto Rico, Barbados, Guadeloupe and numerous other locations where records are maintained." The first cloud began crossing June 14 and more concentrations emerged 10 days later, following the same path. The finest, lightest particulates remain airborne, with hazardous air-quality ratings posing health risks and reducing visibility. The phenomenon is expected to influence weather patterns and may temporarily reduce Atlantic tropical storms. – YaleGlobal
Saharan Dust Plume Hits US: Washington Post
A 5000-mile Saharan dust cloud, largest in decades, crosses Atlantic for southern United States – posing risks to visibility, health, infrastructure
Andrew Freedman, Matthew Cappucci and Jason Samenow
Read the article from the Washington Post about a large dust storm moving from Africa to the United. States.
Andrew Freedman is an editor for the Washington Post, focusing on extreme weather, climate change, science and the environment. Matthew Cappucci is a meteorologist with the Capital Weather Gang. Jason Samenow is an editor and writer who covers weather and climate.
Also read about the dust cloud from AccuWeather: "The cloud is part of what's known as the Saharan Air Layer (SAL), which usually occupies a 2- to- 2.5-mile-thick layer of the atmosphere, with a base starting about 1 mile above the surface, according to the National Oceanic and Atmospheric Administration."
Read about mitigating the effects of dust storms from EcoMENA.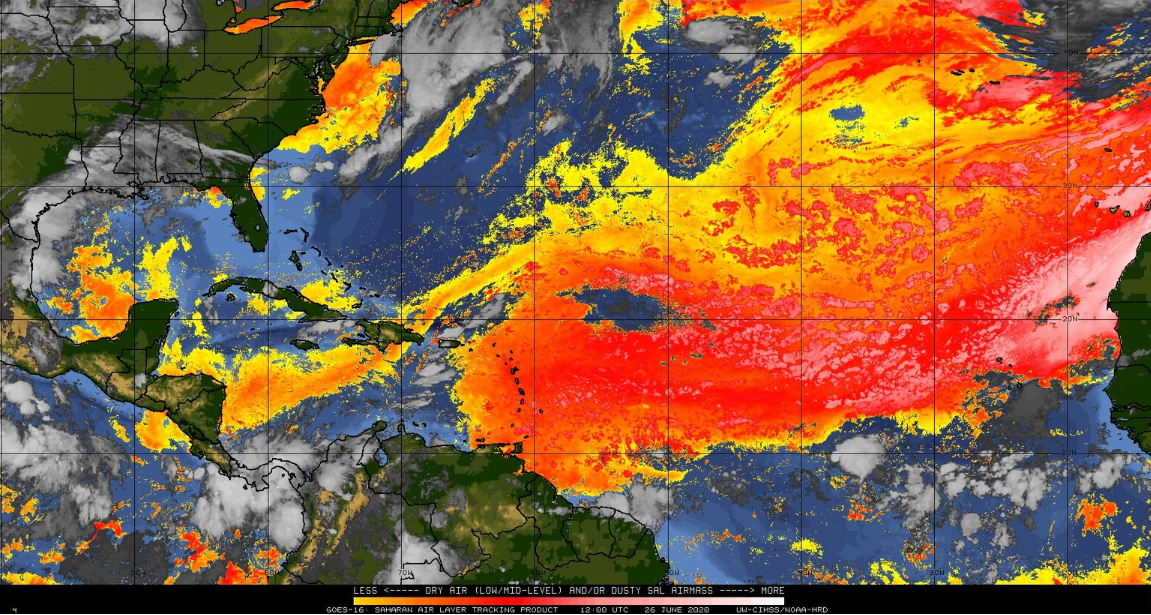 washingtonpost.com © 1996-2020 The Washington Post