A Self-Inflicted Wound
The US, long home to many of the world's most highly skilled workers, could soon be scrambling for replacements. Baby boomers are starting to retire, and their high education levels will be missed. Since the baby boomers emerged in the work force, the US became complacent about its public-education system. As a result, young American workers increasingly struggle to compete with skilled foreign workers. At the same time, the US has implemented restrictive immigration laws that add to the challenges of US firms seeking skilled help and drive skilled foreign workers to hunt for jobs in other countries. Jacob Kirkegaard, who researches immigration issues, recommends that the US find ways to attract skilled foreign workers while at the same time provide better training for its own young workforce. Only then can the US flourish in the global economy. – YaleGlobal
US policies for high-skilled immigration fail to meet demands of the 21st century
WASHINGTON: America rose to global economic prominence, superpower status and victory in the Cold War on the shoulders of the most highly skilled workforce in the world. However, America's global "skills leadership" is now under challenge, An increasingly vicious combination of long-term trends in the form of retiring baby boomers and stagnating US educational attainment, combined with increasingly restrictive laws on high-skilled immigration increasingly undermines US position. This will seriously jeopardize long-term economic growth opportunities, especially for US high-tech sectors.
Aging US baby boomers were the best-educated workers in the world when they entered the workforce 30-some years ago. Building on visionary policies like the GI Bill of 1944, college-level graduation rates for US baby boomers reached almost 40 percent during this period, far exceeding graduation rates of 20 to 25 percent enjoyed by contemporary British, French, German or Japanese baby boom generations in the late 1960s and 1970s. The year 2008 is the first in which Americans born after World War II can retire with public pensions – hence, the loss of large numbers of well-educated baby boomers will be more severely felt in the United States than among other major industrialized economies.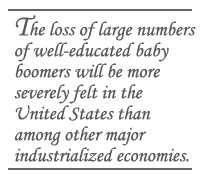 Another long-term worry is the stagnation seen in the average educational attainment of Americans in recent decades. Almost uniquely in the Organization for Economic Cooperation and Development, the tertiary-level graduation rates among present-day US labor market entrants, aged 25 to 34, is the same as that of their baby boomer parents, aged 55 to 64 – stuck below 40 percent. Hence, there's a risk in coming years that as many high-skilled Americans will retire as will enter the workforce. The century-long continuous compositional skills improvement of America's workforce may soon end.
Moreover, while America failed to continue to improve broad educational standards during the last 30 years, the rest of the world has not stood still. Today, over 50 percent of young Canadians, Japanese and Koreans obtain tertiary education representing a vast educational advancement relative to their parents' generation. American labor market entrants today barely make the global skills top-10 list. As a direct result, for the first time in generations, the US risks becoming less skill-abundant than an increasing number of its global economic competitors. (See Figure 1.1)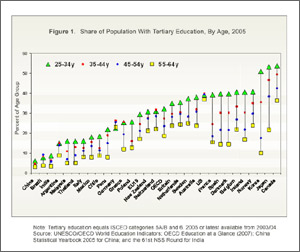 US and Canadian baby boomers, aged 55 to 64, were indeed the "brightest kids on the global trading block," when they entered the workforce and rapidly globalizing marketplace. Thus baby boomers were ready to take advantage of trade liberalization and the opening of global markets during the last part of the 20th century, far less true for today's American youth.
Policymakers cannot stop the graying of the US population or the imminent retirement of baby boomers. Similarly, successful overhaul of the US education sector could only begin to reverse more than 30 years of educational stagnation over the long term. Improving the education system is hardly a realistic or quick solution to forestalling broad skill shortages in the US economy over the next decade.
US policymakers can only hope to counter these long-term phenomena in a timely manner by reforming high-skilled immigration policies and facilitating the continued and increasingly economically necessary inflow of high-skilled workers from abroad.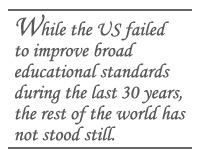 Instead, US high-skilled immigration policies have in recent years become tangibly more restrictive – waylaid by wider congressional gridlock on immigration and political emphasis on indiscriminate enforcement. This restrictiveness is relative to earlier periods in US history and, more importantly, other industrialized countries today.
In April 2008, for instance, about half of 163,000 US businesses wishing to hire a foreign high-skilled worker on H-1B visas were denied this opportunity by the annual quota of 85,000 – 65,000 plus 20,000 available to foreign graduates with advanced degrees from US universities – available visas.2
The immigration policy undermines the economic characteristics – entrepreneurial vitality and mastery of new advanced technologies – that make the US the envy of the world. Just like Google, eBay and Yahoo, more than half of engineering and technology companies founded in Silicon Valley from 1995 to 2005 had at least one foreign-born founder3, more than a third of US venture capital–backed technology firms report shifting investments and jobs outside the country due to restrictive regulation4 and America's largest, most competitive companies cannot get visas for foreign high-skilled workers they want to hire.
Meanwhile, contours of the global battlefield for talent are rapidly changing. The recent proposal for an EU "Blue Card" would allow high-skilled workers from outside the EU to work in multiple EU countries, just one example of a new trend across the OECD. Affected by more rapid population aging than the US, other OECD countries aggressively work to liberalize their high-skilled immigration laws, while simultaneously tightening regulation of low-skilled and humanitarian-based immigration. Ironically, the other nations frequently copy US policies, particularly those that attract and retain foreign students.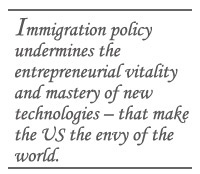 Equally worrisome for the US, the top countries of origin for high-skilled migrants – fast-growing China and India – offer incentives for skilled workers to return home. In 2007, China launched its "green passage" initiative, aimed at luring back tens of thousands of acclaimed overseas Chinese scientists, engineers and executives with promises of guaranteed university places for their children, exemption from household-residence registration – or hokou – requirements and tax benefits.5
The US – historically the world's country of choice for foreign high-skilled workers – has the most to lose from any change in these human-capital flows. While the rest of the rich world has caught up in welcoming high-skilled foreigners, the US could soon struggle to attract global talent.
With the skill-base of the US workforce declining at an accelerating pace relative to the rest of the world, America in the 21st century will need foreign high-skilled workers more than ever. At stake is the ability of the US economy to thrive in the global marketplace.
1 The methodology utilized in the figure is a static snapshot, and when used here as a "de facto time-series" incorporates the combined impact of at least four different effects active over time: domestic education (what is the highest level of education attained by country residents in different age groups), immigration (are new immigrants of all ages high or low skilled), life-long learning (people may choose to go back to school at a high age) and mortality differentials (highly educated people generally live longer than less educated people). Disentangling these individual effects in detail is very difficult. However, as they work in different directions and given the magnitudes of the cross-country differences, they do not materially impact the conclusions drawn here. It should be noted that "life long learning" is likely less of an uncertainty than many people think, when considering the frequency at which older people jump up into a new educational attainment group. The overwhelming share of "late school returnees," who go back to school later in life to earn bachelors or higher degrees already have at least a college or master's degree. By returning to school and adding "another degree" to their CVs, they therefore do not jump to a new level and into the category of high-skilled, and do not add to the absolute number of the highly skilled.
2 US Citizenship and Immigration Services Press Release, April 14th 2008.
3 Duke University School of Engineering and UC Berkeley School of Information (2007), America's New Immigrant Entrepreneurs, Duke University/UC Berkeley.
5 China Daily, The Turning Tide of Overseas Chinese, May 30th 2007; China Daily, China Hit by Brain Drain, Report Says, June 1st 2007.
Jacob F. Kirkegaard is a research associate at the Peterson Institute for International Economics and author of "The Accelerating Decline in America's High-Skilled Workforce: Implications for Immigration Policy."
© 2008 Yale Center for the Study of Globalization