Signs Across the Atlantic: 'Europeans for Kerry!'
With the US presidential elections nearing, Europe is carefully evaluating its tumultuous relationship with its transatlantic neighbor. Shada Islam, a Brussels-based journalist who specializes in EU foreign policy, says that differences between the two sides run almost as deep as the ocean that separates them. The relationship between the EU and the Bush administration has been plagued by disagreements over the need to invade Iraq, global warming, capital punishment, NATO involvement in post-war Iraq, the International Criminal Court, and the best response to the global AIDS crisis. More recently, Islam says, Bush's repeated calls for the EU to open its doors to NATO member Turkey was interpreted by many as another example of American arrogance. The US, they say, has treated Europe like a "kitchen boy" for the past four years by sending orders rather than seeking cooperation. Yet for all the depictions of the US as a 'global bully,' Islam writes, some say that Europeans are not so much anti-American as they are anti-Bush. If the Europeans had a vote in the US, Islam suggests, the Democratic challenger to Bush, John Kerry, would win the continent by a landslide. – YaleGlobal
Signs Across the Atlantic: 'Europeans for Kerry!'
Europeans watch and wait for a change of guard in Washington
Thursday, August 12, 2004
BRUSSELS: Forget the handshakes and wide smiles at recent high-profile summits attended by US President George W. Bush and European leaders. Transatlantic relations remain mired in acrimony. Despite EU declarations of support for America, predictions that Europeans would overcome their misgivings over the Iraq war and join hands with the US to rebuild the country have been proven wrong. Increasingly, in fact, with the US presidential election only three months away, European policymakers are in no mood to come to the aid of a president whose policies they dislike. But with fingers crossed, and impressed by Democratic presidential candidate John Kerry's talk of building partnerships with America's allies, Europeans are watching and waiting for a change of guard in Washington.
Though most Europeans expect the Kerry-Edwards ticket to continue with Bush's policies on Iraq, Israel, and Afghanistan, officials in Brussels believe that the policies will be articulated in a different, more palatable tone.
Iraq remains the biggest bone of contention in transatlantic relations. French President Jacques Chirac and German Chancellor Gerhard Schroeder, both of whom opposed the Iraq invasion, are proving just as skeptical of the Bush administration's calls for more EU reconstruction assistance and NATO involvement. The French and German leaders vetoed the deployment of NATO combat troops in Iraq, agreeing only at the Alliance summit in Istanbul last month that the organization could train Iraqi soldiers and security forces but only outside the country.
The rest of the 25-nation EU is also cautious about being drawn into helping post-war Iraq. In the first high-level contacts between European governments and the interim Iraqi authorities, Iraqi Foreign Minister Hoshyar Zebari secured a number of promises of pre-election support and help in rebuilding the country's legal system from EU foreign ministers who met him in Brussels on July 12. But the pledges remained vague, and EU ministers were careful not to make any specific promises of assistance. Additionally, Zebari and Dutch Foreign Minister Bernard Bot, representing the current Dutch EU presidency, crossed swords on Baghdad's declared intention to use the death penalty to quell violence - and perhaps against Saddam Hussein - and EU demands that capital punishment must be abolished "in all cases."
Chirac and Schroeder are certainly the most unwilling to give Bush a helping hand, but they are not alone. "Most people want to help Iraq but not in a way that rewards Bush," says a senior EU diplomat. EU policymakers also make no secret of their distaste for a raft of other policies being pursued by the Bush administration such as Washington's rejection of the Kyoto Protocol on global warming, its calls for abstinence in the fight against AIDS, and opposition to the International Criminal Court.
"Most Europeans are not anti-American, but they are anti-Bush," says Fraser Cameron of the Brussels-based European Policy Centre. As such a Kerry victory and an end to the influence of neo-conservative policy-setting in Washington "will have chancelleries across Europe, including in London, heaving a collective sigh of relief," he says. "If George W. Bush had a master plan to upset Europeans… he could not have been more successful," adds Cameron.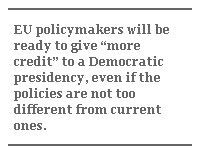 EU policymakers, who view almost all current American initiatives with suspicion, will be ready to give "more credit" to the future actions of a Democratic presidency even if the policies are not too different from current ones, says a senior EU diplomat. For one, Kerry's language of alliances and partners is music to EU ears after four years of being bullied and treated like "kitchen boys" by the Bush administration. "The collective build-up of transatlantic insults and bad faith under the Bush administration can only be swept away if there is a change in government in Washington," says the diplomat, adding, "The slate has to be wiped clean."
Second, he says, the transatlantic divide would be much less acute if Europeans felt there was genuine US concern about questions such as global warming. "Europeans are frustrated because Bush does not give credible evidence that he is even concerned by such issues," the diplomat says, adding: "If Kerry explains things differently, Europeans could be more open to ideas coming from the US."
This change in rhetoric could certainly be the case with Turkey. Bush's repeated calls in Istanbul last month that the EU should speed up moves to open its doors to NATO member Turkey have riled even those in the bloc who favor allowing Ankara to join the Union. "It's like Europeans telling America how to deal with Mexico," fumed Chirac. Meanwhile, diplomats in Brussels warn that, given the current transatlantic mood, active US lobbying in favor of Turkish membership in the EU could actually end up triggering the opposite result unless Kerry makes the case in a more subtle manner.
Kerry's election may be greeted with cheer in Europe, but it will place more burdens and responsibilities on the EU, argues William Drozdiak of the Brussels-based Transatlantic Center of the German Marshall Fund. "Europeans can refuse to send troops to Iraq at the moment, arguing that they do not want Bush to be re-elected. But if Kerry makes a similar request, Europeans will be put on the spot. A negative EU response will be taken by the US public as evidence of anti-Americanism," cautions Drozdiak.
The good news for many Europeans is that the Democratic presidential contenders are making an effort to get to know the EU. Vice-Presidential candidate John Edwards has made two trips to meet top EU and NATO policymakers in the last two years, showing what Drozdiak calls an impressive readiness to listen to Europeans' views on a range of issues. "People found it refreshing to meet a US politician who to wanted to hear them out rather than tell them what to do," he says.
Whether it's Bush or Kerry in the White House next year, the new US administration will be dealing with a more confident and assertive Union. The newly-expanded 25 nation bloc is set to sign its new constitution in late October and will start immediate preparations for establishing its first-ever diplomatic service, including top policymakers from the European Commission and national governments. The new department will be headed by the first EU foreign minister a post expected to be filled by Javier Solana, the current EU foreign and security policy chief.
As it spreads its wings, the EU will be ready to take on more global responsibilities, especially in the Balkans and the Middle East. While the Bush administration has seen Europe's coming of age as a threat to America's international standing, the hope in Brussels is that a new Democratic administration in Washington will view the EU as a real partner, able to help the US in its fight against terrorism but also tackle violence and bloodshed in Iraq and Afghanistan. Increasingly self-confident Europeans and Americans may never see completely eye to eye on issues like the best way of combating global challenges, the role of the United Nations, and the US readiness to use military power. But with Kerry in charge, there will almost certainly be more cooperation and less trading of insults across the Atlantic.
Shada Islam is a Brussels-based journalist specializing in EU policy and Europe's relations with Asia, Africa, and the Middle East.
© 2004 Yale Center for the Study of Globalization