Silicon Valley Dons a Brave Face, Despite Worries
During the 1990s, Silicon Valley reigned supreme as the heart of technological innovation and the birthplace of the information technology revolution. Today, says globalization scholar S.L. Bachman, the tech hub is scrambling to mobilize regional resources to compete in the international technology market it helped to create. Economically, the San Francisco Bay region is recovering from the tech bubble that burst in 2001. The region is still a prime destination for new companies since it is host to "a world class talent pool of the technologically adept," Bachman notes. However, rival tech centers in countries like China and India offer equally educated, but cheaper labor. They are increasingly luring jobs from the Valley, and the downturn in the technology sector is discouraging young Americans from studying computer science. Concerned about these trends, local CEOs are calling for better investment in education and infrastructure, and less government interference with business. They maintain that the high cost of living and doing business threatens to undermine the area's status as the world's leading tech center. The Valley "must learn what it taught the world," concludes Bachman, "be nimble, light-footed, innovative, and attractive to outsiders." Only by attracting world-class talent and spurring innovation can Silicon Valley hope to stay at the top of the international tech market. - YaleGlobal
Silicon Valley Dons a Brave Face, Despite Worries
The birthplace of hi-tech globalization frets about competition
Wednesday, April 28, 2004
SAN FRANCISCO: Officially, Silicon Valley leaders are upbeat about globalization. Behind the scenes, however, many of them fret that the cradle of the information technology revolution will soon have to scramble to keep up with global competition.
They may not be fretting enough. In an era of regions competing against regions, Silicon Valley and the surrounding San Francisco Bay region are struggling to mobilize regional resources to compete internationally.
Local CEOs are calling for more investment in education, infrastructure, and research and less government interference with business. They also are publicly airing their doubts.
Craig Barrett, Intel CEO, has created local shock waves in interviews with the San Jose Mercury News, Silicon Valley's largest daily newspaper.
"As CEO of Intel my allegiance is to the shareholders of Intel and to the success of the company," he said in March. "We go after the most cost-effective resources around the world, no matter where they are."
But he added, "As an American citizen, I would have to be worried about whether jobs that are created are created outside the US..."
Silicon Valley still compares well to other high-tech centers such as Austin, Texas, or Bangalore, India, or Hsinchu, Taiwan.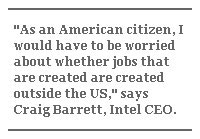 New software, computer, bio-tech, and other knowledge-economy companies continue to set up shop in the region, to be close to the world's best resources for nurturing young enterprises.
The Valley occupies the southern third of the San Francisco Bay region, but knowledge-economy ventures, and key infrastructure are scattered within commuting distance throughout the region.
The San Francisco Bay region's 6.7 million people comprise a world class talent pool of the technologically adept. More are being trained in the region's cluster of world-class universities and research centers, which attract a wealth of foreign students.
Students often stay, and the foreign students are key to Silicon Valley's success. A landmark study by UC Berkeley city planner, Prof. AnnaLee Saxenian, found that, in 1998, Chinese and Indian computer scientists and engineers operated 25 percent of high-tech firms in the San Francisco Bay region - and accounted for more than 58,000 jobs and almost $17 billion in sales.
Finance is another Silicon Valley strength.
Although behemoths such as Hewlett Packard and Intel make the headlines, small companies are the region's growth engine. They depend on individual "angel" investors and venture capital (VC) funds to direct private capital toward high-risk start-up enterprises. In return, angels and VC investors get ownership stakes and hope for big pay-offs when the new companies are purchased by bigger companies or sell public stock.
The best way to get venture capital it is to meet with investors face to face. Bay Area VCs invest about one fifth of the world's venture capital annually.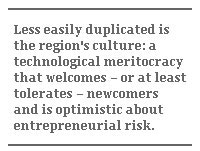 Less easily measured - and less easily duplicated - is the region's culture: a technological meritocracy that welcomes - or at least tolerates - newcomers and is optimistic about entrepreneurial risk. The Valley remains one of the few places in the world where entrepreneurs can win a second chance when businesses fail.
Silicon Valley workers do not always socialize across cultural and racial barriers, but they are willing to work together, according to Jan A. English-Lueck, a San Jose State University anthropologist who studies Silicon Valley culture. Other "silicon places," she said, do not as easily incorporate newcomers.
The region's economic bubble, filled with Internet businesses, burst in 2001. In the year ending June 2002, the Valley lost 10 percent of its jobs, according to an index of regional indicators compiled by Joint Venture: Silicon Valley Network, a community group.
The local economy is recovering. The top 150 companies of Silicon Valley are posting increased sales and profits, according to Mercury News records.
Venture capital funding, which had been on a three-year slide, rose at the end of 2003.
And yet, a combination of trends has rattled some of the region's leaders.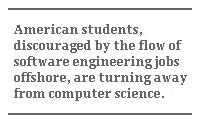 One of the most talked about among these is the off-shoring of jobs. For tech giants from IBM to Microsoft, off-shoring is logical: Indian software engineers cost one-ninth of U.S. engineers, according to statistics that were revealed in a legal case involving the Indian software company Infosys Technologies. Outsourcing allows many companies to survive, increase profits, and sometimes to hire people in new jobs.
But Semiconductor Industry Association President George Scalise said in November that the current wave of outsourcing is not - or not yet - producing as many jobs in the United States as did earlier waves of technological change and innovation.
"The big change today from what's happened over the last 30 years is that it's no longer just low-cost labor that you are looking at," in India, China and Russia, Intel's Barrett told the Mercury News in January. "It's well-educated labor that can do effectively any job that can be done in the United States."
Another worry concerns fewer home-grown engineers. Countries such as China and India are churning out tens of thousands of computer engineers each year.
American students, discouraged by the flow of software engineering jobs offshore, are turning away from computer science, according to the Washington-based Computing Research Association. The trend has alarmed even Microsoft Chairman Bill Gates, who toured college campuses in March, urging students to continue studying computer programming.
Post-9/11 visa restrictions, meanwhile, are discouraging foreign students from attending U.S. universities.
The high cost of living and doing business in Silicon Valley, too, worries Valley leaders. Average salaries are high, the quality of K-12 schools is uneven, housing prices are sky-high, and traffic is congested.
Silicon Valley CEOs and regional think tanks offer the same answers to the region's problems: Improve the region's infrastructure. Fix the K-12 schools. Keep universities healthy. Build more affordable housing. Reduce business costs, particularly the energy and worker's compensation costs that hobble California businesses state-wide.
The Valley has a history of climbing out of downturns by mobilizing private and public resources in entrepreneurial ways.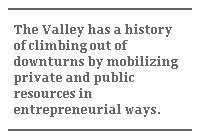 Silicon Valley has bounced back in the past thanks to new technologies. Doug Henton, president of Collaborative Economics and one of Silicon Valley's best-known analysts, counts at least four waves of Silicon Valley growth, associated with the defense industry, integrated circuits, personal computers, and the Internet.
The next wave, Henton and others say, will probably combine nano-, bio-, and information-based technology.
Joint Venture's annual regional index, which Henton directs, and private-public efforts to streamline local government, emerged from the early 1990s recession.
Globalization, however, has intensified competition. Joint Venture and other regional revitalization efforts are just now catching up. For instance, Joint Venture has yet to encompass in its definition of the Valley the San Francisco Bay region's two biggest airports and major marine port - although ports are globalization's gateways, and help generate high-tech jobs.
The air and marine ports, meanwhile, are decades behind other global ports such as New York and Hong Kong in discussing regional collaboration.
Tight national and state budgets compound the problems. To get what the San Francisco Bay region needs, business and government throughout the area - not just in Silicon Valley - will have to work together.
The Valley, and the region that surrounds it, must learn what it has taught the world: be nimble, light-footed, innovative, and attractive to outsiders. At a recent forum on the region's future, a participant pointed out the obvious: "We don't have a monopoly on technology."
S.L. Bachman is the author of "Globalization in the San Francisco Bay Area", published by the Pacific Council on International Policy (www.pcip.org).
© 2004 Yale Center for the Study of Globalization