Sustainability or Greenwashing?
The candeia tree of Brazil is an excellent source of an ingredient valued for its anti-inflammatory effect and used in cosmetics for sensitive skin. "Brazil is the sole world producer of natural Bisabolol, and until 2010, when Symrise bought more than 70 percent of local production, controlled the market and defined the global price of the asset," explains João Paulo Cândia Veiga, a professor of political science and international relations at the University of São Paulo. High demand and minimal enforcement of logging regulations made sustainability an issue: Brazilian newspapers reported on logging irregularities, including in conservation areas, and Symrise has since replaced the natural oil with a synthetic version. That decision may reduce pressures on the candeia – or other companies may continue the logging, representing a lost opportunity to demand sustainable practices among suppliers. Global consumer demand for cosmetics bearing the label "natural" could destroy forest habitat. – YaleGlobal
Sustainability or Greenwashing?
Big demand for natural cosmetics and low enforcement threaten Brazil's candeia tree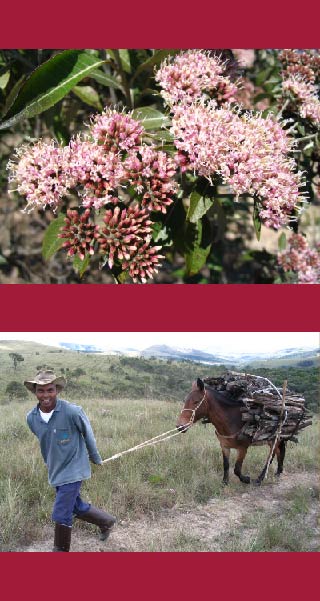 SAO PAULO: A tree in the Brazilian rainforest, for decades harvested for an essence used in cosmetic products, is being granted a reprieve. Symrise, a German publicly traded multinational company and leader in the flavor and fragrance industry, announced that it will no longer offer the product known as natural Alpha-Bisabolol, extracted from the wood of the candeia, a native tree of the Brazilian Atlantic Forest. Environmentalists, though, are not breaking out champagne as the Symrise decision exposes the harm that multinational corporations have inflicted on the rainforest.
For more than 30 years, the Alpha-Bisabolol of candeia, or natural Bisabolol, was exported without fanfare. Only sporadic reports of clandestine sales and logging hinted at its value for the active ingredient – an anti-inflammatory used in cosmetics for sensitive skin. Candeia is a tropical cousin of chamomile, and both species are a source of oil used in the health-care industry. Purified candeia oil, however, contains 95 percent Bisabolol, while at most chamomile oil reaches 45 percent. The candeia, long sold at a lower price, was widely adopted by the global cosmetic market. International companies like L'Óreal, Nívea (Beiersdorf), Estée Lauder, Chanel, Johnson & Johnson as well as Brazilian companies like Natura, Boticário, Theraskin, Payot, among others, use the natural product in makeup and skin-care products.
Brazil is the sole world producer of natural Bisabolol, and until 2010, when Symrise bought more than 70 percent of local production, controlled the market and determined the global price of the asset. Corporate reports describe the productive- chain sustainability of Bisabolol of candeia as close to ideal, "without the need for improvements." Bisabolol was one of the four most important natural products for the German company, which bought crude candeia oil in Brazil around R$70 per kilogram, refined the product at its German headquarters, and sold the refined product for R$230 per kilogram – a profitable business by all accounts.
The company's sudden decision to end candeia harvest in Brazil, replacing it with a synthetic version, is credited to a social-responsibility strategy, according to the official statement as a way to "contribute for the conservation of nature in Brazil." Such a strategy would be legitimate and desirable, but perhaps more alarming is the corporate recognition that the business practices around Bisabolol of candeia, were simply not sustainable: "In the last years, Symrise sold Bisabolol from sustainable sources, and thus protected the candeia tree. However, now that sufficient volumes of candeia oil can not be sustainable guaranteed, Symrise decided to stop buying this resource of the Rainforest." If the product was from sustainable sources, why did volume decrease?
The world market for natural Bisabolol is about 100 tons per year, almost all destined for international consumption, mainly in Europe. Five companies operate with candeia in Brazil, and Symrise bought crude oil from them all, allegedly without source discrimination or emphasis on traceable production. Furthermore, Symrise produced synthetic Alpha-Bisabolol, and reportedly despite a much lower degree of purity than Bisabolol of candeia, it was sold at a similar price. Controlling volumes of the natural oil and regulating the synthetic product, the German multinational established world market prices. The product was then distributed to major multinationals and Brazilian companies.
Natural Bisabolol's supply chain has long been a controversial topic. In February 2000, the newspaper O Globo reported on the "mafia of candeia," describing the indiscriminate cutting of wood in Minas Gerais, Southeast Brazil, including within state parks and conservancy areas. Due to this complaint, the Ministry of Environment funded, with the Universidade Federal de Lavras, a study on candeia management. Thus was born the Candeia Project, led by José Roberto Scolforo, who gave a scientific basis for regulation by the State Forestry Institute of Minas Gerais. It´s one of few trees in Brazil subject to specific regulation. However, even today, surveillance deficiencies hamper candeia protection.
Such institutional deficiencies coupled with strong demand create a fertile environment for lawlessness. The volume of wood authorized by regulators is much lower than the quantity of Bisabolol offered to the market. From each ton of candeia wood, 7 kilograms of Bisabolol is extracted. To generate 100 tons per year, what the market uses, would require 14,000 tons of candeia. Licenses issued by forestry officials between 2005 and 2010 covered a little more than half of sales, which meant leakage was huge. The Symrise statement indirectly acknowledges that the company dominated a supply chain with low protection for forests.
The risk of variation between demand and supply, as well as product profitability, no doubt concerned Symrise. In 2011, the risk increased: A partnership between University of São Paulo and Columbia University investigated the product chain – interviewing landowners, Brazilian producers of candeia oil and Bisabolol, environmental licensing agencies of Minas Gerais, as well as distributors and cosmetic companies – and revealed the sustainability challenges.
The companies were uncomfortable about Bisabolol of candeia under a spotlight, according to Ana Malavazi, a University of São Paulo sociologist and member of the research team that encountered cancelled interviews without explanation and laconic email replies, staff admitting a lack of knowledge of inherent environmental problems, with contradictions between discourse and practice as well as hesitation to report consumption details. The final report, "Promoting Sustainability in the Value Chain of Natural Bisabolol, a Brazilian Rainforest Product," presented in New York in May 2011 at the School of International and Public Affairs of Columbia University, added to concerns found in a previous study, funded in 2006 by the German bank KfW: The stock of native candeia is consumed at a pace faster than the natural replenishment; monitoring is insufficient; the market is controlled by foreign distributors, dominated by Symrise; and consumer industries saw little value in the forest origin or in the product's socio-environmental certification.
Two companies stood out: the Brazilian cosmetic company Natura suspended use of the product in 2000, with the first allegations and resumed use after a supplier could guarantee a sustainable origin. Atina – Ativos Naturais, a Brazilian company founded in 2004 and a Natura supplier, had the specific objective of producing sustainable Bisabolol and is the only manufacturer that has certified its production under the tight approval of the Forest Stewardship Council – an independent non-governmental organization, established to promote the responsible management of the world´s forests, based in Bonn.
The Symrise decision may decrease the pressure of illegal logging on candeia. Yet an opportunity was also lost to address real concerns over the Brazilian rainforest. The global Bisabolol market leader had the power to follow Natura's lead and demand Brazilian suppliers to adopt tighter controls and practices. Symrise could have become the main agent in transforming the supply chain, rather than simply abandon it. At same time, Symrise's switch to synthetic oil decreased demand for natural Bisabolol and added to pressures for the companies displaying good and responsible behavior as Atina did since Natura requested FSC certification.
The case of Bisabolol of candeia is emblematic of a colonial legacy, with Brazil providing raw rainforest materials for refining and value-added manufacturing in European countries. Companies entice consumers with marketing phrases like "botanicals" and "natural oils." But the long list of cosmetic companies that still rely on Bisabolol of candeia demonstrates the level of commitment from consumers throughout the West to true sustainability.
 João Paulo Cândia Veiga is professor of political science and international relations at the University of São Paulo, Brazil.
Copyright © 2013 Yale Center for the Study of Globalization