Trade War Backfires: Independent
Global trade is tightly interconnected, so tariffs imposed by China and the United States "hit firms in their own countries almost as much as the ones they were aiming at," reports Phil Thornton for the Independent. Researchers in Switzerland and China studied stock market responses to tariffs announced since 2018 and "found that while the trade war tariffs of the US and China directly hurt targeted firms and sectors abroad as intended, they indirectly affect stock prices through global value chain linkages in the US, China, and in third economies which do not directly participate in the trade war." The researchers conclude that applying narrowly targeted tariffs against a single nation is no longer easy to do and amounts to a price increase. The Federal Reserve also found that US tariffs stalled manufacturing job growth and prompted the sector to contract five months in a row for 2018. – YaleGlobal
Trade War Backfires: Independent
More firms than intended bore the brunt of tariffs from the US-China trade war: Interdependence of economies makes narrow targeting a challenge
Read the article from the Independent about a study describing how tariffs have backfired.
Phil Thornton is a journalist and consultant covering all areas of business and economics, including macroeconomics, world trade, financial markets and tax and regulation.                   
Read the study at Vox.EU "Stock Market Responses Triggered by the US-China Trade War"by Peter Egger and Jiaqing Zhu.
Also read the study from the Federal Reserve: "Disentangling the Effects of the 2018-2019 Tariffs on a Globally Connected U.S. Manufacturing Sector."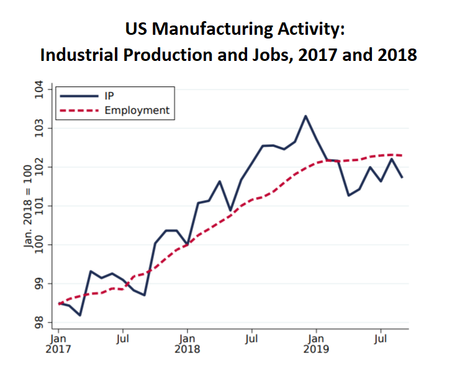 US manufacturing was growing at a robust rate, until tariffs were imposed (Source: US Federal Reserve Board and the Department of Labor)
All intellectual property rights, including copyright, in the content accessible (or available for download) on the Website, including text, pictures, graphics, video, audio material, software or any other form (Content) belong to Independent.co.uk or its licensors. All rights are hereby reserved.