Trans-Afghan Pipeline Initiative: No Pipe Dream
Despite a stream of bad news, development plans are underway even among nations with adversarial relations. Afghanistan, Turkmenistan, Pakistan and India signed an agreement in early July to move forward with a 1,700-kilometer natural gas pipeline. "This $7.5 billion project known as TAPI, or the Trans-Afghan Pipeline Initiative, has the potential to catalyze investment and trading opportunities in a region sorely in need of both," explains Marc Grossman, vice chairman of The Cohen Group, former US Special Representative for Afghanistan and Pakistan and former Kissinger senior fellow at Yale University. "The four countries and the Asian Development Bank now have a clearer path forward on creating the conditions for a successful project." The pipeline could prevent Russia from using energy to control Central Asian states while also contributing to more trade, positive interactions and reconciliation. Hurdles include financing and security. – YaleGlobal
Trans-Afghan Pipeline Initiative: No Pipe Dream
Afghanistan, Turkmenistan, Pakistan, India agree to move on 1,700-kilometer natural gas pipeline
Thursday, August 28, 2014
NEW HAVEN: An avalanche of bad news has engulfed the world – murder in the skies over Ukraine, renewed war between Israel and Hamas, and a terrorist resurgence in Iraq. Amid the global chaos, one positive development got little attention – a development that could help advance peace between India and Pakistan, improve chances for reconciliation in Afghanistan, undermine energy blackmail by Russia, and keep economic pressure on Iran while nuclear negotiations continue. 
On July 8, Turkmenistan, Afghanistan, Pakistan and India signed an agreement in Ashgabat to move forward with a 1,078-mile natural gas pipeline. This $7.5 billion project known as TAPI, or the Trans-Afghan Pipeline Initiative, has the potential to catalyze investment and trading opportunities in a region sorely in need of both by bringing gas from Turkmenistan through Afghanistan and Pakistan into India. 
The project will have to overcome many hurdles but TAPI could also have serious geopolitical implications. Consider the benefits a completed pipeline could bring:
First, TAPI has the potential to promote more positive political and economic interaction between Afghanistan and Pakistan. Tensions between Kabul and Islamabad over trade and terrorism are deep, but TAPI would give each side something larger to gain by providing an avenue for mutually-beneficial economic cooperation.
Second, TAPI could help improve relations between India and Pakistan and reduce chances of armed conflict between these two nuclear powers. Joint support for TAPI could – along with enhanced trade through most favored nation status and liberalized visa regimes for business people – support an effort by Indian Prime Minister Narendra Modi and Pakistani Prime Minister Nawaz Sharif to enhance political ties through commercial opportunities.
Third, TAPI has the potential to contribute to reconciliation in Afghanistan, by creating economic opportunity for the Afghan people. TAPI could change the calculations of at least some Afghan Taliban fighters, who might see it as a way to give up guns for jobs.
Fourth, TAPI could undermine Russian President Vladimir Putin's ability to blackmail his neighbors by threatening their energy supplies. Today, much of the region is dependent on Moscow for energy. Turkmenistan has the world's sixth largest reserves of natural gas. With further energy infrastructure investments, the country could become a major energy exporter. The more natural gas that gets into world markets, the less power Moscow and Gazprom have to coerce America's allies and friends.
Finally, TAPI would create a viable alternative to the proposed Iran-Pakistan pipeline, which could help western negotiators maintain the economic pressure on Tehran to end its nuclear weapons' program. With TAPI, Pakistan can find a way to meet some of its energy needs without providing Tehran with an economic windfall and undermining western economic sanctions.
For these and other reasons, Washington has been a strong advocate for TAPI. The project is a key foundation for the New Silk Road initiative announced by then-Secretary of State Hillary Clinton in India in July 2011. The idea is to use this historic trade route in a modern way: to connect the vibrant economies in Central Asia and India's thriving markets with Afghanistan and Pakistan in the center, where they could both benefit first from transit trade and ultimately from direct investments.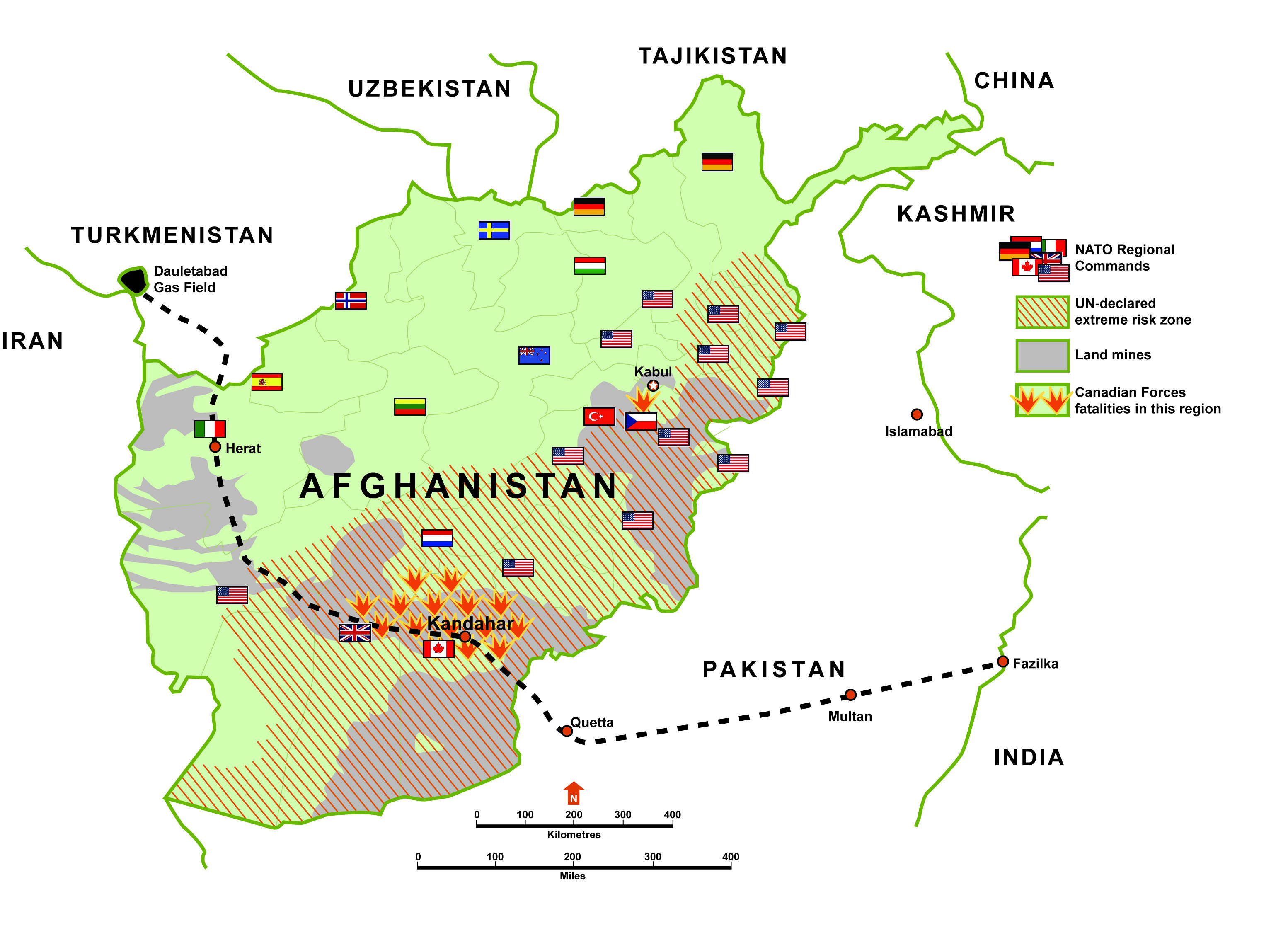 TAPI would play a critical role in such an effort to support economic integration in the region – and by extension, US political and security objectives in the area. As I wrote in the Yale Journal of International Affairs in 2013, the New Silk Road vision, with TAPI as its core, is about acting on diverse opportunities and challenges simultaneously. In his book Monsoon, Robert Kaplan provides a view of the large connections: "Stabilizing Afghanistan is about more than just the anti-terror war against Al Qaeda and the Taliban; it is about securing the future prosperity of the whole of southern Eurasia."
Under the current arrangement, Pakistan and India will each receive 42 percent of the gas and Afghanistan 16 percent. Today's estimates envisage a construction period of four to five years, given the long delays the project has experienced so far. With more hard work yet to be done to move TAPI from concept to concrete, some observers expect the project to take longer to complete and the bill to rise to $10 billion. 
As part of the July 8 accord, the four TAPI-partner countries have asked the Asian Development Bank – ADB has acted as the TAPI Secretariat since 2002 – to establish a lead consortium by November 2014 so that construction work can start as soon as possible. The ADB's role will be crucial to getting the project financed with as much private sector money as possible. 
While the TAPI pipeline has the potential to transform the entire region, the project does face some major hurdles.
For example, although Chevron and ExxonMobil have shown interest in financing and running the pipeline project and have been shortlisted for the contract, no company or consortium has stepped forward to take the necessary lead to manage the finance, design, construction and operation of the pipeline. Crucially, the energy companies with the capacity to support TAPI have told the government in Ashgabat that they will require exploration rights in Turkmenistan's onshore gas fields, mainly Dauletabad, to make the project economically attractive. Turkmenistan so far will only consent to offshore exploration. This impasse has made any deal impossible.
Another major challenge facing construction is the security and political situation in Afghanistan. Kabul views the pipeline as a significant revenue stream as well as a source of energy as the country builds its economy. Sediq Seddiqi, spokesman for the Ministry of Interior Affairs has said that Afghan security forces are fully motivated to provide security for the project, and Afghan authorities have promised to deploy 5,000 to 7,000 security personnel to safeguard the route.
But the current deadlock over who will take over as Afghanistan's president, fierce Taliban attacks across the country – a recent one claiming the life of a US general – and lingering uncertainty about US and allied military support after December are all cause for hesitation in both government and private sector offices.  
So how can TAPI succeed? Energy expert David Goldwyn offers the reminder that there are three parts to any successful gas pipeline project: a seller committed to making enough gas economically available for a viable project; a buyer ready to commit to long-term contracts; and a builder, with the right financing to create the physical project. The July 8 accord is an important step in aligning the interests of Turkmenistan, Afghanistan, Pakistan and India. The four countries and the Asian Development Bank now have a clearer path forward on creating the conditions for a successful project.  There is still a long, slow road to travel before gas moves from Turkmenistan through Afghanistan and Pakistan to India, and the next phase is to convince the private sector that the project is commercially sound and technically feasible.
Much work remains. But in the midst of many other seemingly intractable challenges the world has faced this summer, the agreement reached in Ashgabat on taking the next step toward the TAPI pipeline is an achievement worth acknowledging.

 
Ambassador Marc Grossman is a vice chairman of The Cohen Group. A career Foreign Service Officer, 1976 to 2005, Grossman served as United States Special Representative for Afghanistan and Pakistan 2011 to 2012. He was a Kissinger Senior Fellow at Yale in 2013.
Copyright © 2014 The Whitney and Betty MacMillan Center for International and Area Studies at Yale