Trump Plan to Release Immigrants: Washington Post
UPDATE: The acting chief of the US Department of Homeland Security says the agency will not relocate migrants to Florida. Far-right policies on trade, foreign aid, family planning, climate change and global security from the United States and other developed nations disrupt economies of developing nations and spur immigration. The US president tries harsh measures to deter immigration and spur debate for the 2020 presidential campaign. Donald Trump has also expressed frustration over media reports, court orders, legislative moves and cities raising human rights concerns. Florida officials question federal plans to relocate thousands of immigrants from Texas to two Democratic counties in Florida. "Customs and Border Protection has not publicly disclosed its plans," reports Isaac Stanley-Becker for the Washington Post. "The state's Republican governor, Ron DeSantis, joined federal lawmakers from Florida – Republicans and Democrats alike – in questioning the apparent effort to foist the immigration and asylum burden on two local jurisdictions without equipping them with the resources to house, feed, educate and protect new arrivals." Florida leaders blast the "blatant politics" of triggering another humanitarian crisis. One mayor suggested placing the immigrants near Trump hotels. The administration also released a broad immigration plan basing entry on skills and knowledge of English and civics. Trump's relocation plan could be risky: Many voters may blame Trump for disruptions, and Floridians may unite to show that immigrants who receive a humane welcome benefit communities. UPDATE: The acting chief of the US Department of Homeland Security says migrants will not be relocated to Florida.– YaleGlobal
Trump Plan to Release Immigrants: Washington Post
Florida officials question Trump plans, now shelved, to release thousands of migrants from Texas in two Florida Democratic strongholds with no apparent plans or resources
UPDATE: Read the article about DHS acting chief reporting that the agency will not relocate migrants to Florida.
Read the article from the Washington Post about a US plan to relocate migrants from Texas to Florida.
Isaac Stanley-Becker is a reporter based in the UK. He is completing a doctorate in modern European history at the University of Oxford, where he is a Rhodes Scholar.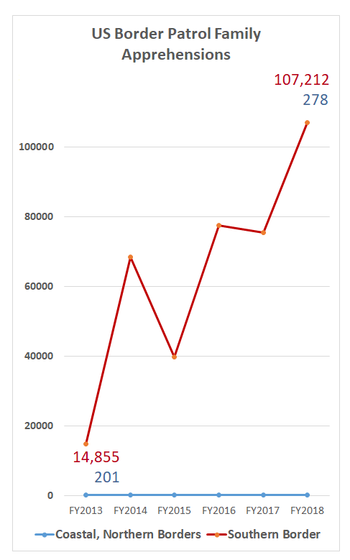 Migration pressure: Families and unaccompanied children make up 60 percent of apprehensions along the southwest border (Source: US Border Patrol).
© 1996-2019 The Washington Post