An Uncertain Victory for China's Workers
China's expansion, fueled by cheap exports that poorly paid workers produce, may slow with a new labor law in force. The law aims to protect laborers and improve global perceptions of China's human-rights record. Companies in China, both domestic and foreign, have been notorious about hiring workers with short-term contracts. The law provides higher wages and greater job security, including a guarantee of lifetime employment for workers with 10 consecutive years of experience. Some firms renegotiated employee contracts shortly before the law went into effect, to postpone any guarantees on lifetime employment. Critics argue that foreign investors will simply relocate to other countries with minimal labor laws and even lower wages, thus harming the Chinese economy without really resolving a human-rights problem on a global scale. Historically, enforcement rather than legislation has been a challenge for Chinese workplace. Thus, the law's efficacy hinges upon strict enforcement, cooperative investors, along with workers willing to file complaints. – YaleGlobal
An Uncertain Victory for China's Workers
As employers debate the costs, the question remains whether employees will take advantage of the new labor law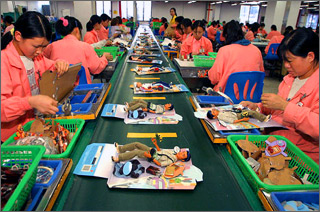 BEIJING: China's passage of a law aimed at bringing more rights to its workers has been heralded as a breakthrough for improving labor rights in China. But businesses view the law as the twilight of the age of cheap labor in China, undermining one of the country's prized economic advantages in globalized economy.
China's economic boom and low consumer prices in the West were delivered largely on the backs of an overworked and underpaid labor force, which lacks fundamental protections that laborers in developed countries enjoy. The new law signals the Chinese government taking steps to rein in what they see is an unacceptable gap between economic expansion and poor condition of workers.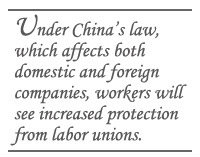 On January 1, 2008, the Labor Contract Law went into effect, ushering in sweeping changes to Chinese labor policy. The law – brought about after a spate of headline-grabbing incidents of severe worker abuse in China – is to curb worker abuse and promote harmonious and sustainable relationships among employers and employees. Apart from offering tacit admission of mistreatment of the workers, the law is also in line with efforts by President Hu Jintao to cement his legacy as promoter of a "harmonious society."
Under the law, which affects both domestic and foreign companies operating in China, workers will see increased protection from labor unions and significant overhauls in policy ranging from contract formation to severance packages and job training. Arguably the most influential – and controversial – change centers on an open-term clause for long-term employees. The clause states that workers with 10 consecutive years, or having signed two consecutive fixed-term contracts with a company, are entitled to a contract without a fixed end date – essentially giving them lifetime employment.
Many foreign businesses bemoan what they claim will add unnecessary bureaucratic steps to management practices, making business in China more costly and restrictive.
"It will be more difficult to get rid of unsatisfactory employees," says Andreas Lauffs, partner at Baker & McKenzie in Hong Kong and expert on Chinese labor law, adding that the law will reduce management autonomy.
Still, experts within China and labor groups abroad call it the most significant labor law since China was first introduced to market forces in the 1980s – and necessary to protect employee rights.
"Before, companies hired and fired employees at will, adding to mistrust among employees and employers," said Chang Kai, dean of research at the Institute of Labor Relations at Renmin University in Beijing and one of the law's drafters. "This law will not only urge companies to improve their management practices, but will help bring businesses in line with international labor standards."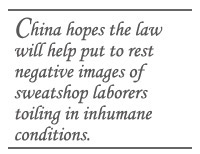 China is hoping the law will help put to rest negative images of sweatshop laborers toiling in inhumane conditions, being fired at will and struggling for years to collect unpaid wages from unscrupulous employers. Chinese law requires labor contracts to be signed between companies and their staff, but contracts are typically for one or two years, and companies are notorious for not providing written contracts and being delinquent in paying workers on time. Workers typically are compelled to take short-term contracts, with little chance of advancement.
During the law's formulation, a one-month comment period generated huge reaction – almost 200,000 responses – and the process of public inclusion was hailed by many as a seminal achievement in Chinese legislation, reflecting the state's desire to tap a wider base of expertise to ensure laws suited to an increasingly complex economy and society.
Many foreign enterprises voiced discontent with the law. Among them was Serge Janssens de Varebeke, then-president of the European Union Chamber of Commerce in China, who warned in a 2006 letter to the National People's Congress that the "strict regulations" could raise production costs and "force foreign companies to reconsider new investments or continuing their activities in China."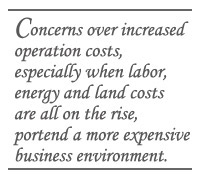 Concerns over increased operation costs, especially when labor, energy and land costs are all on the rise, portend a markedly more expensive business environment for companies in China. Already, multinationals heavily reliant on cheap labor and low manufacturing costs have begun relocating some factories to countries like Vietnam, where cheap labor is still abundant. Olympus Corporation, the world's fourth largest digital camera manufacturer, and Yue Yuen Industrial, the biggest maker of shoes for brands such as Nike, are among companies shifting some production facilities to Vietnam to cut costs.
Karen Lin, a senior fund manager at Paradigm Asset Management Co. in Taipei, predicts the law will add roughly 25 percent to the cost of labor in China, which typically accounts for 10 percent of total manufacturing costs. Companies that fail to adjust will start to feel major pressure on their profits within "five to six years," Lin said.
"China's biggest advantage in the manufacturing and processing trade is cheap labor," admitted Chang Han-wen, director of the National Association of Taiwan Businessmen in Dongguan, an industrial hub in southern China. "But now that's going to change. Hundreds of small and medium-sized Taiwan-invested firms in Pearl River Delta region will be affected."
Chinese officials, meanwhile, contend that added costs to businesses will be minimal. During the recently completed 11th National Committee of the CPPCC, Zhang Mingqi, deputy president of the All-China Federation of Trade Unions, refuted claims that the law will add significant costs to business operations in China. He also warned that penalties could impose more costs than compliance.
The majority of criticism, from foreign and domestic companies alike, centers on the 10-year open-ended contract clause. Dubbed the "fire and hire" game, some employers rushed to terminate existing contracts and rehire staff on new contracts in order to restart their length of service before the January 1, 2008, deadline – an apparent effort to circumvent some of the law's key provisions.
In December 2007, Huawei Technologies Co., a telecommunication-equipment giant based in Shenzhen, reportedly offered a bonus to 7,000 employees with at least eight years of service to resign and reapply for their positions. Other companies followed suit, like French discount retailer Carrefour, which reportedly asked more than 40,000 employees across China to re-sign a two-year labor contract before the deadline, regardless of the length of the employees' service with the company. A Carrefour spokesman maintains that the move was simply to "bring the old contracts under compliance."
In the long run, whether or not the law is successful in curbing worker abuse is another matter. Critics point out that the while the law will add much needed rights for workers, its goal of reducing worker-abuse cases might be difficult.
"The impact it will have on migrant workers' working conditions will be limited," says Lauffs. "Simply passing a new law will not guarantee that the local labor bureaus will become more active in enforcing employees' rights or companies will be more accommodating in coming into compliance."
A fundamental question is whether Chinese workers will actually make use of their newfound power. "I think many workers will be hesitant to use their full rights under the law" says Zhangjian, secretary at a small electronics manufacturing company in Beijing. "Bringing too much attention to yourself could cost you your job."
The law is yet another example of how China walks a treacherous economic and political tightrope. While attempting to maintain their grip on power fueled by prosperity, the country's leaders must create jobs and abuse-free working conditions. However, investors who create jobs and wealth will continue to hunt for cheap labor, either by finding loopholes or relocating factories to other countries.
Lyle Morris is a reporter and editor for the China Economist magazine in Beijing. The China Economist, an academic journal put out by the Chinese Academy of Social Sciences, focuses on economic and business management issues in China.
© 2008 Yale Center for the Study of Globalization