Undue Fears of China Inc?
Nearly two decades after fears of a Japanese industrial takeover reached fever pitch in the United States, expansionist moves by Chinese corporations have triggered alarms around the world. Last summer, when Chinese companies CNOOC and Haier attempted to buy Unocal and Maytag, respectively, American critics imagined the sinister hand of the Chinese state wrenching control of US assets and markets. As a result, both Chinese corporations failed in their bids. Journalist Paul Mooney writes that the recent maneuvers of Chinese companies are often misrepresented: Chinese corporations are prodded to expand overseas by economic necessity, not simply the expansionist ambitions of the state. As the demands of China's booming economy grow, the country's own corporations have no alternative but to venture beyond Chinese borders in search of resources, technology, and profit. Mooney writes, "Chinese companies can be expected to continue to expand around the world – they have little choice if they want to survive." – YaleGlobal
Undue Fears of China Inc?
Facing international suspicion and fueled by economic necessity, Chinese companies struggle to expand overseas
Thursday, September 29, 2005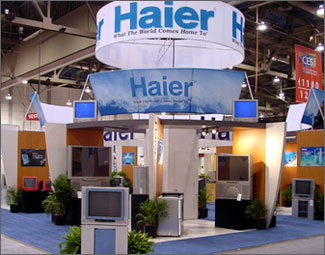 BEIJING: China's economic reform and its open door to foreign investment have brought a phenomenal surge in its economy. Unfortunately, Chinese companies' attempts to expand operations outside China are being thwarted by several factors, principal among them structural problems at home and the perception abroad that the hidden hand of the socialist state lurks behind many Chinese companies.
When two Chinese companies attempted to snap up a pair of American counterparts last summer, members of the US Congress were up in arms, expressing fears about a Chinese takeover of America. The reaction was not too different from the response in the 1960s and 1970s, when Japan Inc. made similar inroads.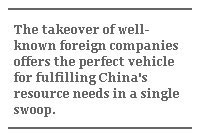 While there have been charges that Beijing is playing some sort of sinister role in this global expansion of Chinese companies, in reality, these companies' actions make simple economic sense. "You don't need the government to tell you to set up overseas," says Arthur Kroeber, managing editor of China Economic Quarterly. "There's a real economic motivation."
And this is certainly just the beginning. Chinese companies are keen to acquire resources, technology, distribution channels, better profit margins, and recognized brand names. With deep pockets and easy access to preferential state funding, the takeover of well-known foreign companies offers the perfect vehicle for fulfilling those needs in a single swoop.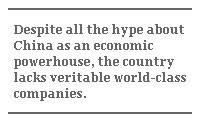 In recent years, top Chinese companies have pushed to acquire foreign competitors. Lenovo bought out IBM's personal computer business, TCL took over the television business of France's Thomson, and the China National Petroleum Corp managed to acquire PetroKazakhstan, a Canadian company with considerable oil fields in Kazakhstan. Meanwhile, Huawei, a telecom equipment giant, is reportedly eyeing Britain's Marconi, and Baosteel is negotiating in Brazil. Along with those successes, there have also been failures, mainly pegged to politics. Chinese oil giant CNOOC's bid for American company Unocal was thwarted, Haier failed to purchase another American firm Maytag, and China Minmetals was unable to buy Noranda, a Canadian copper and nickel miner.
The government is keen to obtain strategic resources – oil and minerals – abroad to meet the rapidly increasing demands of producers at home. Over the past three years, Chinese factories in many areas have been forced to cut production during parts of the year due to energy shortages. "There's not much scope for expansion in China," says Kroeber, "and so if you want to expand, you have to go overseas."
Often unnoticed in China's overseas expansions is the technology aspect. Kroeber argues that Chinese companies only have a price advantage, and they are often expanding in search of technologies they lack. "In almost every case I've looked at, there's a technical component," says Kroeber. "The target has some type of technology that the Chinese company wants to obtain. Time and time again, it's not just what's physically in the ground, but the technical component."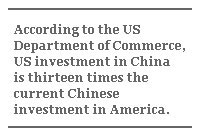 While CNOOC's main interest in Unocal was energy, the company was also very much interested in the acquiring its top-of-the-line off-shore drilling equipment. In the case of Miranda, the Canadian company has advanced nickel processing equipment. Shanghai Automotive Industry Corp in October bought Ssangyong Motors, South Korea's fourth biggest automaker, and was also in talks regarding the ailing MG Rover of the UK. Both deals aimed at acquiring the technologies and design skills of the targeted companies.
Despite all the hype about China as an economic powerhouse, the country lacks veritable world-class companies. Although some dozen Chinese companies are on the Fortune 500 list, most are domestic monopolies. Those that go head-to-head globally do so primarily in niche markets, mainly competing on price rather than high technology or brand name. The bulk of high-tech manufacturing is low-value assembly, with foreign companies accounting for the bulk of high tech exports.
Another major attraction for overseas expansion is higher profits. Lenovo and Haier, for example, both have very low profit margins at home. For several years, Lenovo was the leading PC maker in China, with a 30 percent share of the domestic market. In recent years, however, the company's market lead began to shrink while profit margins at home dipped. Having failed to market its own brand internationally, the company acquired IBM's PC business. Kroeber says it's still too soon to tell if Lenovo will succeed where IBM failed, but he adds, "For Lenovo it made sense. What else could it do?"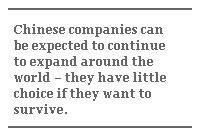 Beijing would like to see the emergence of internationally competitive Chinese companies. Many companies, however, are running into problems as a result of ties to the state. CNOOC, a Chinese oil producer 70 percent owned by the Chinese government, made an US$18.5 billion bid for Unocal, a Californian rival, offering US$2 billion more than Chevron, CNOOC's rival bidder. Despite taking great pains to win over American critics, officials there insisted the deal was a state-funded grab for strategic US assets. The resulting political backlash forced an embittered CNOOC to shelve its bid.
Telecom equipment giant Huawei is also being affected negatively because of the murkiness surrounding its ownership. The Economist reported recently that Ren Zhengfei, one of Huawei's founders, was formerly an officer in the People's Liberation Army (PLA); the publication also quoted speculation that the company's overseas offices spied for the Chinese government. According to the Indian media, security officials there are apparently considering limits on the expansion of Huawei. The company denies that it has any ties to the PLA.
"If it was a French owned company, no one would have said boo," says Kroeber of the CNOOC bid. "But because it was a Chinese company with government links, the issue got raised." Kroeber predicts that as we see more Chinese companies seeking mergers the political factor will get bigger.
It is, however, difficult to understand the rationale of American officials who fear a threat from Chinese companies. The Chinese economy is far smaller than the American economy. And according to US Department of Commerce figures, US investment in China is thirteen times the current Chinese investment in America.
Nor is China the Japan of the 1970s. "Japanese and South Korean companies globalized from strength," says Kroeber. "Chinese companies are globalizing from weakness."
"The main point is that Chinese state firms are not unstoppable juggernauts who will take over the world by brute financial force," he says. "They are poorly-run bureaucracies whose weaknesses will become increasingly apparent as they internationalize their operations."
That said, with their piles of cash and easy state funding, Chinese companies can be expected to continue to expand around the world – they have little choice if they want to survive. "Inevitably many will fail," predicts Paul Gao of McKinsey in Shanghai, "but through all these failures, some high quality, aggressive Chinese multinationals will emerge." A retreat by the socialist state from its control of major corporations and financial institutions, if that were to happen, would also reduce fears of a hegemonic attempt by China.
Paul Mooney, a freelance journalist, has been reporting on China for 15 years.
© 2005 Yale Center for the Study of Globalization